Every year, after the holidays wrap up, I say to myself that next year will be the year that I am going to start early and get all my holiday crochet gifts and projects finished way before the holidays.

Then time passes and other projects and life gets in the way and the next thing I know, it is December and I haven't finished anything except a Pinterest board with ideas! I want to make all the things for the holidays! Stockings, pillows, baskets, wall hangings, and blankets for my home. Sweaters, scarves, amigurumi, loveys, hats, and toys to gift to my loved ones. But, I just never seem to get it together! I get overwhelmed with all the great patterns out there and usually, I never even get started.

Well, not this year! We are going to be ready this year! And to help us get started, I am excited to share the Handmade for the Holidays Crochet Pattern Bundle!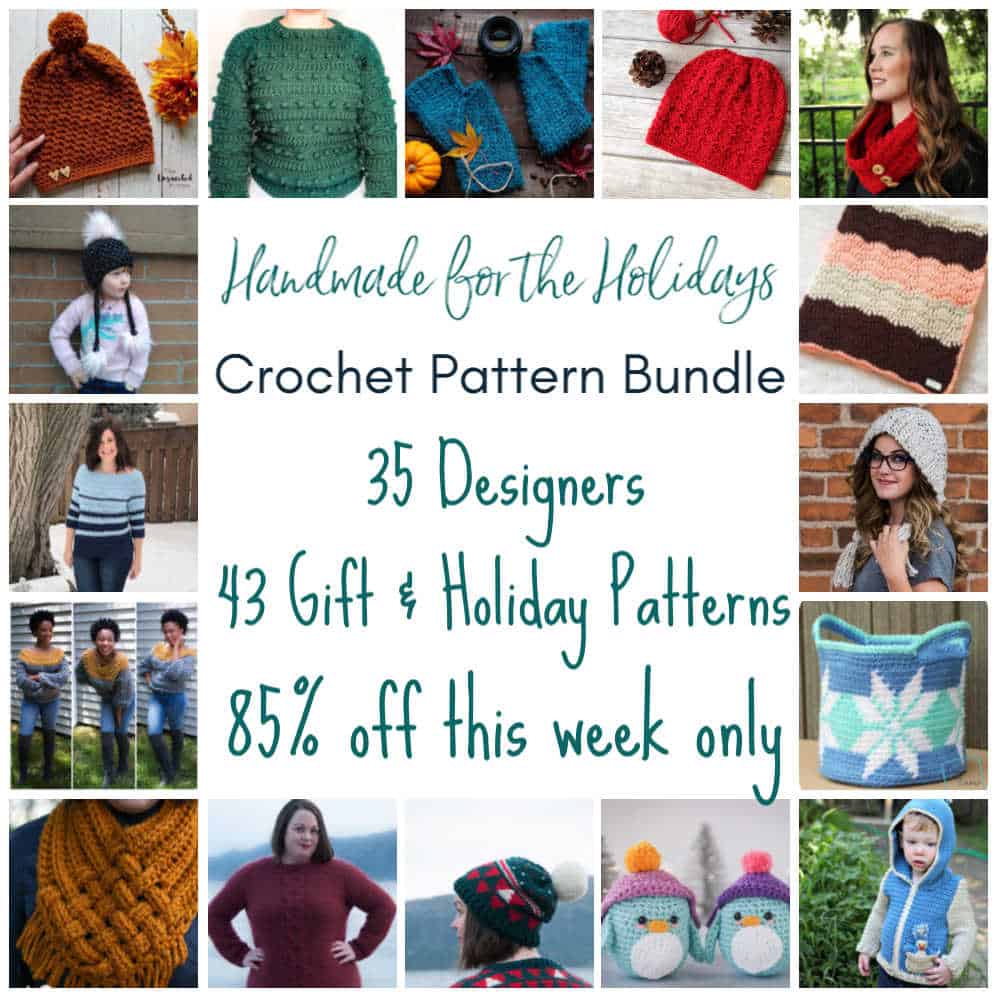 I am honored to be one of the 35 crochet designers contributing patterns to this bundle. We have picked our top holiday and gift idea patterns to share with you. Each of the 43 patterns were selected specifically to help us all achieve our holiday making goals.

The patterns cover all types of holiday decorations and decor items from stockings, wall hangings, and tree skirts, to baskets, table runners, pillows, and blankets. Your home is going to look so good!

We also included a whole collection of handmade gift ideas. These patterns are some of the trendiest sweaters, hats, gloves, and scarves you will see. The amigurumi and kids projects are so adorable and you will have friends and family secretly hoping that they get one in their stocking too!
You can get ALL 43 Handmade for the Holidays Crochet Patterns worth over $155.00 for over 85% off. But, we are only offering this pricing for this week only! Consider it our Christmas in July present to you!
What Patterns are in This Bundle?
All of these patterns will help you create your own handmade holiday this year and beyond! These patterns are the perfect touches your holiday season needs. Make this holiday season less stressful by grabbing your copy of the bundle and getting started on these great holiday gift and decor patterns now!

But wait, there is more!
As an additional bonus and gift to you, many of my designer friends have included discount codes for their pattern shops in the bundle. And there is even a discount code for stunning hand-dyed yarn!

So, you not only get 43 perfect patterns that normally retail for over $155, you also get discounts to grab more wonderful patterns from your favorite designers, or maybe someone new that you are just seeing as part of the bundle.

So, jump over and buy your copy and get the free bonuses today because it is only available through July 26, 2019.

We do offer a 30-day money back guarantee, so there is really no risk to you buying your copy today.

I can't wait to see you rock your handmade holiday goals this year!

Grab your copy at 85% off here, before it is gone!