The Starry Night crochet pouch pattern uses very simple stitches and is a great project for beginners. While I've sized this crochet pouch so that it can serve as a gift card holder, it can very easily be adjusted to bigger or smaller sizes.
This pattern is very versatile and can be tweaked in so many ways. Instead of the starry skies embroidery, you could attach brightly colored buttons – perfect for a teenager to store their phone! Stitch the name of a loved one onto the front of the pouch so that they have somewhere to keep their treasures, or add stripes and keep it as a coin pouch for the car.
As with many of my patterns, this crochet pouch pattern is available for free here on my website. But, if you prefer to have a printable, advert-free version, then you can purchase the low-cost version from any of my online shops. The PDF version of this crochet pouch pattern includes extra diagrams and tips to help you make the perfect pouch.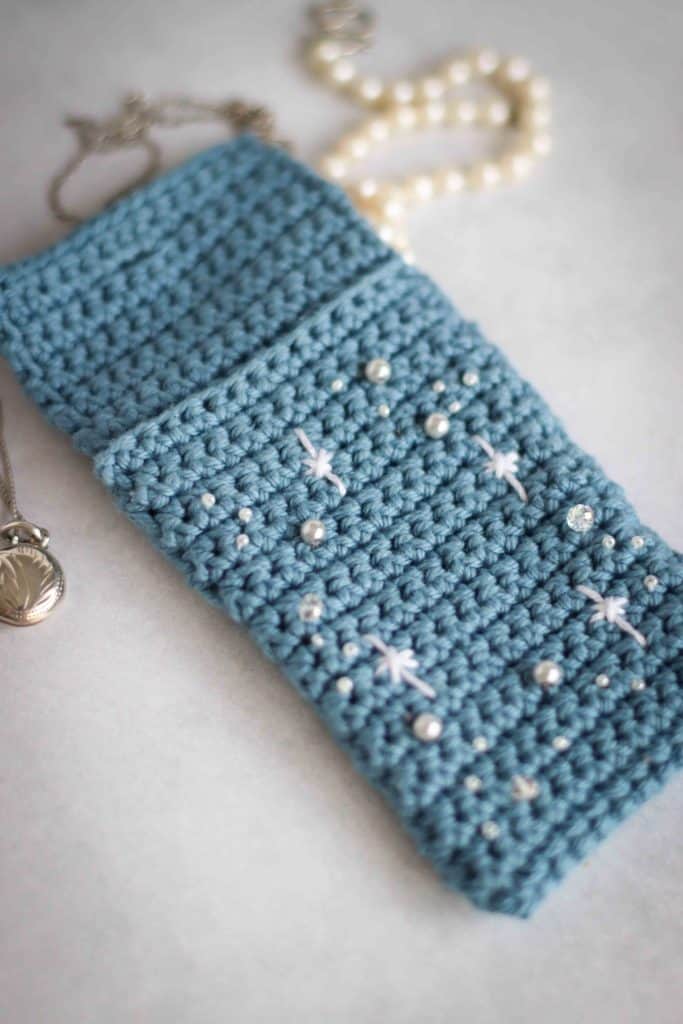 Crochet pouch pattern requirements
3.25mm / D crochet hook
DK/light worsted yarn (such as Paintbox yarns) in blue (Paintbox Yarns – Dolphin blue)
White embroidery cotton (optional)
Seed beads, glass pearls and crystals (optional)
Button
Sewing needle
Yarn needle
Stitch markers (optional)
*Paintbox Yarn Cotton DK: 50g (1.75oz), 125m (137yds), 100% cotton, 8 ply
NOTES
Finished size: 6.5cm x 10cm using the hook and yarn suggested
This pattern uses US terminology (see abbreviations here)
View my recommendations for my favorite tools on Amazon
A low-cost, printer-friendly, ad-free version of this pattern (including a chart and lots of extra pictures, diagrams, and notes to help you!) is available in any of my online stores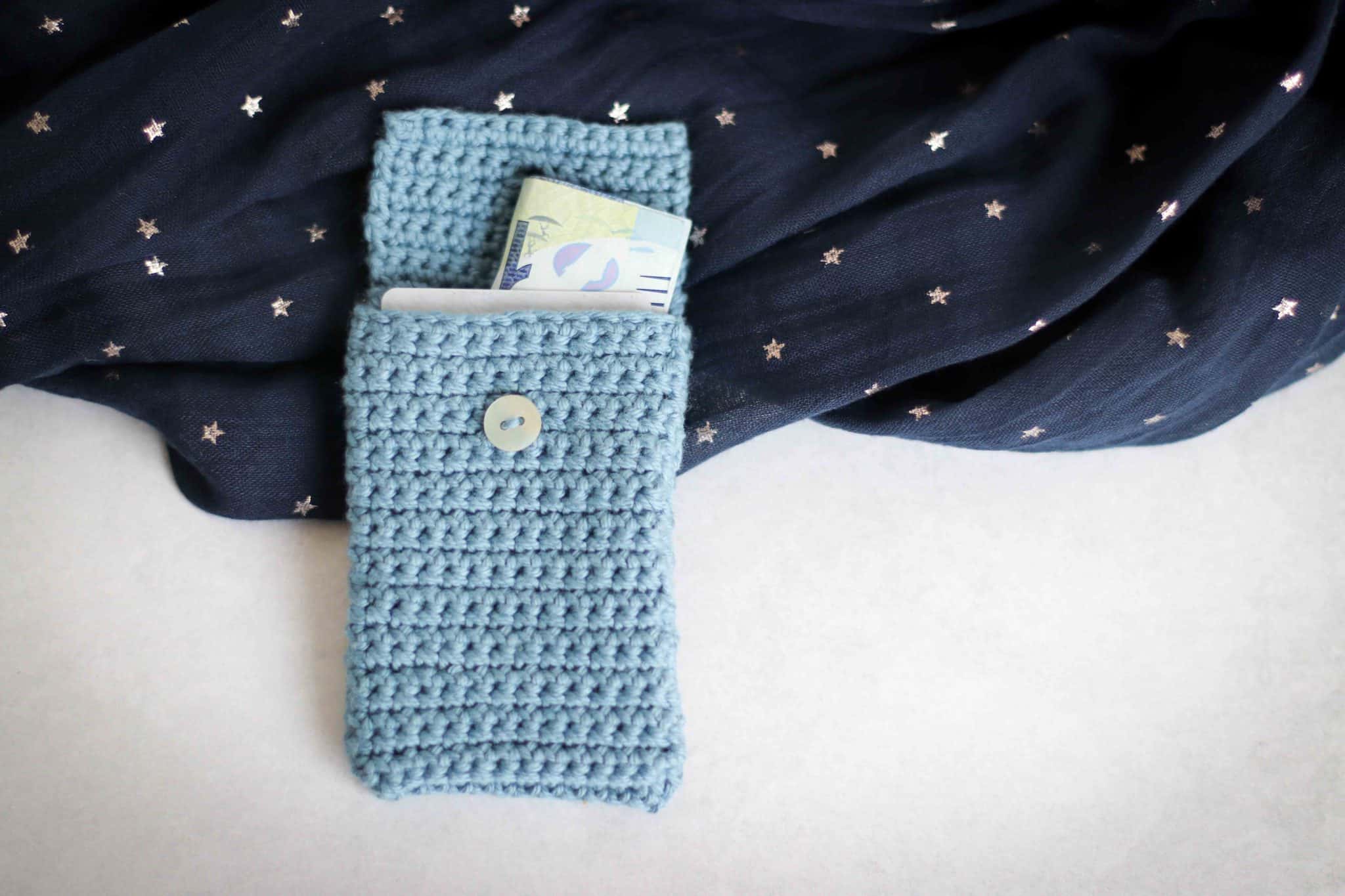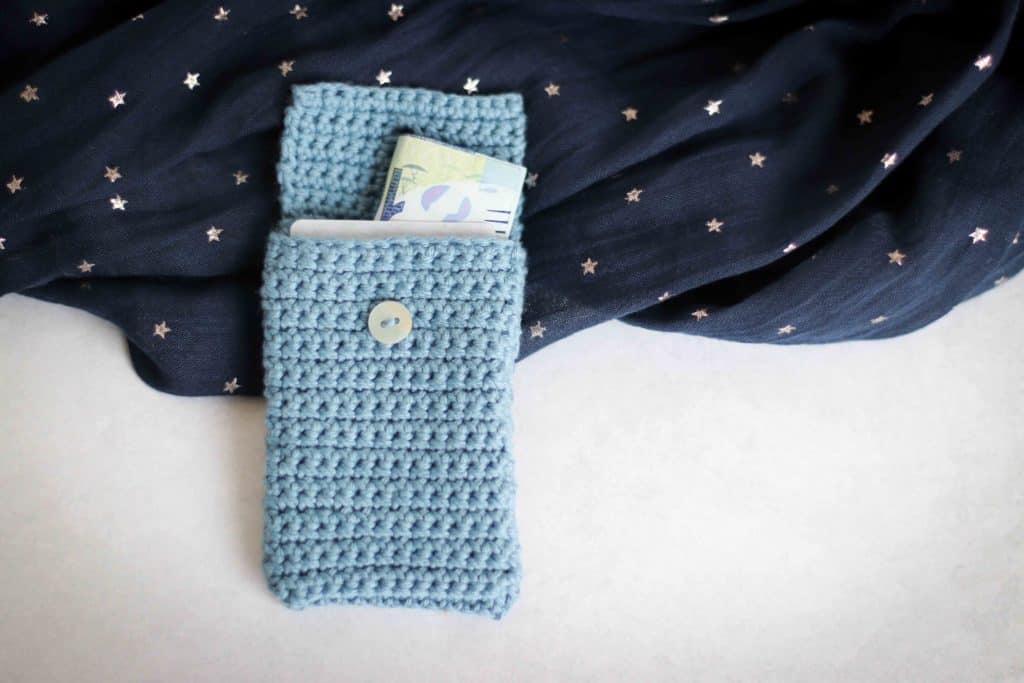 This pattern is included in the 2022 Underground Crafter Giftstravaganza! A fantastic blog hop featuring 31 brand new designs, from different designers, for crocheted gifts.
Crochet jewelry pouch
R1: ch 15, sc into 2nd ch from hook, sc to end (14)
R2: ch 1, turn, sc to end.
Repeat R2 until the piece measures 20cm long. This is assuming you have a standard sized gift card of 8.5cm x 5.5cm. For my pouch, I worked 48 rows.
Next work the flap
R1: ch 1, turn, blo-sc across
R2: ch1 turn, sc across
R3 – 8: ch 1, turn, sc across
R9: ch 1, turn, sc in next 6 st, ch 1, sk 2, sc in next 6 st
R10: ch 1, turn, sc in next 6 st, 2 sc in ch-1-sp, sc in next 6 st (14)
R11: ch 1, turn, sc across (14)
Fasten off. Weave in any ends and block the rectangle.
Add the details to your crochet pouch
First identify the front and back of your work. The front will have a well defined ridge where the flap begins. The back also has a ridge, but it is not as pronounced.
With the front of the work facing, work your embroidery stitches below the ridge of the flap. It is useful to use stitch markers to denote the front area of the pouch so that your stitches don't spill over.
TOP TIP: Don't sew your stars or other embellishments too close to the edge of the crochet piece, as you need to leave a small seam allowance for sewing up.
To make the big stars, stitch one long vertical stitch (over 4 stitches). Then make a shorter, horizontal stitch across the middle of the first stitch. Work a diagonal stitch, one in each direction, over the first two stitches. Sew seed beads, glass pearls and crystals around the stars.
If you are struggling with this part of the pattern, consider purchasing the PDF version as it contains lots of pictures and diagrams to help the embroidery and assembly part of this project.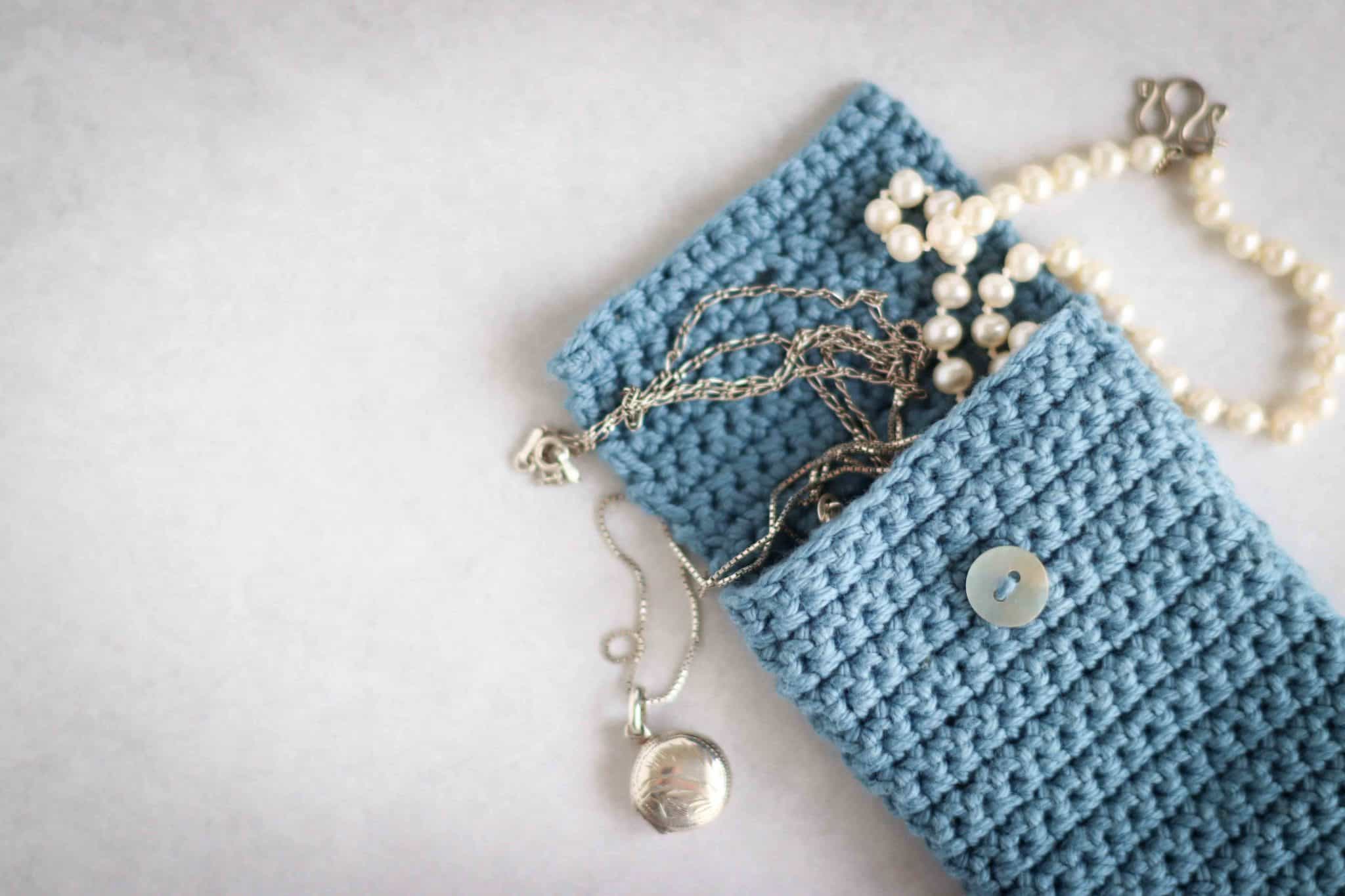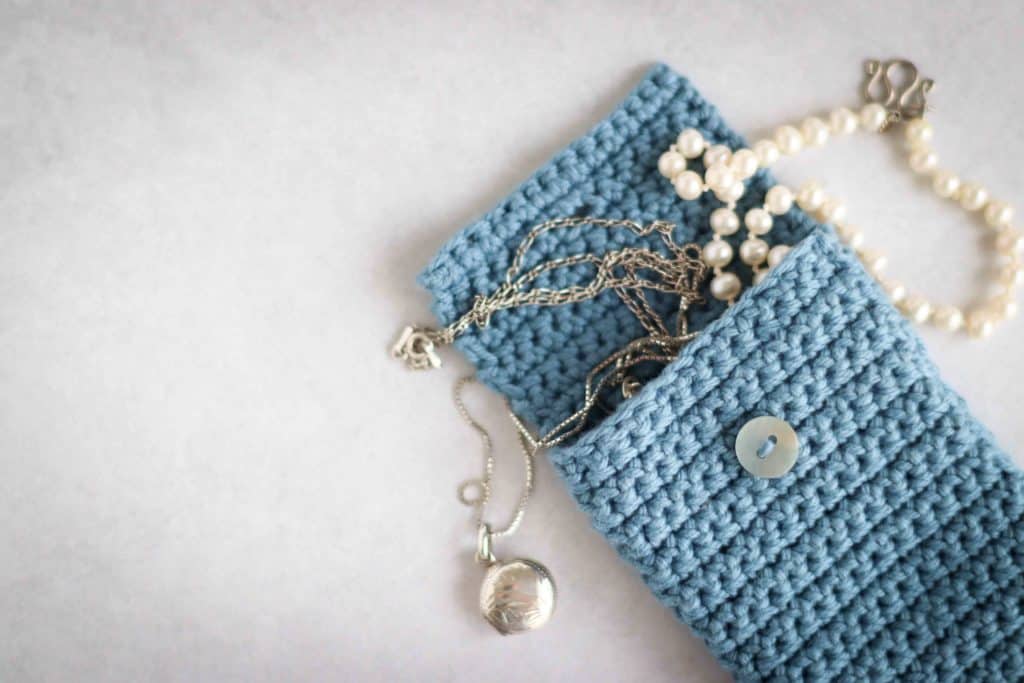 Sew up the pouch
With the right side facing you, fold the bottom of the card holder up to the ridge (the start of the flap). Use a scrap of yarn to whip stitch up each side of the pouch.
Turn the pouch the right way out.
Lastly, stitch the button on the back of the pouch using some scrap yarn or sewing thread.
I hope you have enjoyed this crochet pouch pattern! There are lots of free crochet patterns, tips and tutorials here on Thoresby Cottage. Enjoy!
This post and crochet pouch pattern are proudly part of the Underground Crafters 2022 Giftstravaganza! Visit the blog hop for plenty of free holiday gift patterns.