Crochet Animal Slippers features 20 delightful crochet animal slipper patterns which can be made in a number of different styles. Crochet Animal Slippers is Ira Rott's second crochet book, with the first being the very popular Crochet Animal Rugs.
Full disclosure, I was sent this book by the publishers (David & Charles) but all views expressed in this crochet book review are entirely my own. And I have to say, this book is one of my favourites! Read further on to find out why.
From foxes and unicorns, to rock star pandas, Crochet Animal Slippers is very thoughtfully put together and is a must for crocheters who love making gifts.
With patterns for both children and adults, this book is jam packed with all the tips you need to help make successful crochet slipper projects.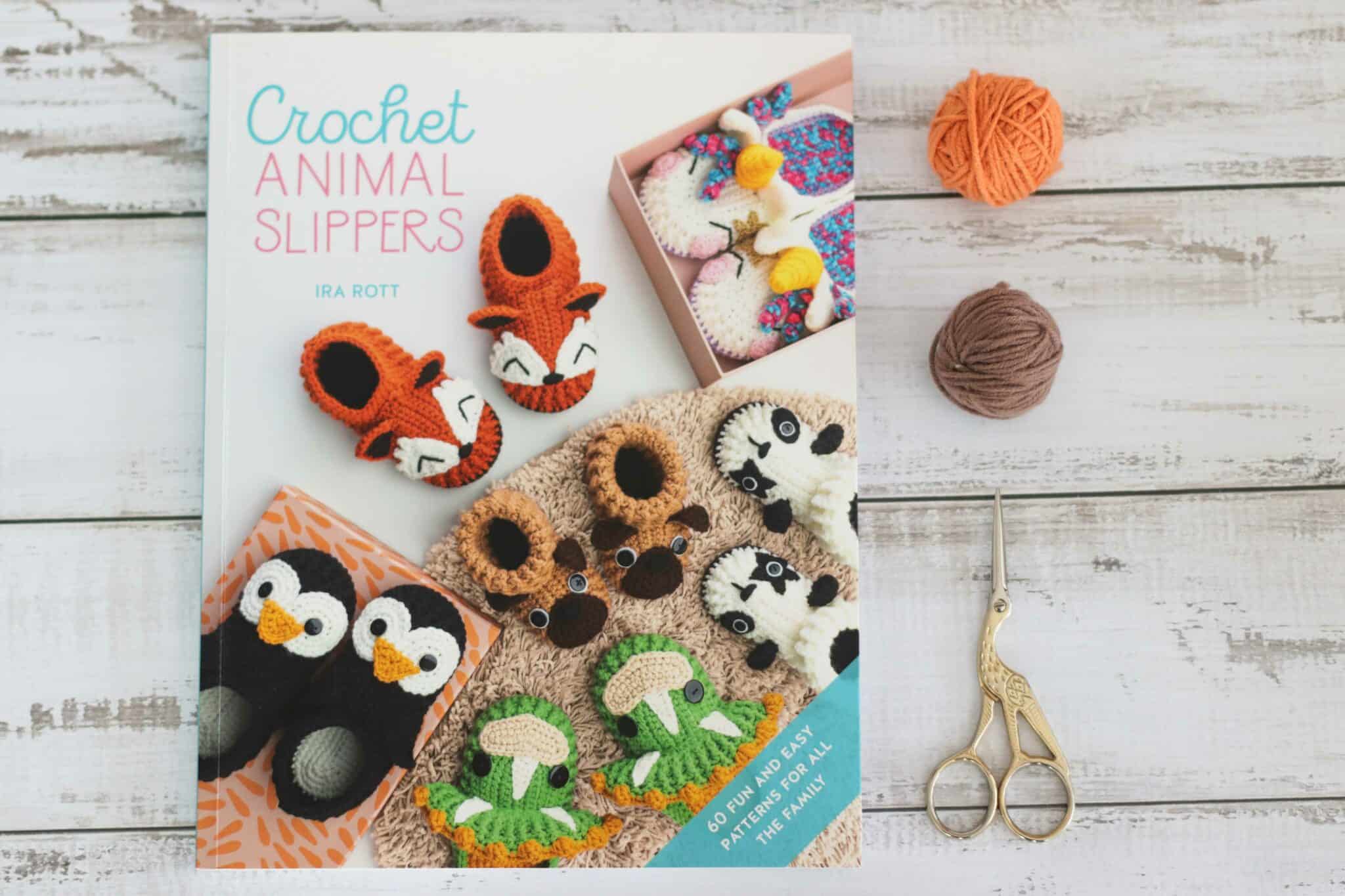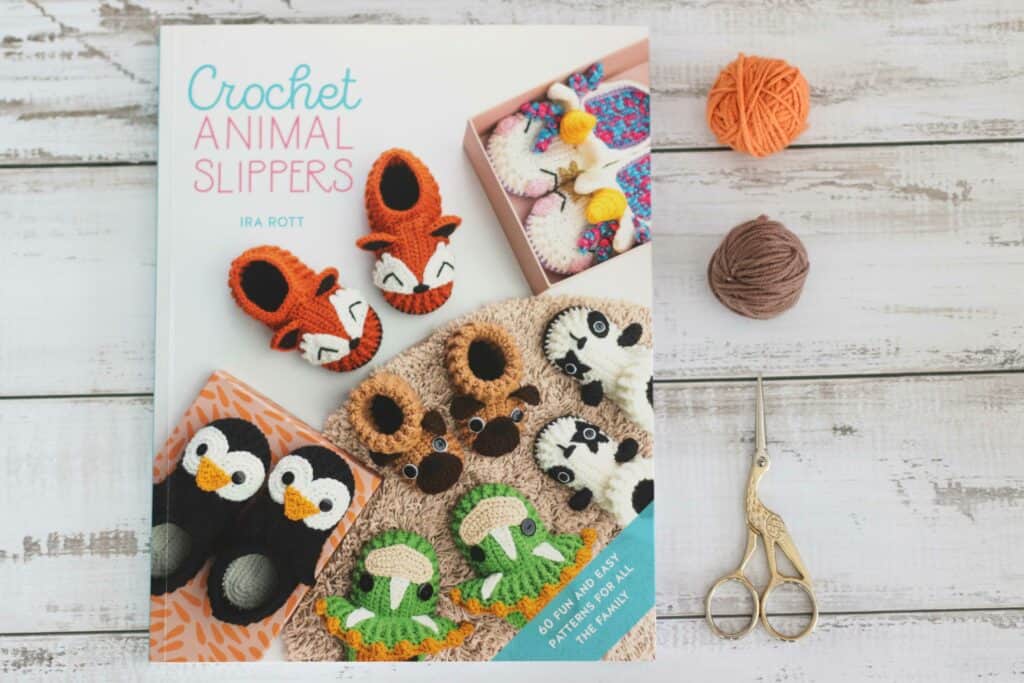 Crochet Animal Slippers: Overview
Crochet Animal Slippers is a well bound softcover book, roughly A4 in size. The patterns are printed on good quality paper and they are well spaced out and easy to read, with plenty of pictures.
One feature that I particularly love is the cover; it cleverly opens out to form a slipper size guide which is marked in both centimetres and inches. There is also a link included to print out the size guide, which is great if you are making slippers for someone out of town and need them to measure their feet.
The first few chapters are filled with lots of technical information, from how to choose the correct size of slipper, tips on how to read the patterns and charts in the book, details of the different types of yarns you may use for the projects and which ones work best for the different patterns laid out in the book.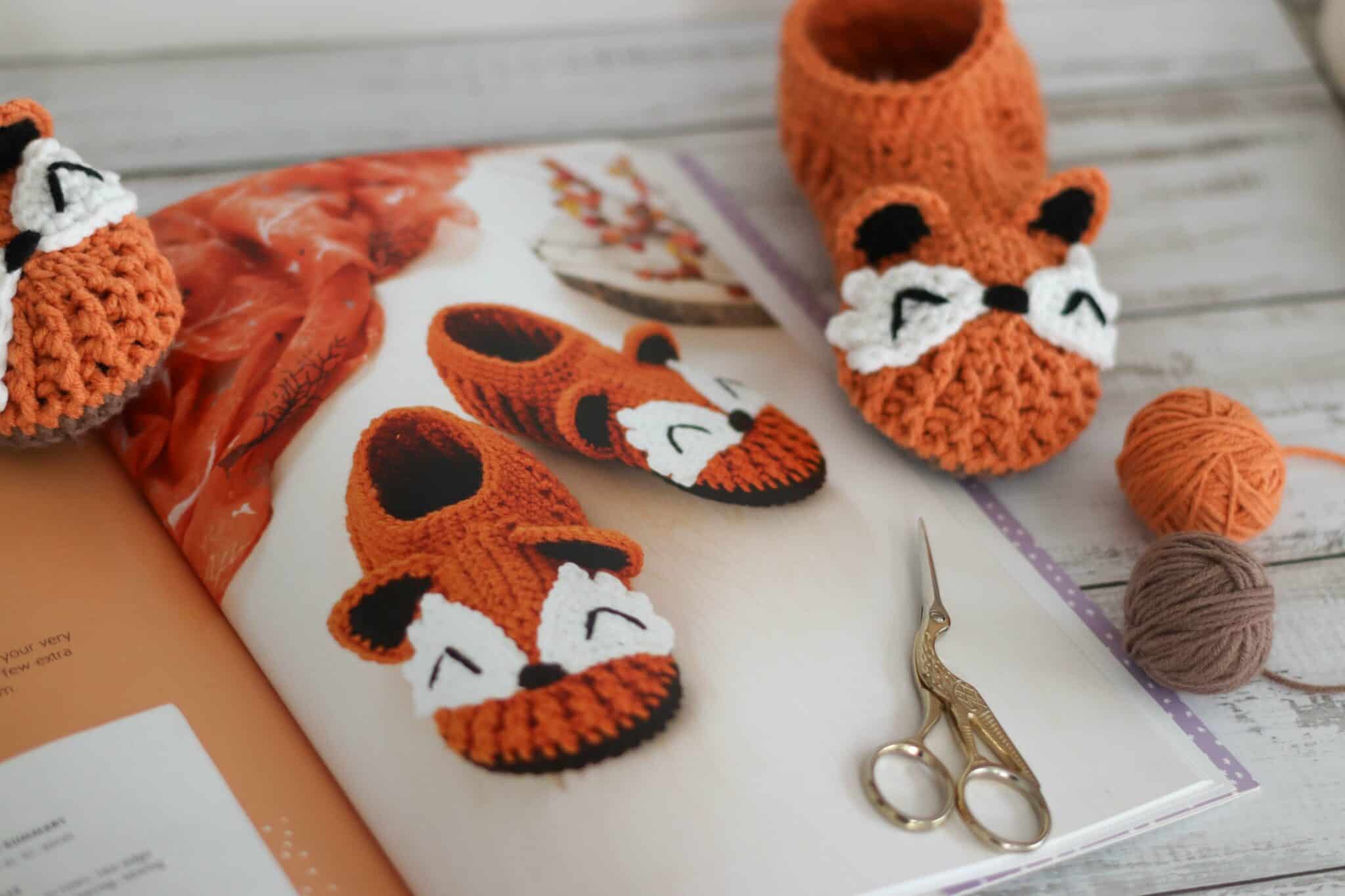 What crochet animal slipper patterns are included?
This delightful book includes patterns for 20 different animals, including:
The Snuggly Pug
The Cuddly Bear
The Happy Penguin
The Zingy Dinosaur
The Starry Unicorn
The Rock 'n Roll Panda
The Sleepy Koala
The Mossy Sloth
The Graceful Elephant
The Playful Pig
The Mischievous Raccoon
The Cheeky Monkey
The Woolly Sheep
The Sandy Turtle
The Sassy Cat
The Hippie Llama
The Brave Moose
The Artful Fox
The Friendly Cow
The Roaring Lion
I have made a pair of foxy slippers for my son and I currently have a pair of magnificent starry unicorn crochet animal slippers on my hooks!
What else is included?
The patterns in this book are very customisable; each design can be made in multiple sizes, fitting both children and adults, and includes 3 different slipper styles, namely; shoes, boots (with a cuff that comes up the ankle) and slides (slip on / backless slippers).
There is also technically a fourth, bonus style towards the back of the book which is specifically aimed at new beginners and requires very little construction.
The patterns are written in US crochet terminology, but a conversion chart is included for easy reference. Each pattern also includes a chart and written instructions as well as a difficulty rating.
There are plenty of supporting pictures and tips for the technical parts of the designs (such as how to do the piecing, how to stitch on faces etc).
The final chapter of Crochet Animal Slippers covers crochet techniques, including some more tricky topics like how to finish off raw edges neatly and how to work into the opposite side of a foundation chain. As is the case throughout the book, these instructions are accompanied by clear, annotated images to help guide you. There is also a section on care instructions and sewing techniques.
While Crochet Animal Slippers is written for right handed crocheters, there is a very useful conversion guide at the back of the book for left handed crocheters!
Conclusion:
Crochet Animal Slippers is a wonderful book. It is truly suitable for all crocheters of all skill levels and provides a ton of thoughtful and supportive information.
Other pros:
The text is large and clear to read. It is supported by charts and plenty of clearly annotated images
The book is very supportive and inclusive and does not scrimp on details and technical information
The yarns used are easy to find or easy to substitute
Cons:
The book says on the cover that there are "60 fun and easy patterns", and while there are technically more than 60 patterns, there aren't 60 different animals. There are only 20 different animal patterns that can be worked in multiple ways. I found this to be a little misleading, however, the details, imagery and polish of this book far outweighs this point.
There are no baby sized slippers. The smallest is children's size small
It is an all-in-one package of both patterns, beautiful images and a substantial amount of technical information, which makes this book perfect for crocheters of any skill level. I don't think I've ever come across a crochet book that is as supportive and inclusive as this book.
I love this book so much that I've included it in my list of favourite crochet books on Amazon!
All in all this is a delightful, well thought out book and I will definitely be making slippers for the family for Christmas!
If you are interested to read some more of my crochet book reviews, please click the button below. Otherwise, head over to the patterns page for lots of free crochet patterns!