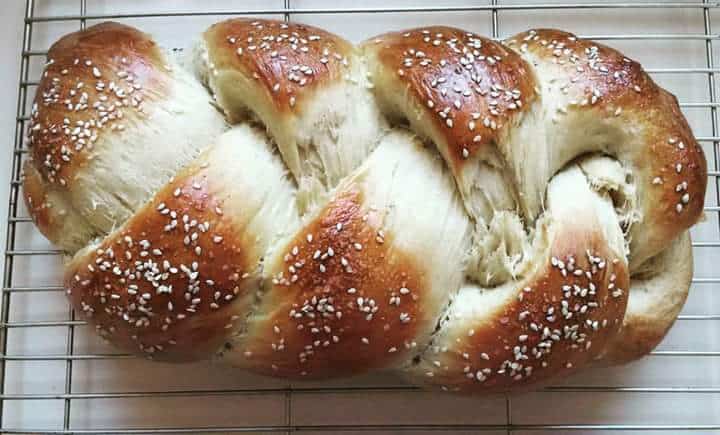 There is something so comforting about the smell of home made bread, but it can be quite an effort to make by hand and so I don't often do it. However, now that I have a Thermomix, bread making is so much easier! It's simply a matter of chucking in the ingredients and letting the machine do (most of) the rest. The recipe I'm posting today is for a simple Thermomix braided bread loaf. This type of braided bread is also known as challah or kitke; and is a sweetened and enriched bread eaten on the Sabbath. This recipe whips up really quickly and yields 1 large loaf. I made mine using the TM 5, but you could easily make it in the TM 31, a bread maker, or by hand. It is best eaten fresh on the day, but it's a great loaf for sharing and I can guarantee that there won't be any leftovers…
Recipe
Yield // 1 large loaf
Oven temperature // 150ºC
Ingredients
190 g lukewarm water
500 g flour
1 sachet dry yeast (approx 2 tsp)
50 g sugar (you could substitute with honey)
1 egg
1/2 TBSP salt
75 g olive oil
egg wash (1 egg + 1 TBSP milk or water)
sesame seeds, poppy seeds or kosher salt for sprinkling
Instructions:
Add the water to the TM bowl followed by the flour
Add all the remaining ingredients (yeast, sugar, egg, salt, oil) and mix for 10 seconds / speed 4
Scrape down the sides and mix for a further 5 seconds / speed 4
Set the Thermomix to knead for 2.5 minutes
Turn the dough out into a bowl or onto a mat, cover it (either with a damp tea towel or plastic wrap with some oil brushed onto it so it won't stick) and leave it to double in size (approximately 20 – 30 minutes)
Divide the dough into 3, roll into logs and plait together. Feel free to do more complicated plaits if you know how! Make sure to tuck in the ends so that they don't come loose while baking.
Place the loaf on a baking tray, brush with the egg wash and sprinkle with seeds/salt
Bake for about 20 -30 minutes, or until the top is golden brown and the loaf sounds hollow when tapped.