Do you have a favourite cookie recipe? One of mine for the festive season is almond shortbread, or German lebkuchen. Thanksgiving and Christmas are the time of year where cookies are plentiful! So I decided to make a crochet Christmas jar wrap to add a special touch to the household cookie jar. 
I really enjoy combining different crafts into one project. It is a great opportunity to get creative, and in this case, to use up some scraps of fabric and ribbon.
This crochet Christmas jar wrap project is very flexible. While I've listed some information on the materials I have used, you can absolutely use up the scraps you have in your stash. Have fun with the colours and textures and let your personality shine through!
You could even replace the word "cookie" with someone's name and fill the jar with something they love. These crochet Christmas jars would also make wonderful teacher gifts or neighbor gifts.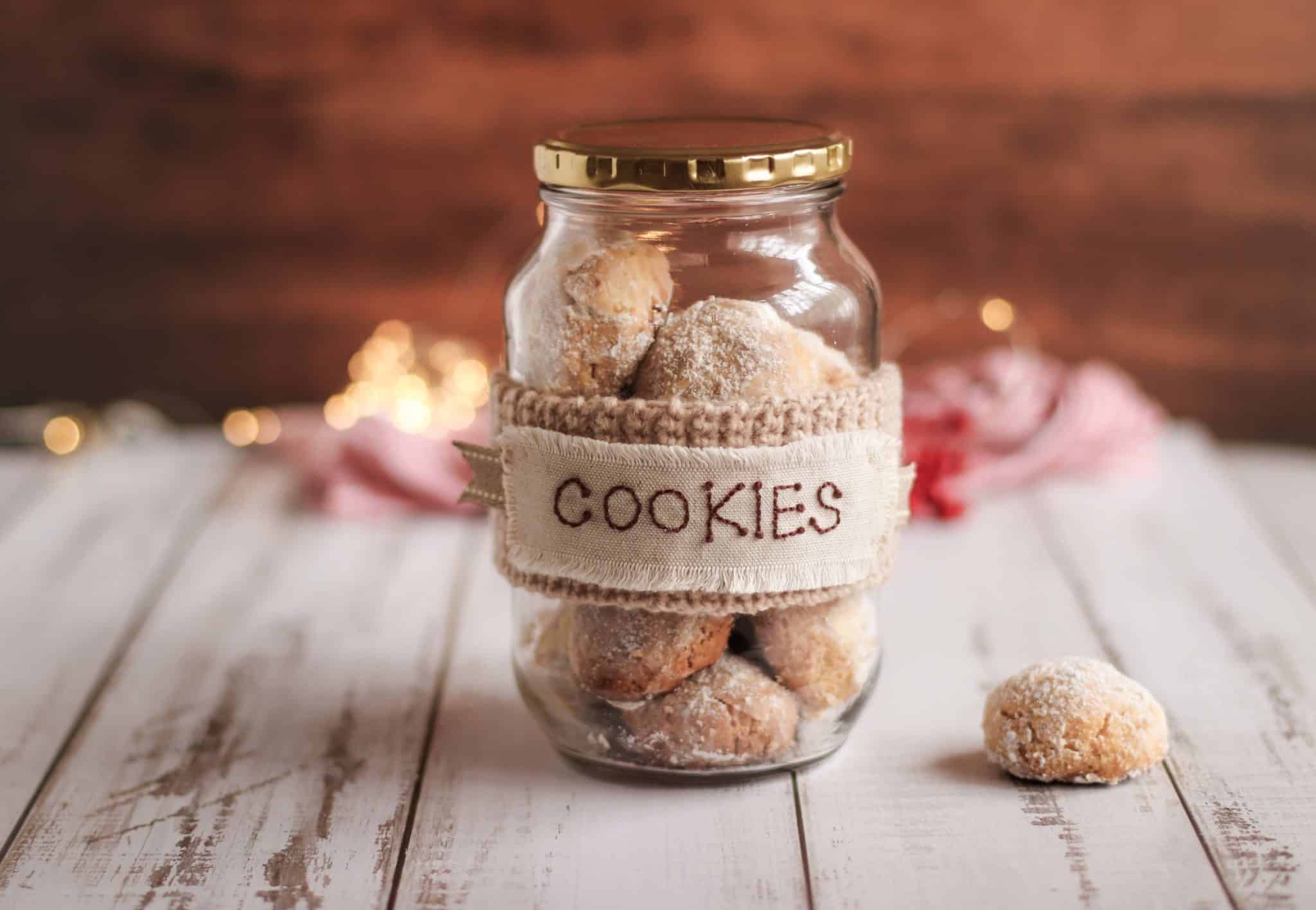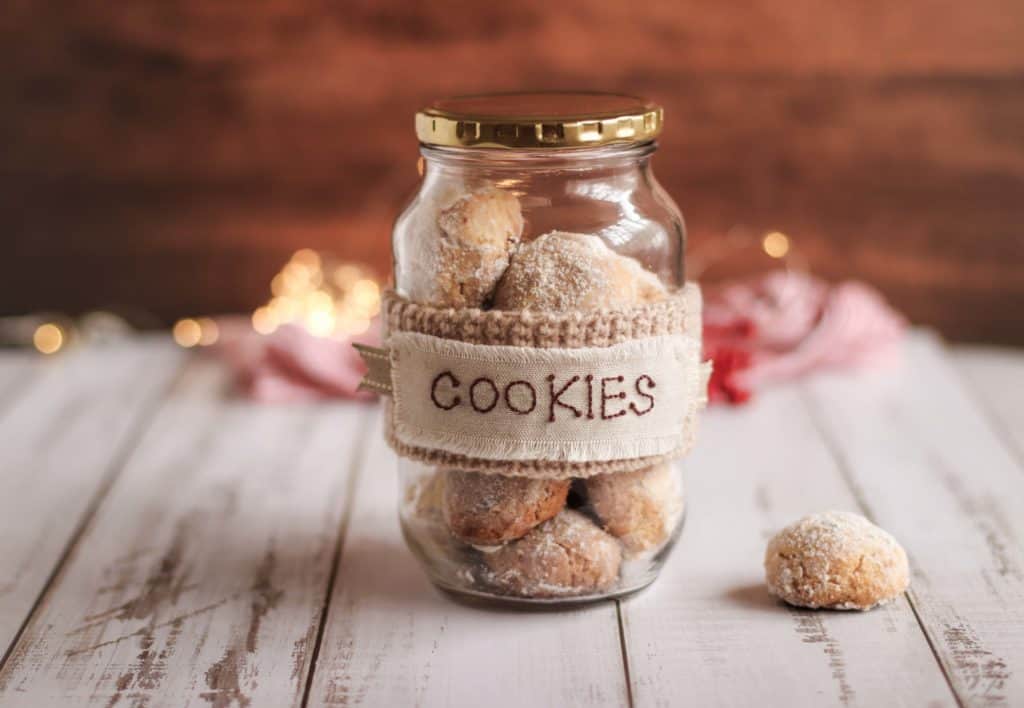 What you need to make a crochet Christmas jar wrap
4mm/G crochet hook
DK/worsted weight yarn in the color of your choice (I used a light tan color)
Yarn needle
Small piece of fabric for label (approximately 11.5cm x 4cm, cotton or linen work well)
Embroidery cotton (dark brown)
Sewing needle
Washable fabric pen
Ribbon (approximately 16.5cm x 1.5cm)
Wooden button
Scissors
Fabric glue / hot glue
Large glass jar (upcycle one if you can!)
Notes
This pattern uses US terminology (see abbreviations here)
Tutorial for how to embroider French knots (the tutorial embroiders onto crochet, but the stitch is the same regardless of the fabric that you use)
Crochet Christmas jar pattern
R1: ch 12, skip 1, sc across (11)
R2: ch 1, turn, sc across (11)
Make a button hole as follows:
R3: ch 1, turn, sc in next 4 st, skip 3 st, ch 2, sc in next 4 st (8 st, 2 ch)
R4: ch 1, turn, sc in next 4 st, 3 sc into ch-2-sp, sc in next 4 st (11)
R5: ch 1, turn sc across (11)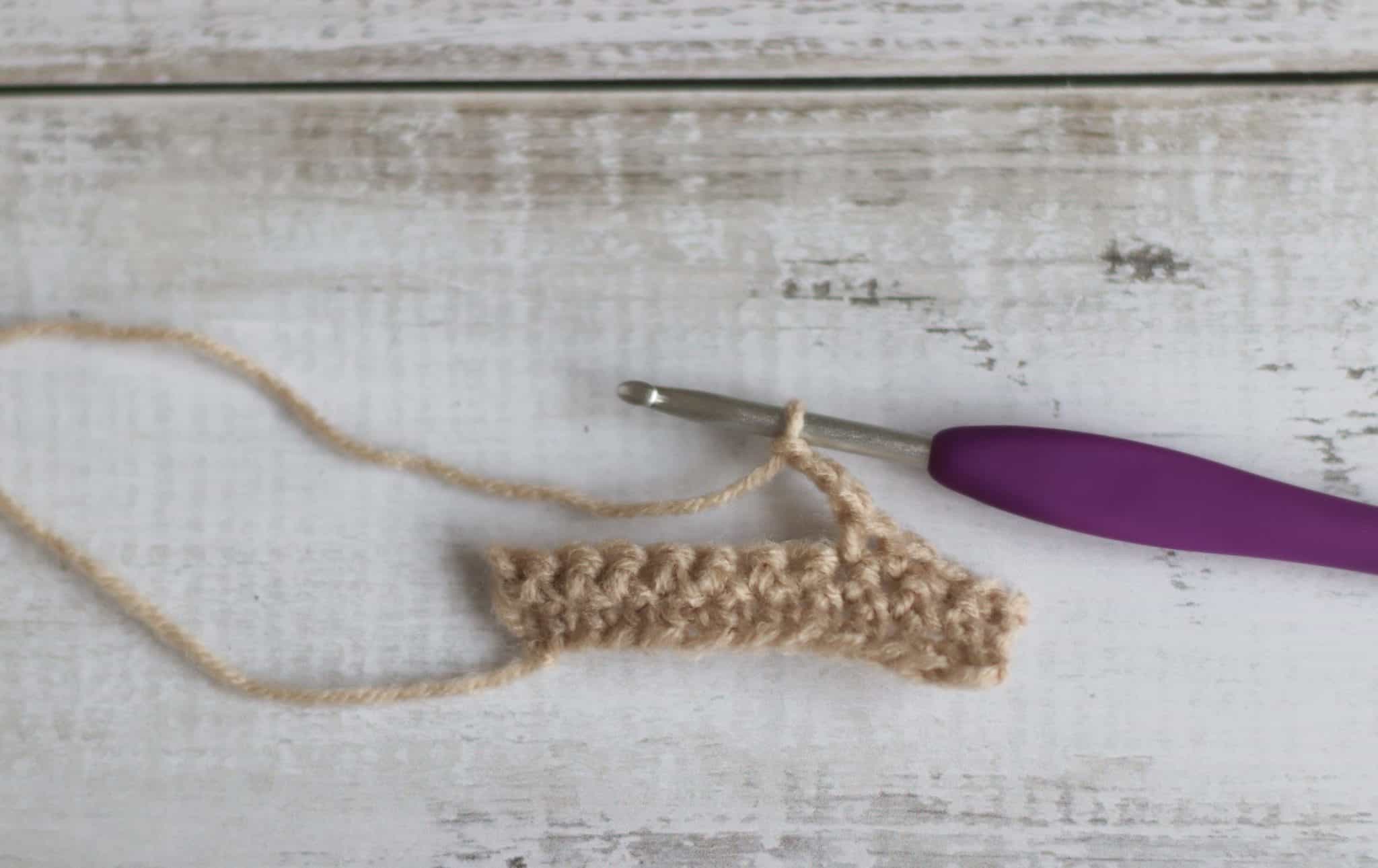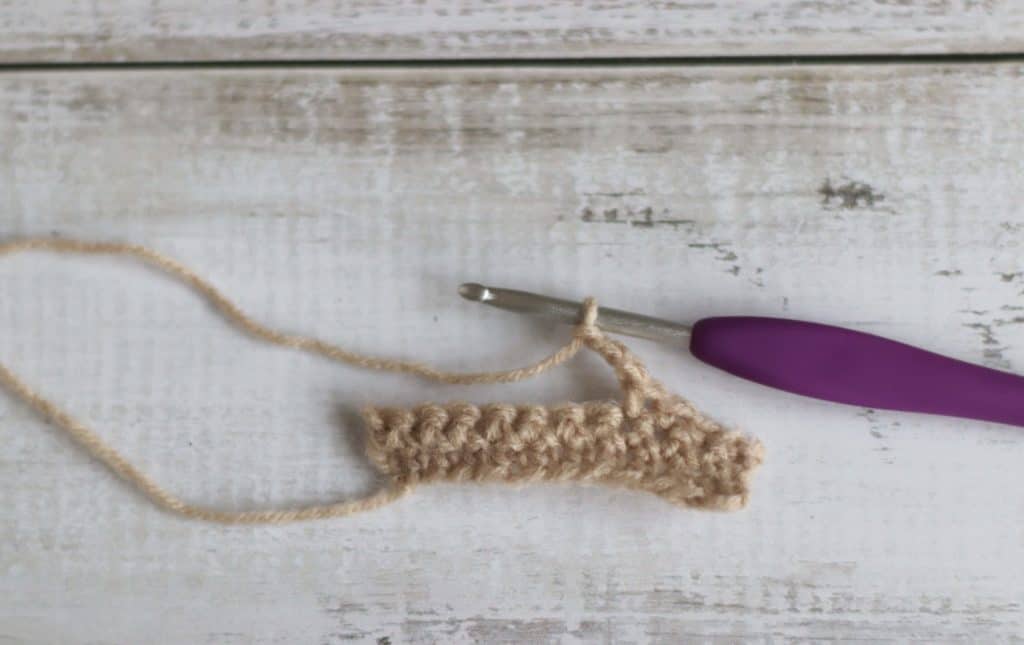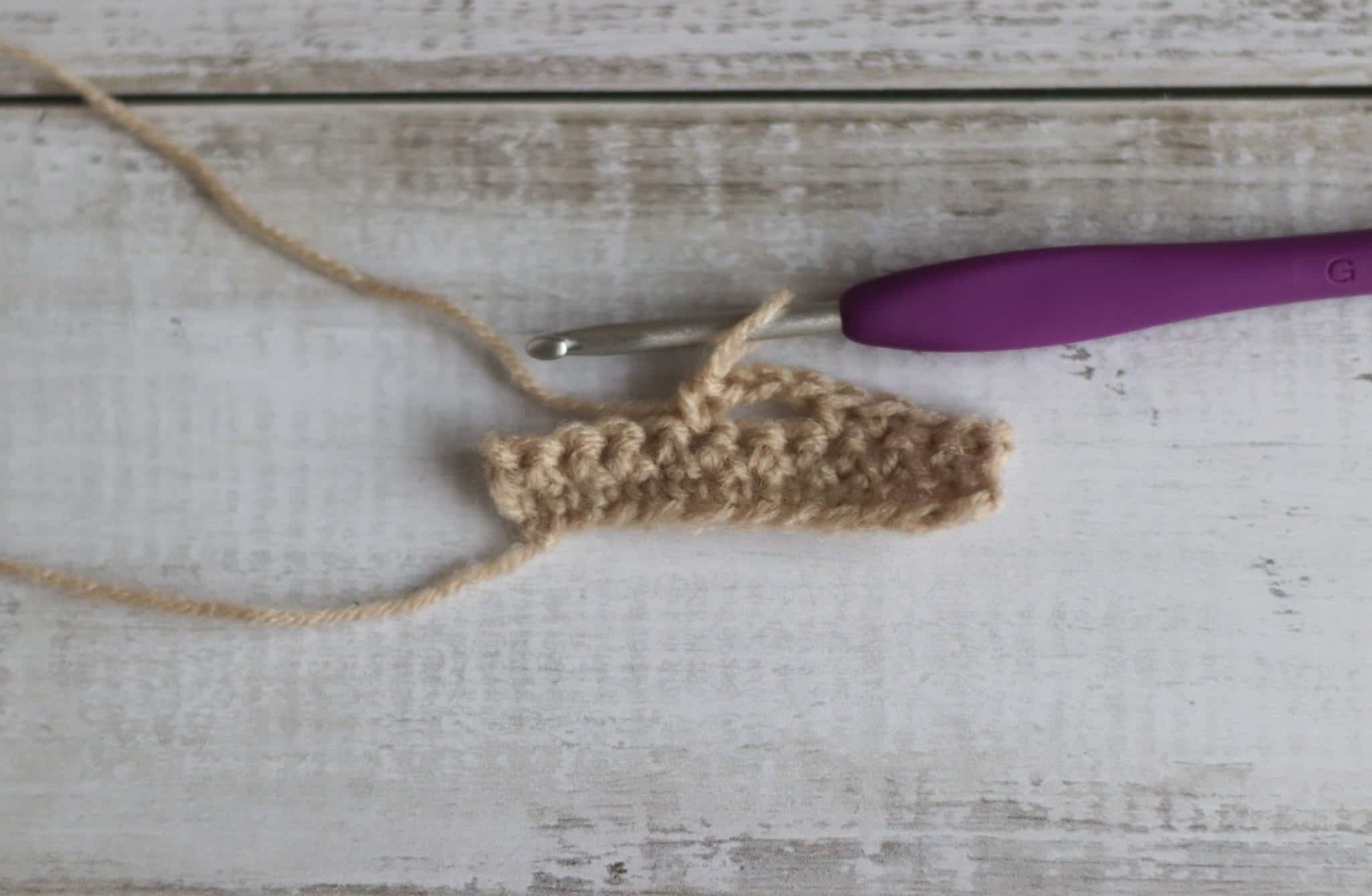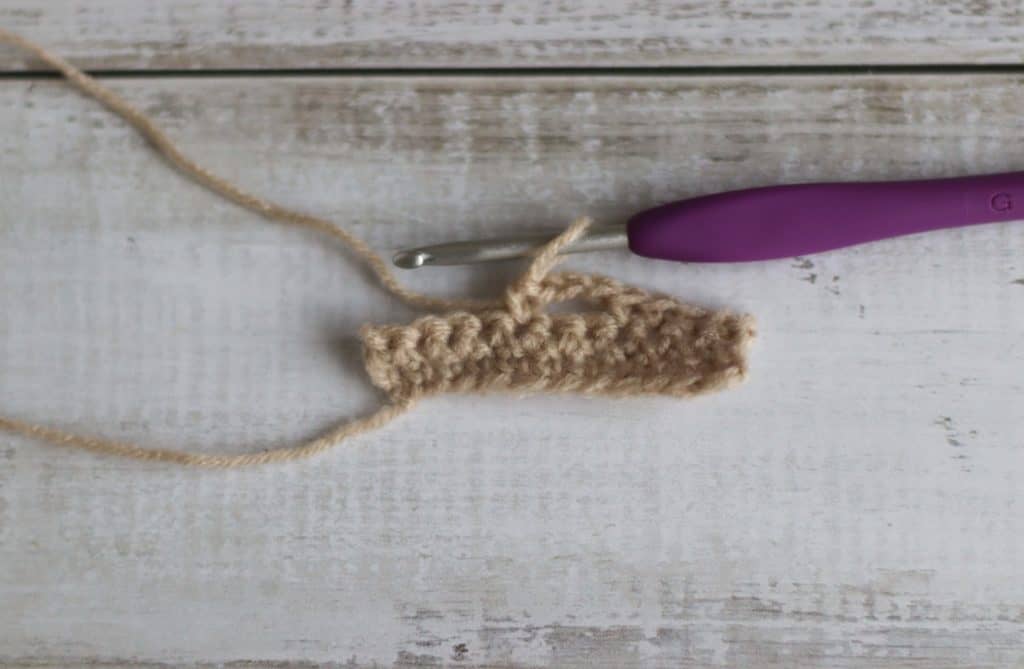 Repeat R5 until the band is long enough to fit comfortably around the jar you are using. Make sure to have an overlap of 2 – 3cm to accommodate the button. The wrap must fit snugly, but don't overstretch it! My wrap measures 36cm long. Using a scrap of yarn, or embroidery cotton, sew the button onto one end of the wrap.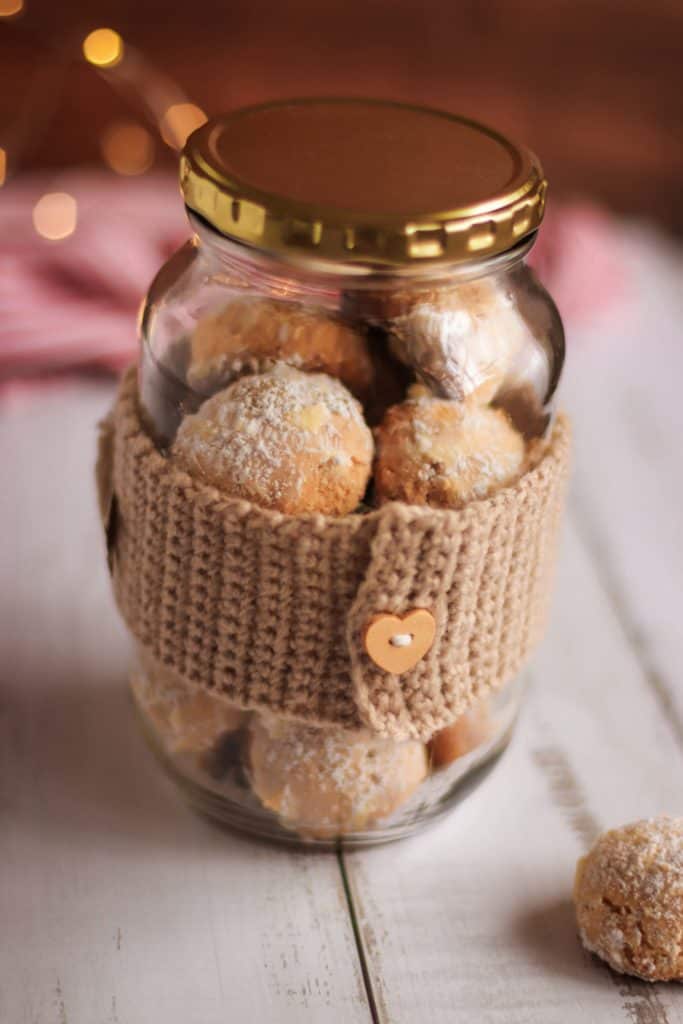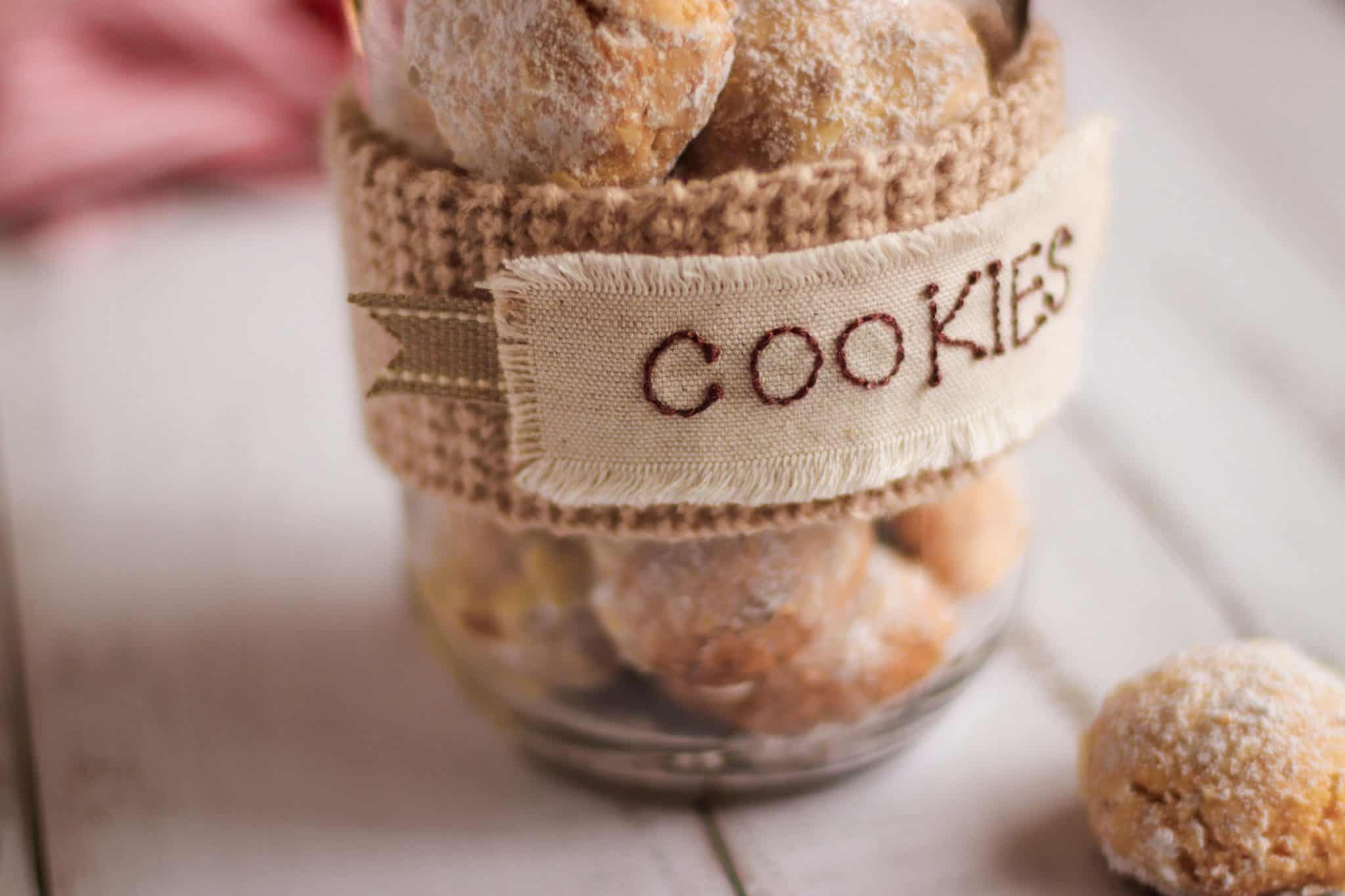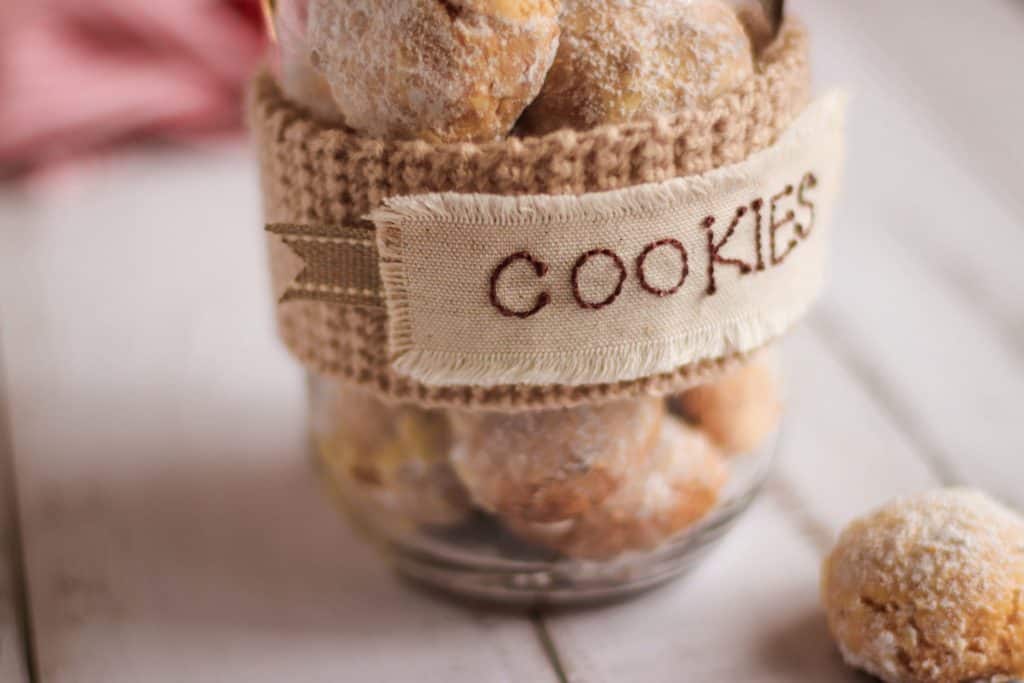 Embroider the cookie jar label
Embroidery can be rather intimidating for some, particularly if you have never tried it before. What is lovely about this project, is that if your stitches aren't perfectly even that really doesn't matter! Any imperfections only add to the homey feel of this crochet cookie jar project.
If you really don't want to do the embroidery part, you could use iron on vinyl, fabric paint or a fabric marker to write the label.
I like to use something like cotton or linen for this part of the project as it frays really nicely and is easier to embroider onto than synthetic fabrics.
1.Using your washable fabric marker, write "cookies" onto the piece of fabric and embroider using dark brown embroidery cotton. If you make a mistake, don't panic! You can wash off the marker and write it again. I added some small french knots onto some of my letters to add some character and you can see how to do that in this video tutorial.
2. Carefully fray the edges of the fabric and trim if needed. Wash the embroidered piece in some hand wash and allow to dry completely.

3. Trim your ribbon to the correct size and glue it to the back of the embroidered piece. I prefer to use fabric glue as it adheres very well and doesn't show through the fabric.
TOP TIP: test out your glue on a scrap of fabric to see if it will seep through or discolour the fabric in any way.
4. Glue or stitch the ribbon and embroidered piece onto the crochet band.

5. Fill your crochet Christmas jar with cookies, add a lovely gift tag (I've got some beautiful ones available for free) and share it with all your special people!
If you are looking to upcycle more jars, have a look at my festive lantern project. And if you need your next Christmas crochet project, then look no further! I have lots of free, festive projects right here on the blog.
Happy making this festive season!
Yours in craft,
Caitie