This post is all about Christmas and gift wrapping. And of course some free printable Christmas gift tags! I honestly cannot believe that we are mid-way through December already. How this year has flown! And Christmas is just around the corner. How organized are you for the festive season this year?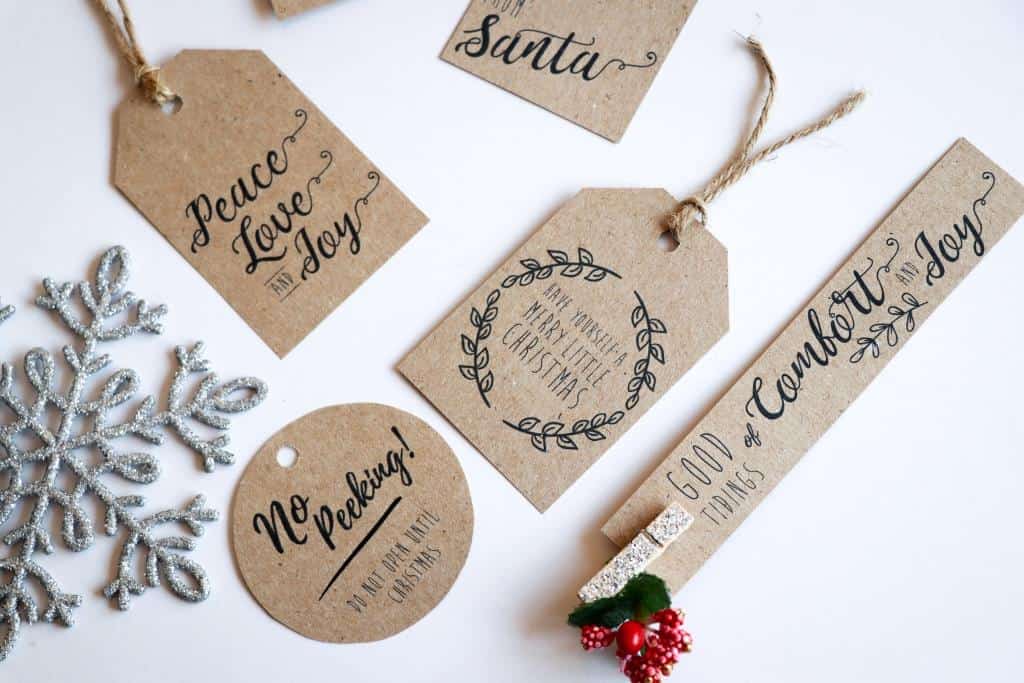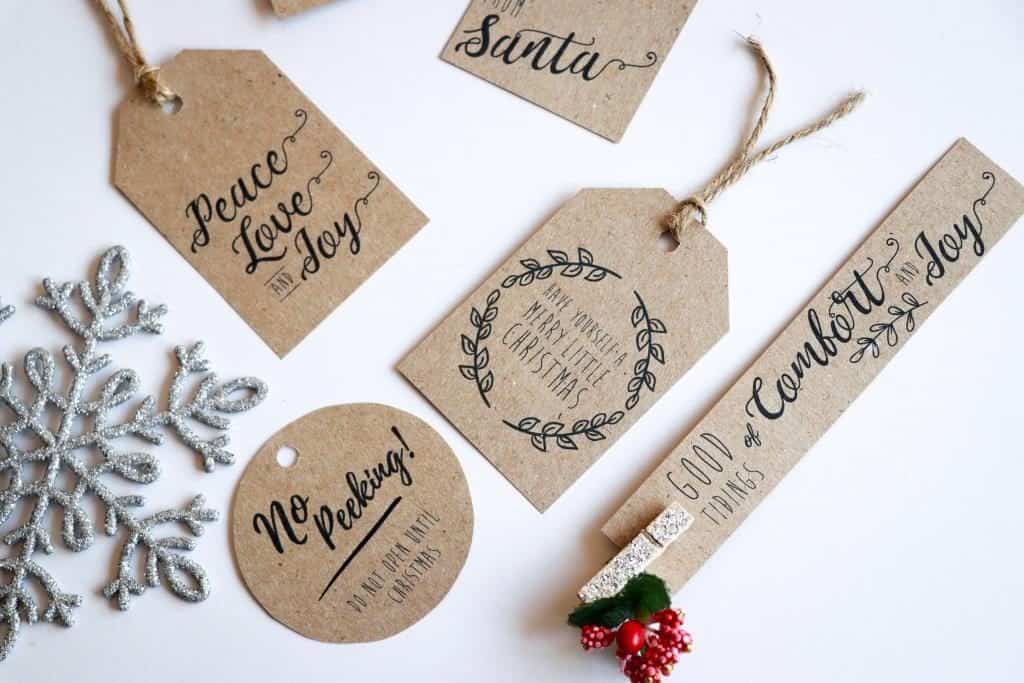 We don't put up our tree until the week before Christmas (we actually went out and bought a real tree today), but I'm already seeing lots of beautiful decorations up all over the place. I'm starting to get excited for the holidays and for teaching my children about Christmas.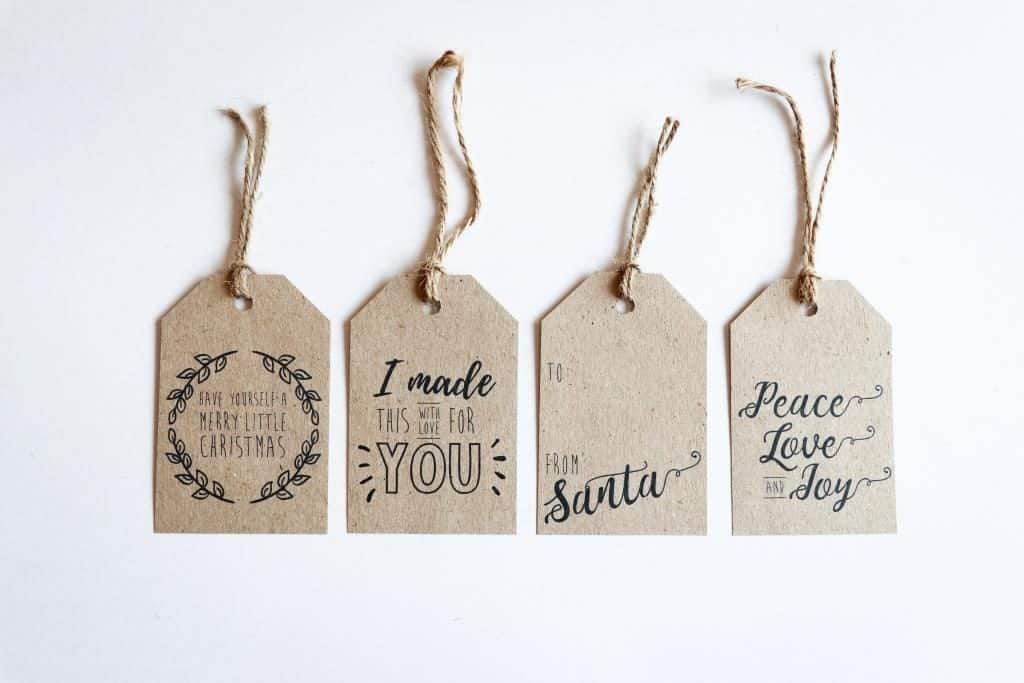 One of my Christmas 'traditions' is wrapping all the presents (still need gift ideas? Click here for gift ideas). I arm myself with a cup of tea (and maybe a mince pie)  armfuls of wrapping paper and all sorts of other crafty things like glitter, stickers, ribbons etc.  I like to crank up the carols and then get wrapping.
When I still lived at home with my parents, I used to wrap all of their gifts too! I really enjoy taking the time to wrap something beautifully.
You don't have to stick to paper either. I once received a kitchen gift wrapped in a beautiful tea towel and tied with some twine. It was absolutely gorgeous!
I also really love the idea of Furoshiki; the Japanese method of wrapping gifts and other items in pieces of cloth. It is a very mindful and earth-friendly wrapping option.
I've put a collection of some more of my favorite gift wrap ideas which you can read about here.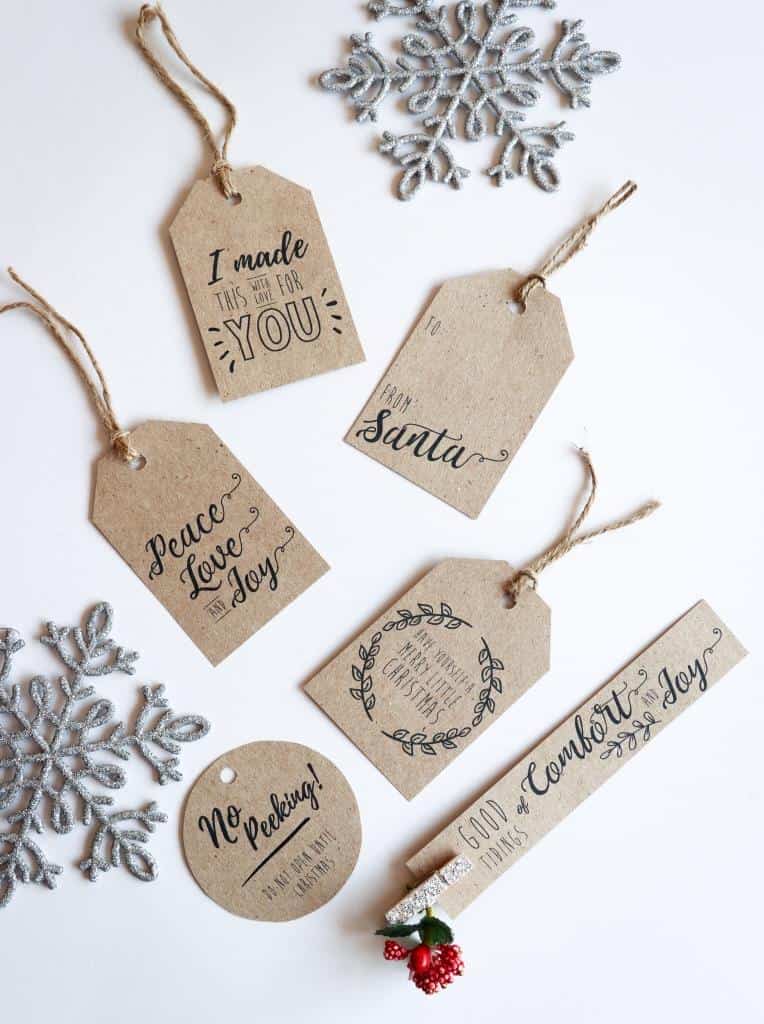 I try and do a bit of a theme each year, whether it's a color theme (like gold and red, or silver and blue) or a character theme like nativity or snowmen. This year I think there is a huge return to all things natural, so I'll be sticking with neutral colors with a touch of green or red. I may even make a few wreath ornaments to add to my gifts.
So, since it is Christmas, I've got a gift for you – some delightful and free printable Christmas gift tags! These tags are great if you don't want to head out into the hustle and bustle of festive shopping because you can simply print them and cut them out at home. Voila! 
Free printable Christmas gift tags
You can download the free printable Christmas gift tags by clicking right here or by clicking on the button below.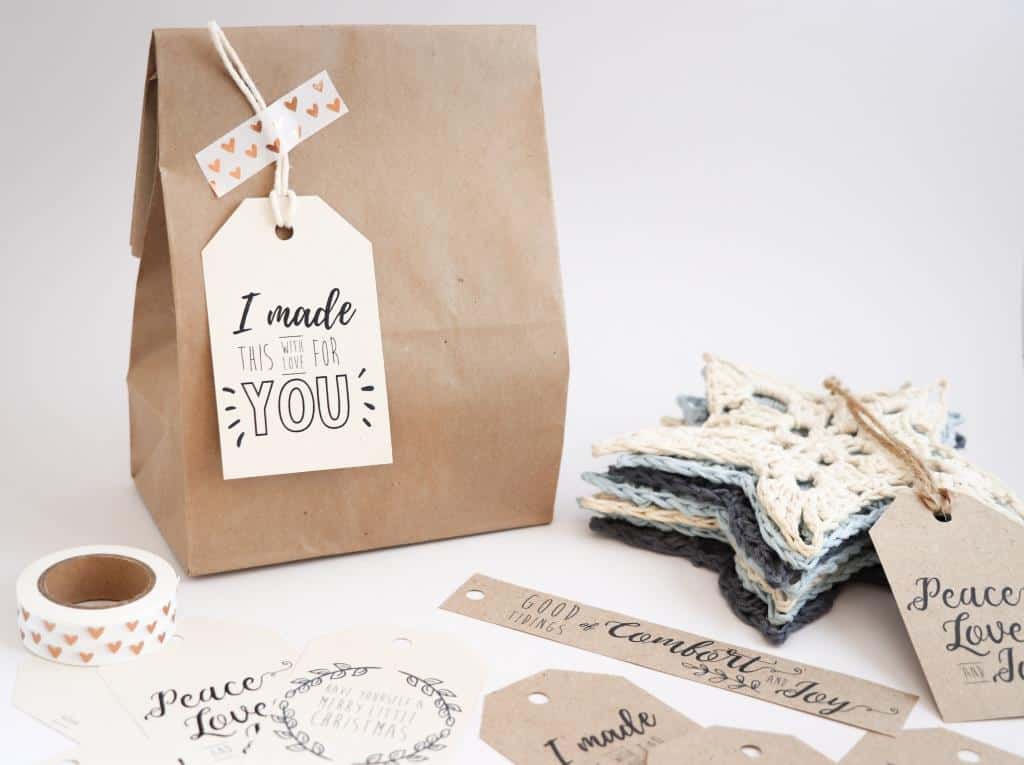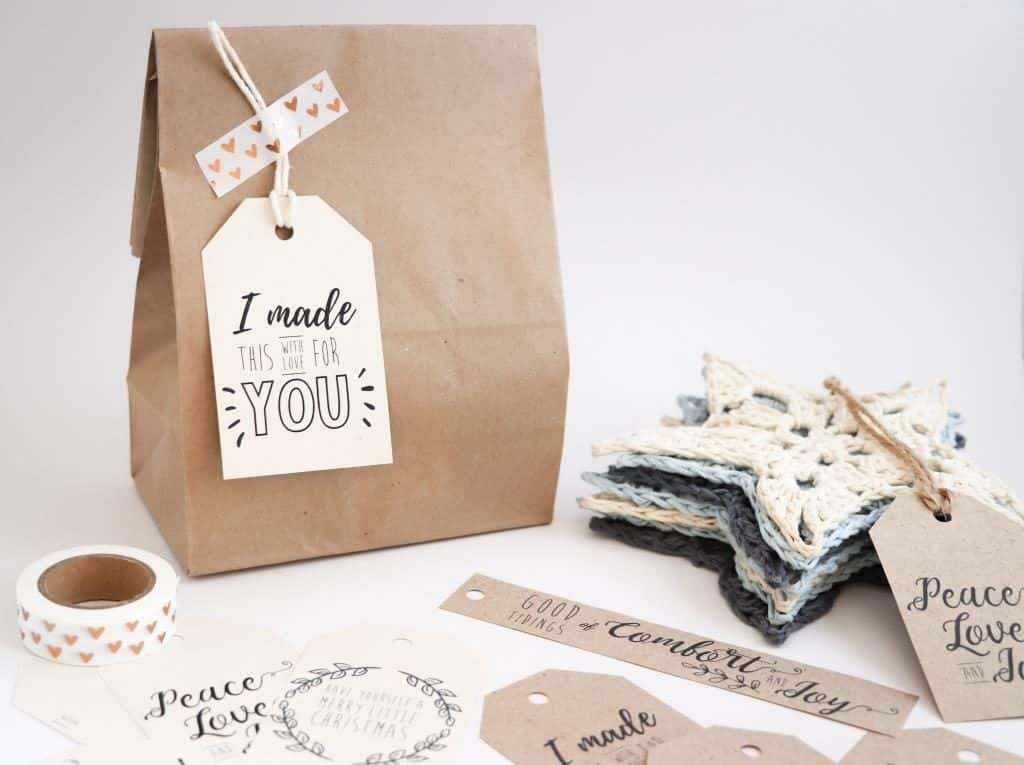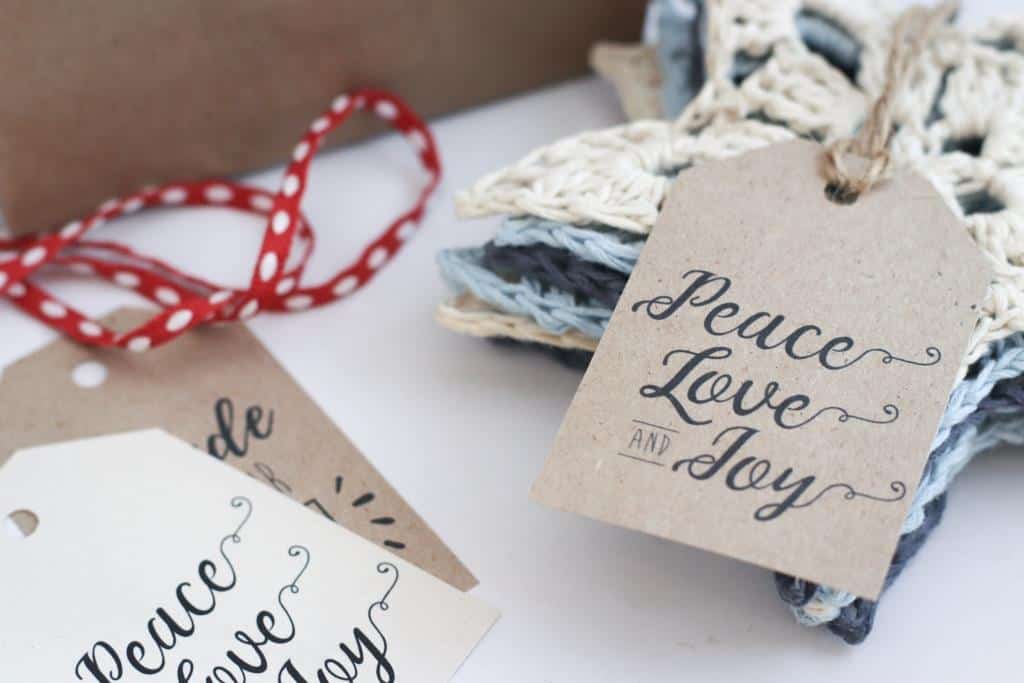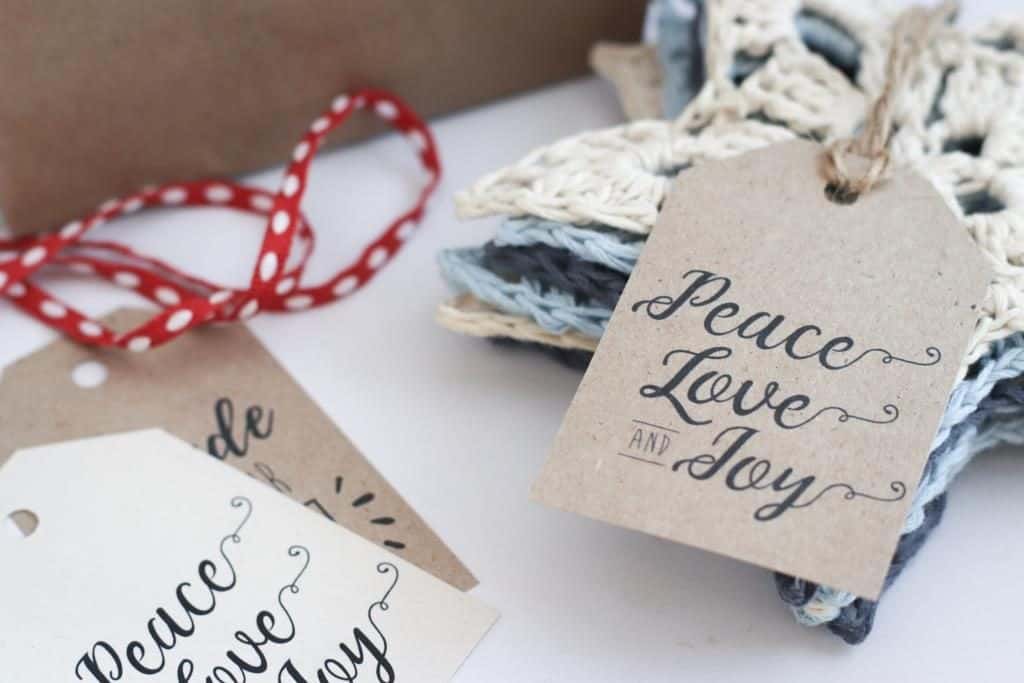 If you are looking for some Christmas crochet projects, I have plenty for you (including Christmas amigurumi, baubles, bunting, granny squares and more!)
Hope that you all have a truly blessed Christmas and Holiday season. If you find some time to do some crafting, then drop me a note, I'd love to hear about it!
This is probably all from me until next year – onwards to the new year!
More Christmas craft projects!
Yours in craft
Caitie