I recently got my hands on some t-shirt yarn. I've been dying to give it a try. T-shirt yarn is thick and chunky and a world away from the delicate work of amigurumi that I am used to. I've had a 9mm crochet hook (the biggest in my collection) that I've had for ages and nothing chunky enough to make with it. Finally I have a project where I can use it! You can check out my modern toy basket pattern (for free!) here.
T-shirt yarn is great to work with because it (usually) doesn't fray or split, it's slightly stretchy and is wonderful for more robust projects like bath mats or baskets. Projects using t-shirt yarn also work up pretty quickly, which is very satisfying. It is important to note, however, that using t-shirt yarn is quite different from using regular yarn and can be frustrating if you haven't used it before. I've listed my t-shirt yarn tips; things I wish I'd known about working with t-shirt yarn before I started with my first project.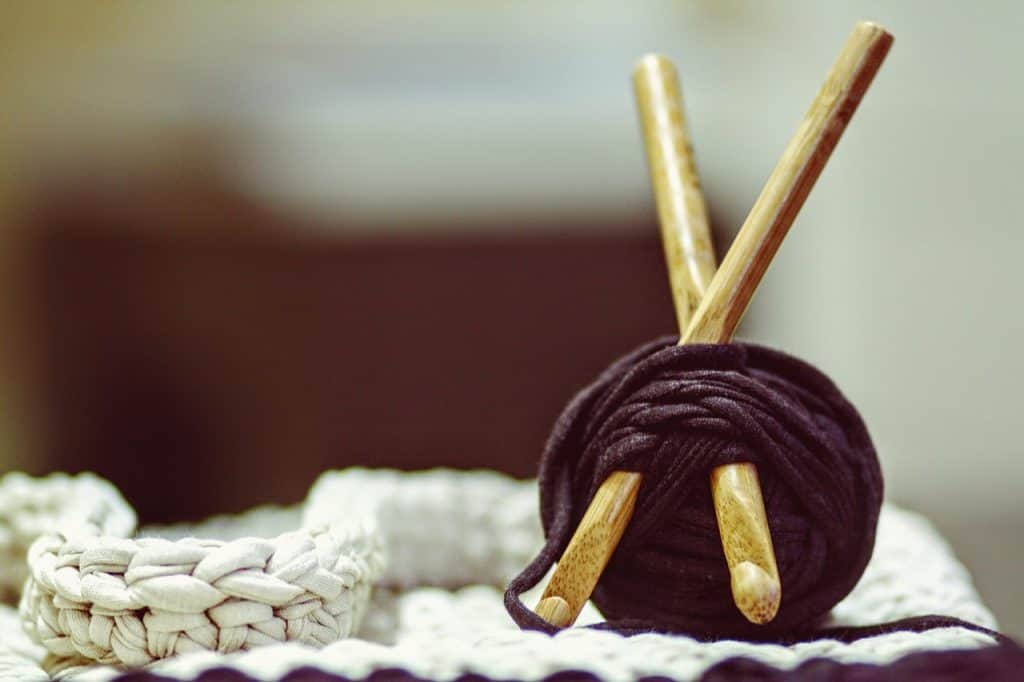 How to crochet with t-shirt yarn | t-shirt yarn tips
Choose the right hook
T-shirt yarn is not always as predictable with weight as regular yarn (particularly if you make your own!). If you have purchased some pre-made t-shirt yarn, then there may be a hook size indication on the packaging, however, this is not always the case. There can be a bit of guesswork when it comes to deciding what hook size to use.
Make sure that you use a crochet hook that is large enough. If your hook is too small, you will really struggle to do each stitch. For my crochet basket, I used 1″ wide t-shirt yarn and a 9mm hook. I could have even used one hook size up.
Make sure you have enough yarn
For my first t-shirt yarn project, I bought 3 rolls of yarn. Surely that would be enough to make something really big? Wrong! t-shirt yarn doesn't go very far at all, so make sure you have enough yarn to complete your project. If you are upcycling an old t-shirt, then you are somewhat limited by the size of the t-shirt as to how much yarn you will have. That's totally ok, as you can mix and match yarns from different t-shirts to create something really unique.
If you want to make something with specific color combinations (such as this adorable bag by The Craft Patch) then consider buying some balls of yarn from a supplier where you can get more if you run out.
Watch your tension
I find that t-shirt yarn is less forgiving with tension than regular yarn as it doesn't 'move' as easily. Once a stitch is in place, that's what it will look like (unlike using regular yarn which settles a bit as you crochet). For a neater finish, check your stitches as you go and redo any that don't look good. Don't be fooled into thinking that a misshapen stitch will just "sort itself out" as you go. It won't!
Don't over stretch
T-shirt yarn has a bit of stretch in it, so don't be tempted to stretch out the yarn as you work. If you do, once you've made your stitch it will pull back into place and your work will buckle. You need to work fairly tightly, but not too tightly. Again, don't be afraid to either frog your work or to tweak a pattern by adding or removing a stitch to accommodate for your unique yarn and tension.
How to deal with joins in the same color
One of my pet hates is when you are merrily working on a project and suddenly appears a break in the yarn and it's joined with a horrible knot! If you are crocheting amigurumi or a blanket, you can carefully hide the knot as you work, but it's not as easy if you are crocheting a t-shirt yarn basket…
If you encounter a knot, I strongly suggest that you take the time to undo the knot and sew the ends together. It is probably quickest to do so by hand, but use a sewing machine if you wish. Knots in t-shirt yarn are big and difficult to hide and are guaranteed to spoil your work.

Pace yourself
Working with t-shirt yarn is certainly not relaxing but rather it's a guaranteed arm work out! On top of that, if you are making a bath mat or large basket, your work will get heavy. Make sure not to overdo it – a crochet related injury while working with this stuff is not unrealistic.
Have I left anything off the list? What are your top tips for working with difficult yarns?
Now that you have got your basics of working with t-shirt yarn covered, why not start on your first project? My Crochet Basket pattern is great for beginners!
Looking for some more tips from Thoresby Cottage? Check out my top tips for crocheting amigurumi
Yours in craft,
Caitie
x