I'm mom to a very busy little boy who just loves playing. ALL. THE. TIME. One of his favourite things to do at the moment is to throw a ball or stacking cup and chase after it.  He's got a bag full of balls so I find them all over the house, sometimes in the strangest places! Several times his toys have gone through the laundry because they were hidden in the washing basket. I've found one hidden in the cutlery drawer, in the dustbin or behind our piano. It's like a treasure hunt and you didn't know you were hunting for treasure.
For those of you who are moms to toddlers, you will sympathise with the constant battle that rages between keeping your child occupied (while he lobs toys across the living room) and keeping the house tidy. Some days I win and the house is not in a total shambles, and other days I lose. Badly. One of the things that has really helped is to have easy access to toy baskets. At the end of the day, or just before guests arrive, I can grab all the toys littered about the house and pop them into a basket. Not only are they useful for packing things away, the baskets themselves are also great fun for toddlers, taking things out and putting them back in again.
I had some t-shirt yarn that I was very keen to try so I decided to work on a crochet toy basket pattern. My boy's room is light blue and grey, with a bit of a woodland theme to it (you can read about some of the other goodies I've accesorised his room with here), so the blue, white and grey for this crochet toy basket pattern worked perfectly. T-shirt yarn is great for crochet toy baskets. It's soft so baby can't hurt themselves on it, but it's also robust and stands up to a busy toddler. What I love the most is that when it gets dirty, I can simply pop it into the laundry and wash it like I would a regular t-shirt, and it looks just like new. No more grubby hand prints!
This crochet toy basket pattern is very versatile. Simply adjust it to the size of basket that you want. Make sure to have a look through my tips for crocheting with t-shirt yarn before you start so that your project turns out perfectly!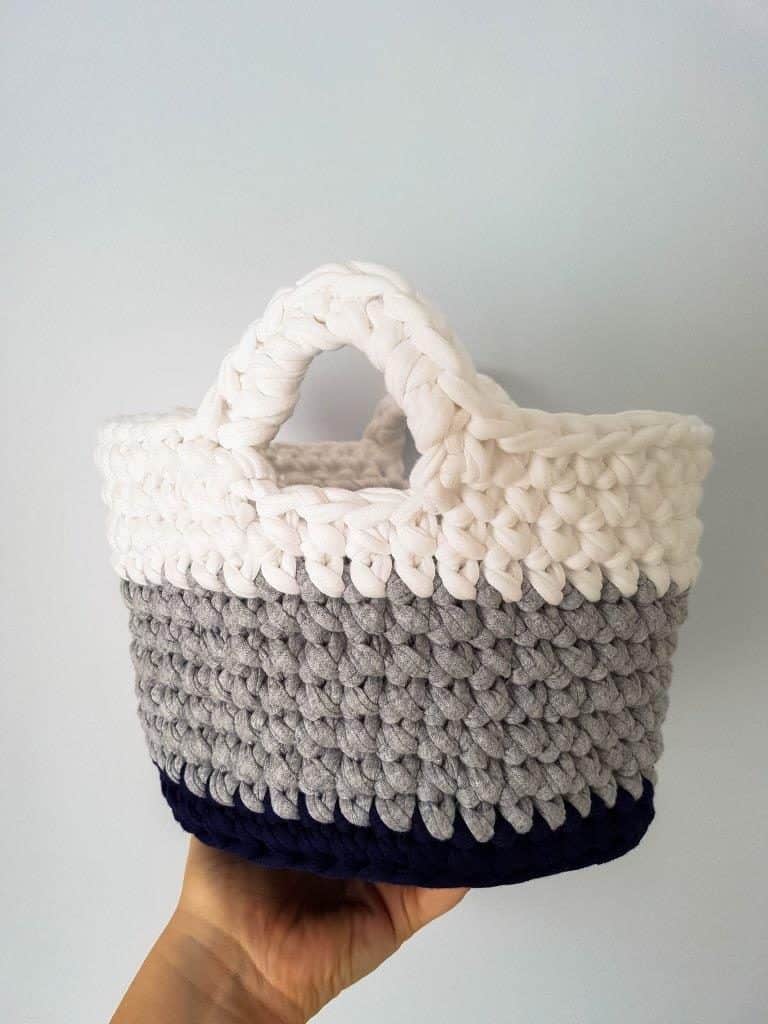 WHAT YOU NEED:
9mm crochet hook (or smaller/larger depending on the thickness of your yarn)
T-shirt yarn in contrast colors (mine was 1″ thick)
Jumbo stitch marker (optional)
NOTES BEFORE YOU START:
Make sure you are familiar with the crochet abbreviations for this pattern
Check out my tips for crocheting with t-shirt yarn
Learn how to do a simple color change in crochet
This post contains affiliate links.



CROCHET TOY BASKET PATTERN:
Begin with ch 3, sl st to form a ring
R1. sc 7 into the ch 3
R2. 2 sc in each st (14)
R3. [sc in next st, 2sc in next st] around (21)
R4. [2sc in next st, sc in next st, sc in next st] around (28)
R5. [sc in next 3 sts, 2sc in next st] around (35)
R6. [sc in next 4 sts, 2sc in next st] around (42)
R7. [sc in next 5 sts, 2sc in next st] around (49)
R8. sc around in bl only (49)
R9 – 16. sc around, changing colors as you wish. I started with navy and changed to grey after 9 rounds. I continued to work R10 – 15 in grey and the remainder of the pattern in white.
R17. sc 22, ch 9 (to form a handle – you can leave this out if you don't want handles), sk 3 sts and continue to sc in the next 21 st, sk 3, ch 9 to form the second handle.
R18. Continue to sc around. When you reach the handles, sc 9 st over the ch 9 (you may have to adjust this if your t-shirt yarn is thicker or thinner than the yarn I used. Simply sc over the ch with as many stitches as required to fill in the handle nicely).
Tip: I like to continue working another ¼ to ½ round until I hit the handle again before I bind off. T-shirt yarn is so chunky and it is easier to hide your bind off site if it is at the base of the handle rather than in the middle of the round.
Ok, so now that you have made your crochet toy basket, I have a small confession…. While I made it for my son's room, I've kinda claimed it for myself to hold the yarn of my current project. Much nicer than the plastic packet my yarn was in previously! I'll have to get going and make him another one.
Yours in craft,
Caitie
x