Before we ask why, we probably need to answer what is a Cricut? In a nutshell, a Cricut (pronounced "cricket") is a crafters dream machine! Depending on the model, this smart cutting and crafting machine can cut, draw, engrave, deboss, foil and more. Have I got your attention now?
Cricut offer a range of cutting machines and supporting crafting tools and materials. For this article, I'm going to focus on the smart cutting devices. There are three* main groups of Cricut cutting machines;
Cricut Joy – the smallest of the range. While this machine is mini (small enough to fit on your desk) it is definitely still very mighty and can cut a wide variety of materials.

Cricut Explore 3 – a larger, more fully featured machine which can cut over 100 materials and is compatible with up to 6 different tools

Cricut Maker series. This is Cricut's professional grade cutting machine. I'll be discussing the newest addition to the Cricut Maker series, the Cricut Maker 3.

*For more information on the differences between these machines, you can visit the compare page on the Cricut website.
The Cricut Maker 3 is the ultimate smart cutting and crafting machine. It can cut over 300 different materials, including vinyl, paper, cardstock, leather, many different fabrics, certain woods and so much more.
With the Cricut Maker 3 you can make all manner of crafty things including cards, gift boxes, stencils, labels, stickers, decor, papercrafts, cake toppers and party decor, personalised clothing and jewelry, just to name a few things that I have personally made with my Cricut. The list of possibilities is much, much longer than what I have here!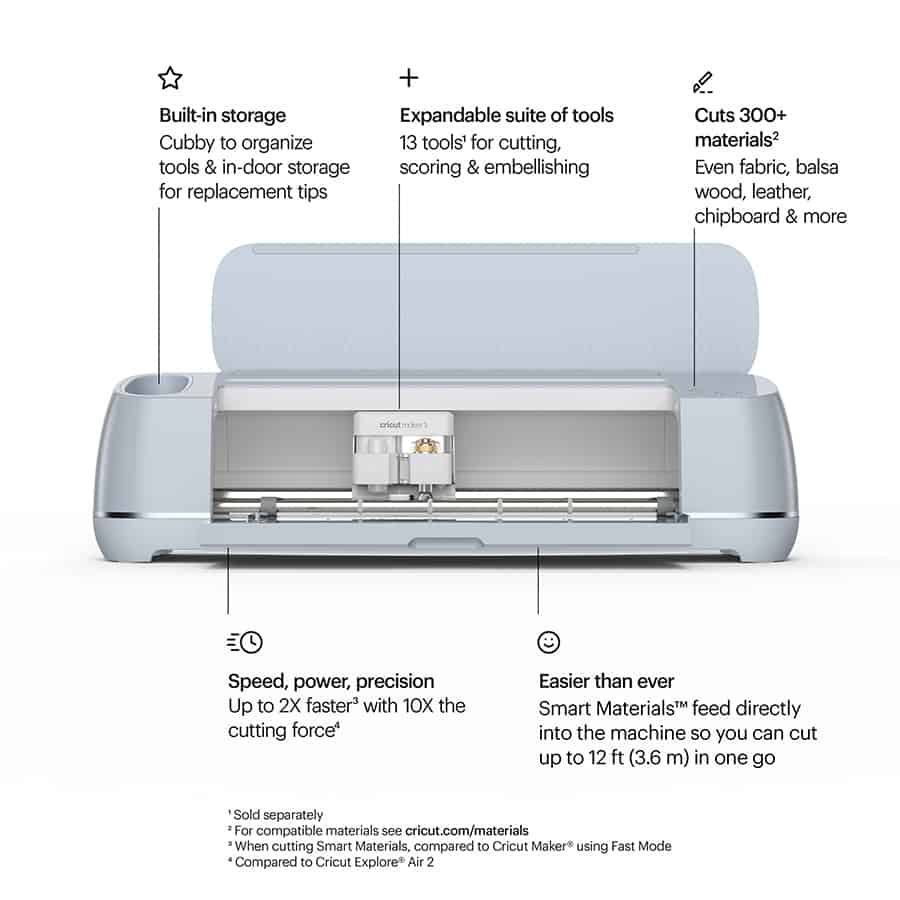 How does a Cricut machine work?
First you need to connect your Cricut to a laptop, tablet or smartphone. This is done wirelessly although there is a wired option if you need. Then, using Cricut's 'Design Space' software you can create or tweak your design before sending it to the Cricut machine.
The Cricut Maker uses a fine blade to cut motifs that you have either designed or uploaded into Design Space. This blade can also be swapped out with different tools which do different things, including writing / drawing, debossing, scoring, foiling, perforating and engraving. You can also combine functions and use them on a single project. For example in the foiled Easter egg decoration below. First I added score lines, then applied the foil details, and finally cut the egg from a piece of cardstock – all using my Cricut Maker 3.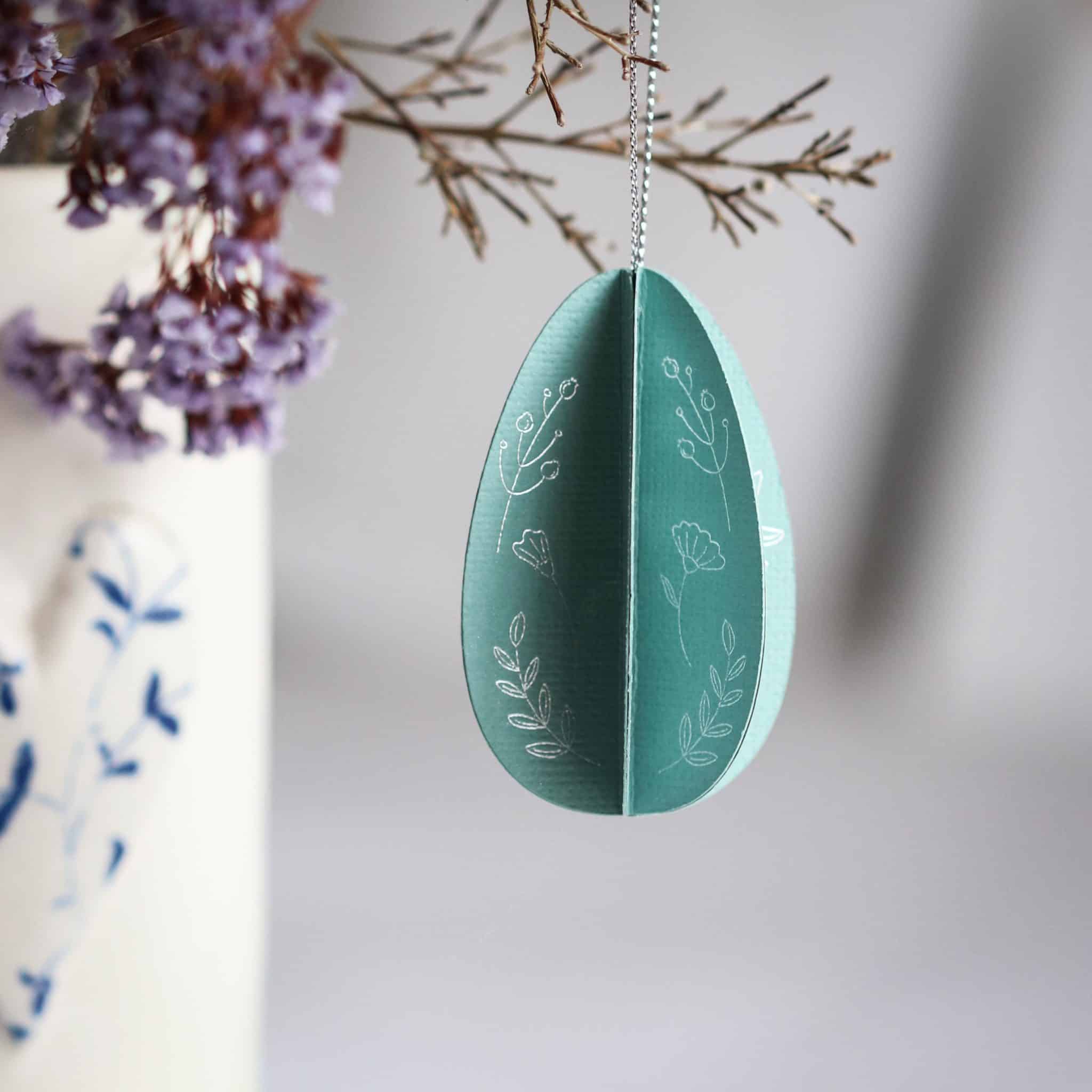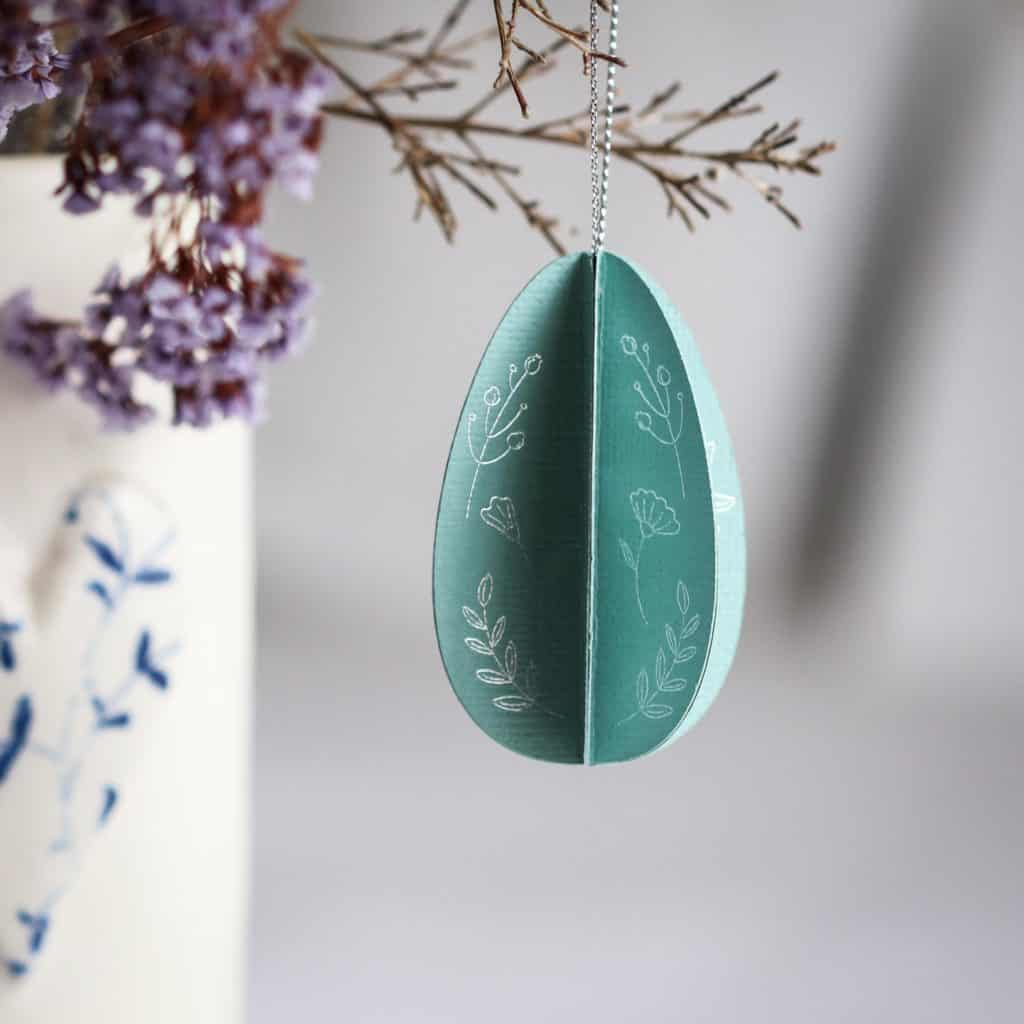 The machine will also guide you through the steps you need to take to complete your project. It will tell you when to load different tools, when to load your material and provide plenty of tips along the way.
More about Cricut Design Space
Cricut Design Space is the platform you need to use to design or modify your projects. It can be used on desktop and smartphones / tablets (great for crafting on the go!). It is available for both Android and iOS, although the features are slightly different between the different operating systems. Cricut has put a lot of work into Design Space recently and the resulting application is very easy to use and fully featured.
Design Space is not only a canvas for designing your own projects. There are thousands of pre-designed projects and templates to use. Cricut really does make crafting quick and easy.
There is also a thriving Cricut community on Design Space, and much like other social media, you can share your own projects, follow your favourite crafters and get notified when they share new projects or design elements. Don't forget to find and follow me on Design Space to see what I'm up to!
Design Space is free to use, but if you want the opportunity to access additional projects, images, fonts and more, then you can sign up to Cricut Access to unlock these features. More details on the perks and pricing can be found here.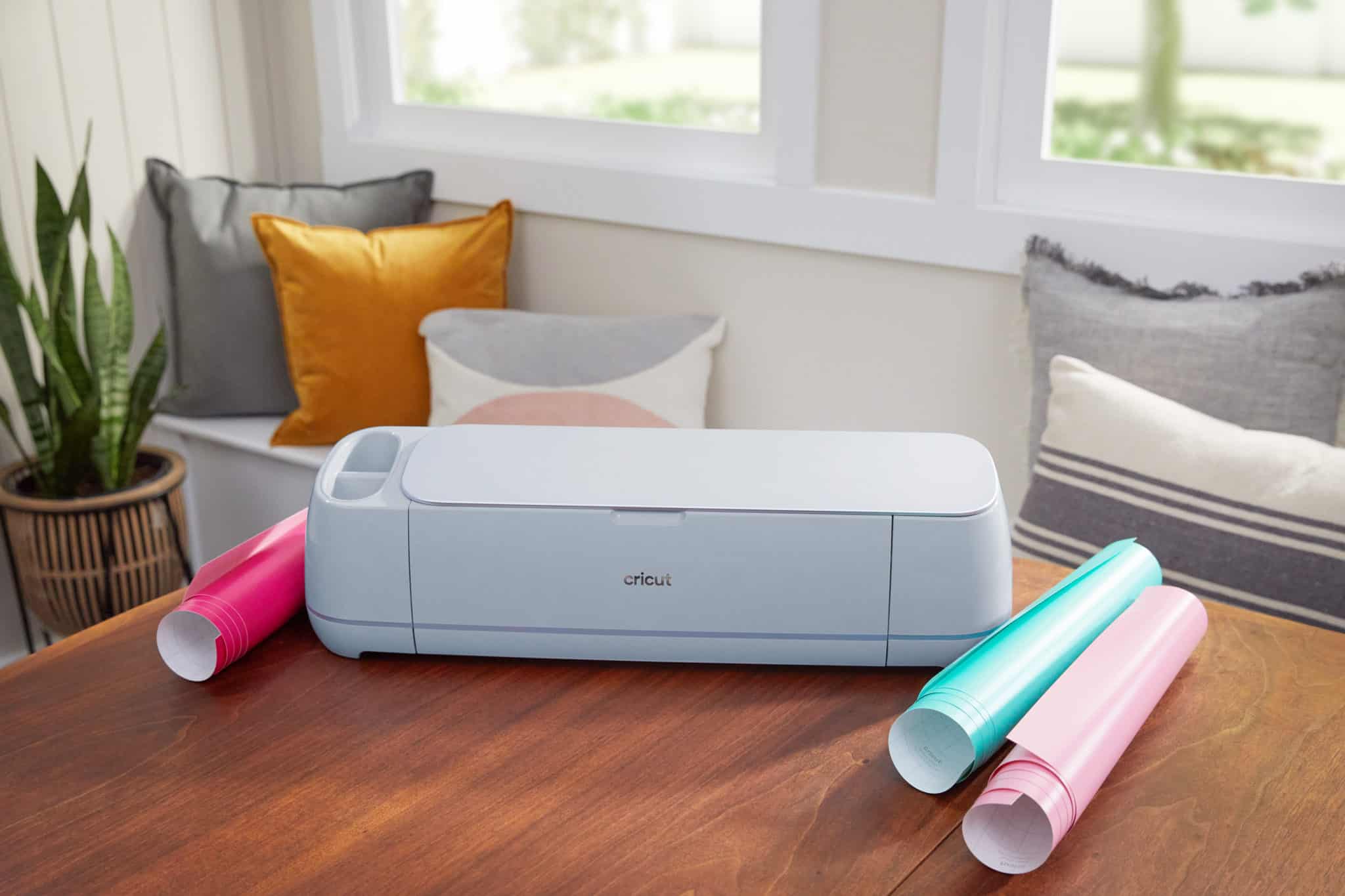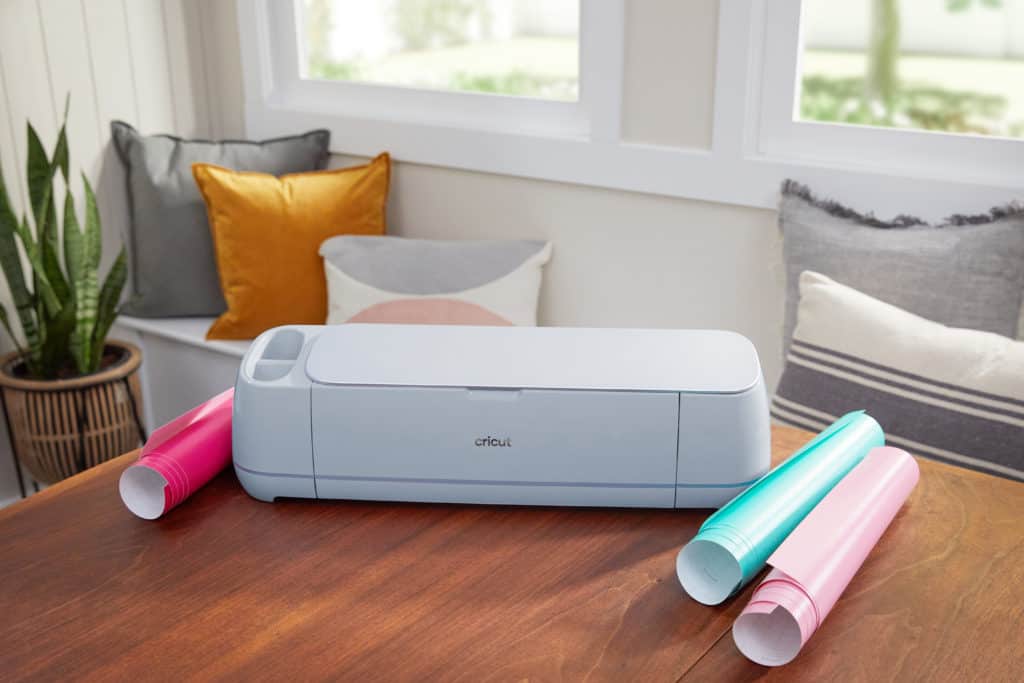 Why do I need a Cricut machine for my crafting business
So, why do you need a Cricut for your handmade business? Below are some benefits to consider.
Sell what you make
The most obvious reason to purchase a Cricut would be that you can sell what you make! Many, many people have thriving businesses designing t-shirts, personalising mugs, creating stationary and more using their Cricut machine. If you can dream it up, the Cricut can probably help you make it!
Support your existing handmade business
The Cricut machine opens up a world of creative opportunities. As discuessed, with the Cricut Maker 3 you can cut a wide variety of materials which support hand made business. Instead of outsourcing things like branded stickers, tags and packaging, with a Cricut, you have complete control and you can make these items yourself for a fraction of the cost.
Saves time
The intuitive interface is easy to use. Less time fighting with fiddly interfaces means more time to do what crafters do best. Craft! The machine is also very efficient and can cut materials faster (and better!) than one could do by hand. I have been known to get my Cricut cutting an intricate design and while it is doing its thing in the background I've moved onto the next thing on my to do list.
Quality
I'm a firm believer that investing in good quality tools can only benefit your handmade business. Wasting money on tools that don't do the job properly is just that, wasting money! Yes, a Cricut machine is not the cheapest on the market, but this machine is high quality and professional grade. Cricut materials (vinyl, Iron-On, cardstock, felt etc) have all been thoroughly tested and will give excellent results.
Supports Creativity
This is a big one for me. As many creatives turned entrepreneurs know, creativity begets creativity. Cricut is not just limited to cutting one material. It is a multi-talented machine, which opens so many creative doors. Design Space is also loaded with crafty projects and inspiration so you will never run out of things to make.
Running a handmade business can also be lonely! However, there is a thriving Cricut community (on Design Space and on Facebook) who are very engaged and supportive. It is a wonderful space to connect with like minded creatives and business owners from across the globe.
Lastly, Cricut as a company are constantly pushing the envelope in terms of their technology and are dedicated to providing a wonderful crafting experience for their users. One of their core values is to empower creativity, which is something I can get behind. In fact, they are so dedicated to their users needs that Cricut CEO, Ashish Arora frequently posts and engages with Cricut users on social media, to find out just what they need.
All in all, I feel that a Cricut is a superb addition to a handmade business and I have loved the world of creativity that my Cricut has given me. If you have any questions about Cricut, the machines or how I use my Cricut to support my handmade business, feel free to drop a comment below or reach out over email.
Yours in craft,
Caitie