I'd like to take a little peek under the hood of Thoresby Cottage and share a bit about some of the tools I use to run this blog. We all know how much video content is taking over social media at the moment. One of my biggest questions for the longest time was how do I set up my phone to record video? I needed a photography stand for crafters.
A big frustration for me has been how to shoot video and take pictures of my hands while I work. I don't have a studio or a big work space that is permanently set up. I've tried tripods for both my phone and my DSLR, but either the set up is very bulky or I have to contort myself into the most uncomfortable positions to avoid getting tripod legs in the shot.
Then I discovered Olivia from Paparazzo. This nifty gadget is such a great photography stand for crafters. The Olivia is a compact and easy to use multi-functional content creator tool which makes taking videos with your smartphone very simple. As a smartphone stand, tripod and light source all built into one, it's perfect for this one woman show!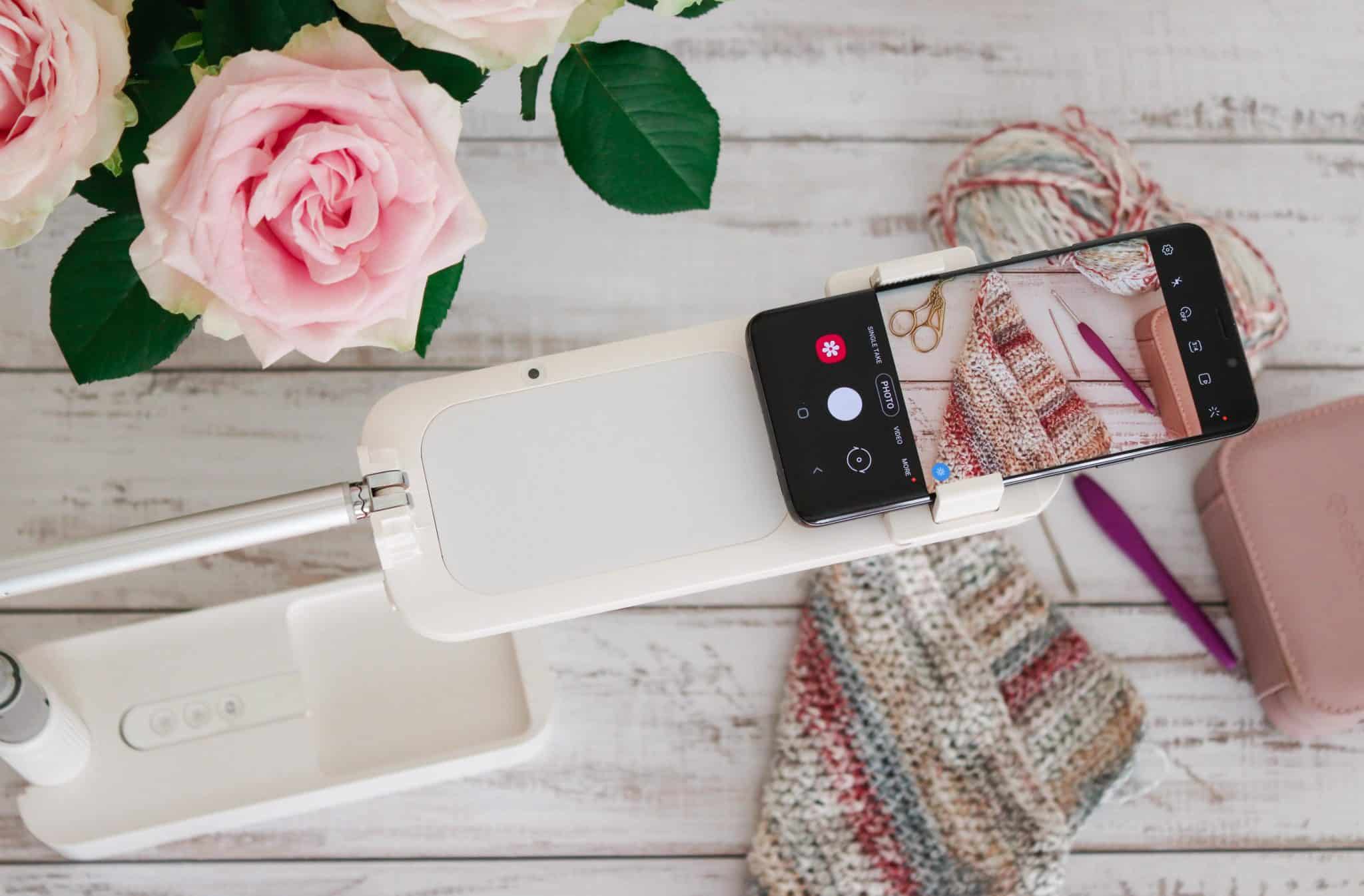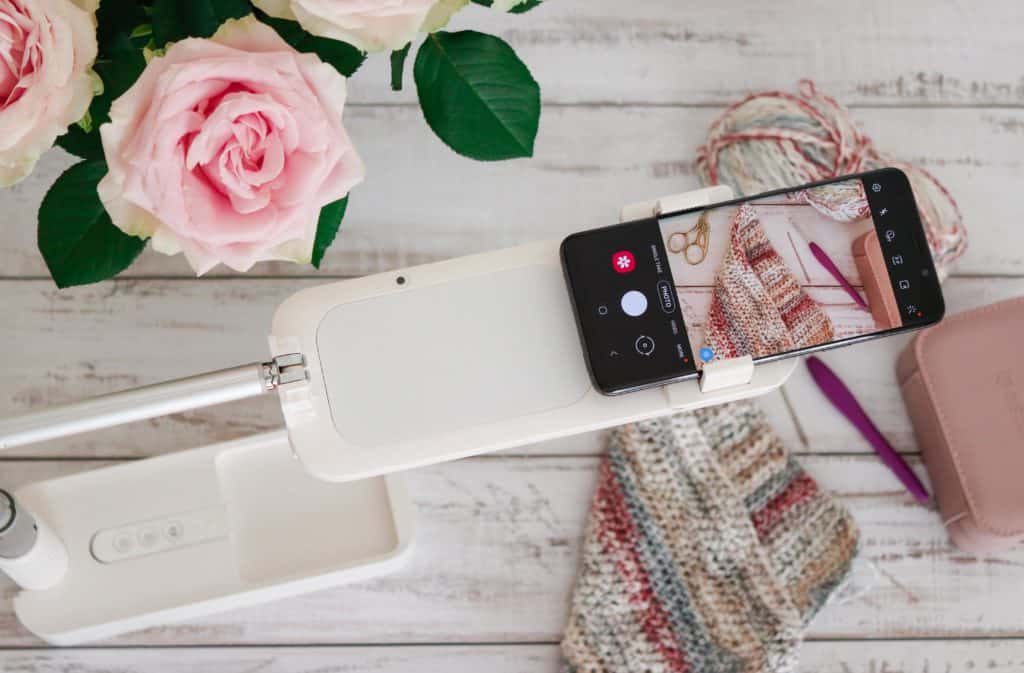 Disclaimer: I received my Olivia (at my request) in exchange for my honest opinion of this product. Which is exactly what you will get in this review!
Content creator phone stand review: What's in the box?
Olivia is packed in a neat and sturdy box with a foam insert. I still store my Olivia phone stand in the box that it shipped in. Paparazzo ships directly from their warehouse in Asia. For some countries there is a shipping fee, but many are free and all parcels are tracked.
Included in the box:
USB charge cable
Bluetooth remote
Instruction booklet
I also received some lovely free gifts with my phone stand. These included a cute canvas bag for storage, a bluetooth remote and a phone stand ring. Keep an eye on the Paparazzo website as there are frequently bundle deals and free gifts included in purchases.
Features of this photography stand for crafters
Compact
Olivia is so compact and easy to store, which is perfect for someone like me who has limited storage space. When folded up, the entire device measures 210 x 80 x 63 mm. Perfect for travelling and great for desktop use.
Sturdy
I use a Samsung S21 Ultra to shoot my overhead videos. It is not a lightweight phone, but Olivia is perfectly stable when using this phone. Please note that the maximum weight supported is 350g – 400g, so this product is not suitable for DSLR cameras
The clamp that holds your phone has silicone grips so your phone won't fall out. I found that my phone fitted best when my phone case was removed. The grips can also be rotated so that your phone can shoot in either portrait or landscape, which is very useful.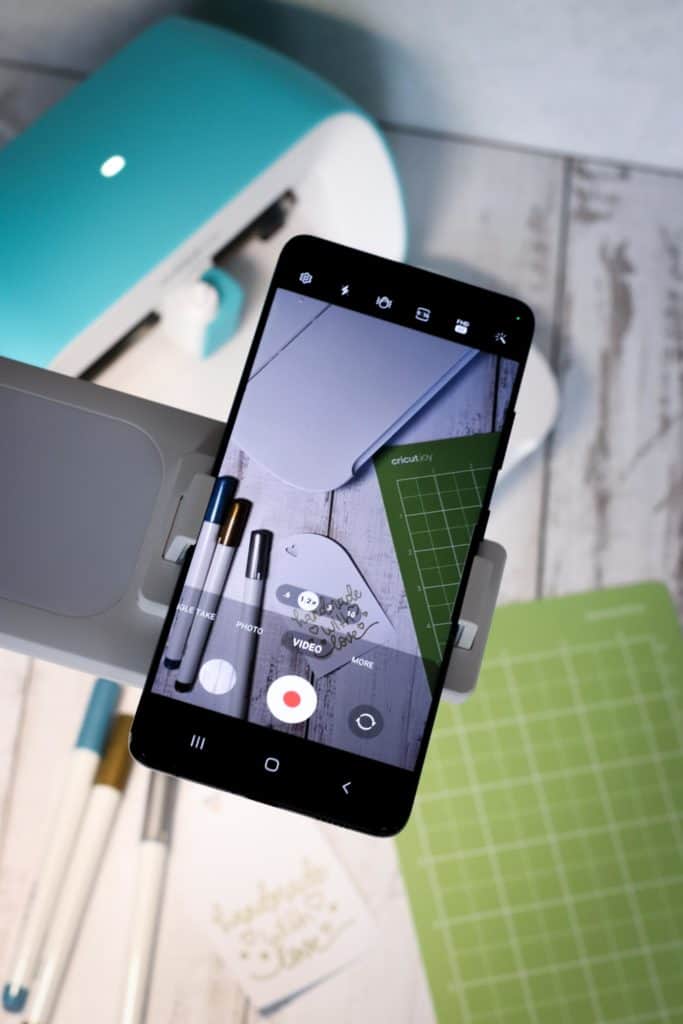 Upright and Point of view (POV) shots
Olivia can be used in the upright position for forward facing or selfie shots. Once secured by the clamps, your phone can rotate 360 degrees, which means that you can shoot in landscape or portrait or any angle in between!
For crafting tutorials, overhead shots are an absolute must. Fiddling with tripods to get the perfect angle and trying to work around tripod legs is time consuming and frustrating. With Olivia, I simply extend the arm to the height that I want (it can extend between 40cm to 126cm), bend it 90 degrees and off I go.
Olivia is also designed to make use of the rear camera on your Smartphone, which has much better quality video than the selfie camera. Although, you can use the selfie camera too if you want to.
For point of view shots, note that you may need adjust the zoom of your camera or the position of the stand so that the base of the stand is not visible, but once you have a clear shot it is smooth sailing.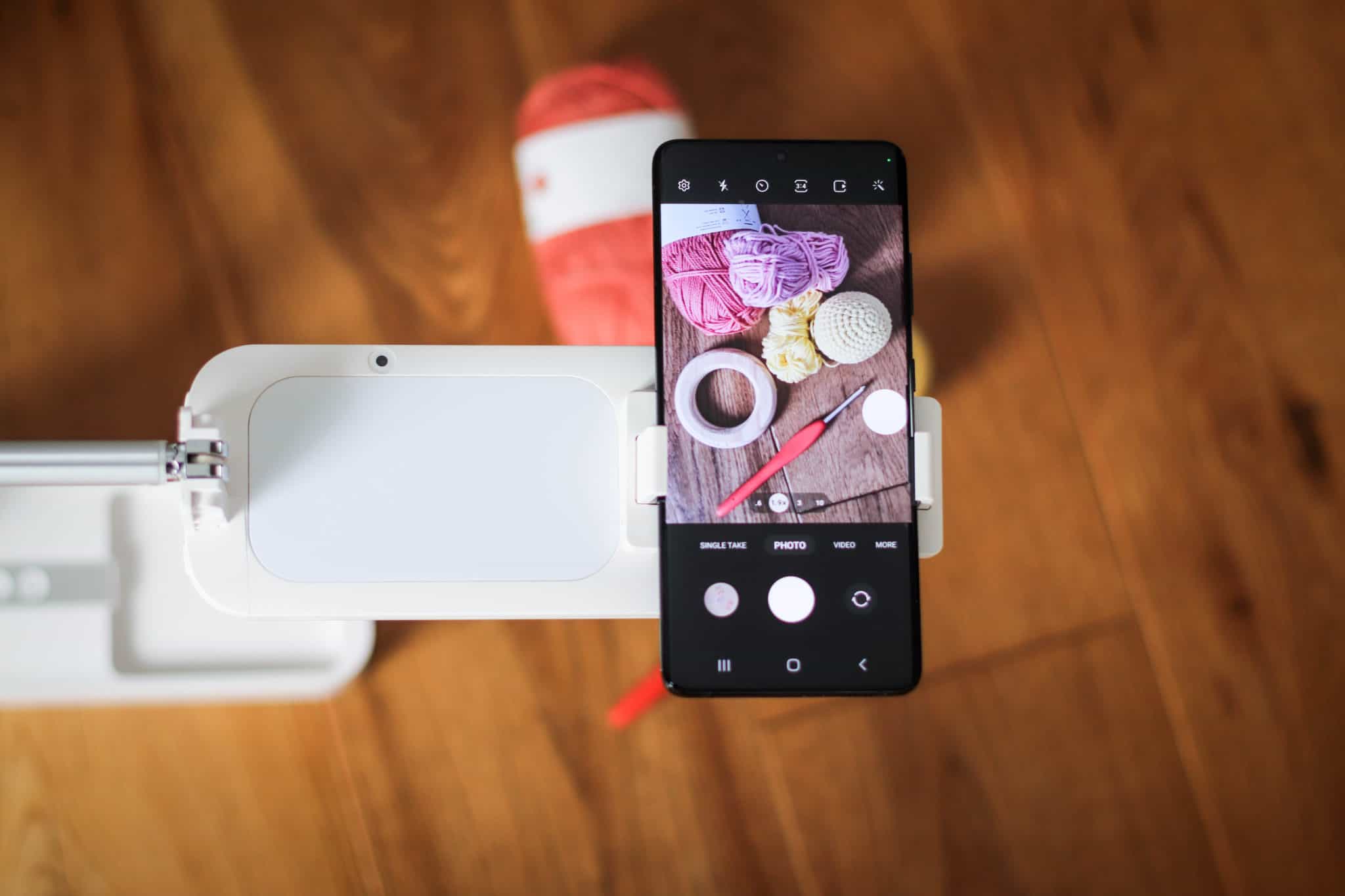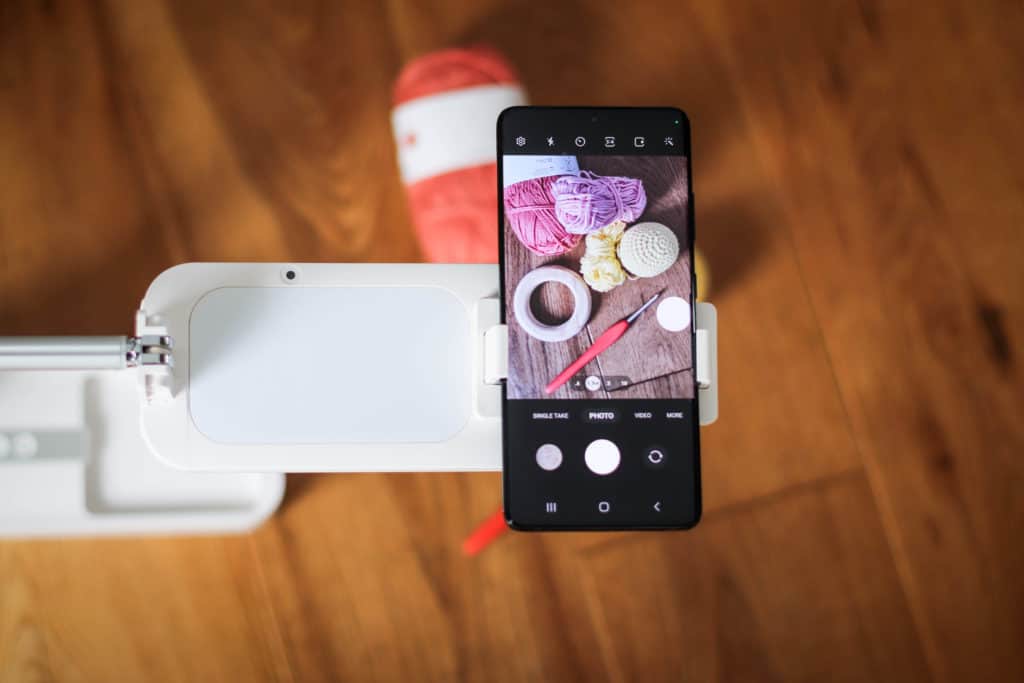 Built in lights
There are built in LED lights with 7 light modes (3 color temperatures from cool to warm). The lights are both on the front and back of the stand so they can be used for forward facing and point of view shots. You can use either set of lights, or both.
Once fully charged, if using the lights, the charge can last up to 3 hours. Of course, you can also use Olivia without the lights in which case you do not need any power for this stand.
I was skeptical about the light, but when used alongside diffused natural light, I was able to shoot a good quality point of view video on an overcast day.
Wireless
Olivia is completely wireless. No more wires, clamps or other bulky equipment. A Bluetooth remote is also included which can adjust the lighting as well as connect to your phone to remotely get the camera rolling. Olivia charges with a standard USB-C cable.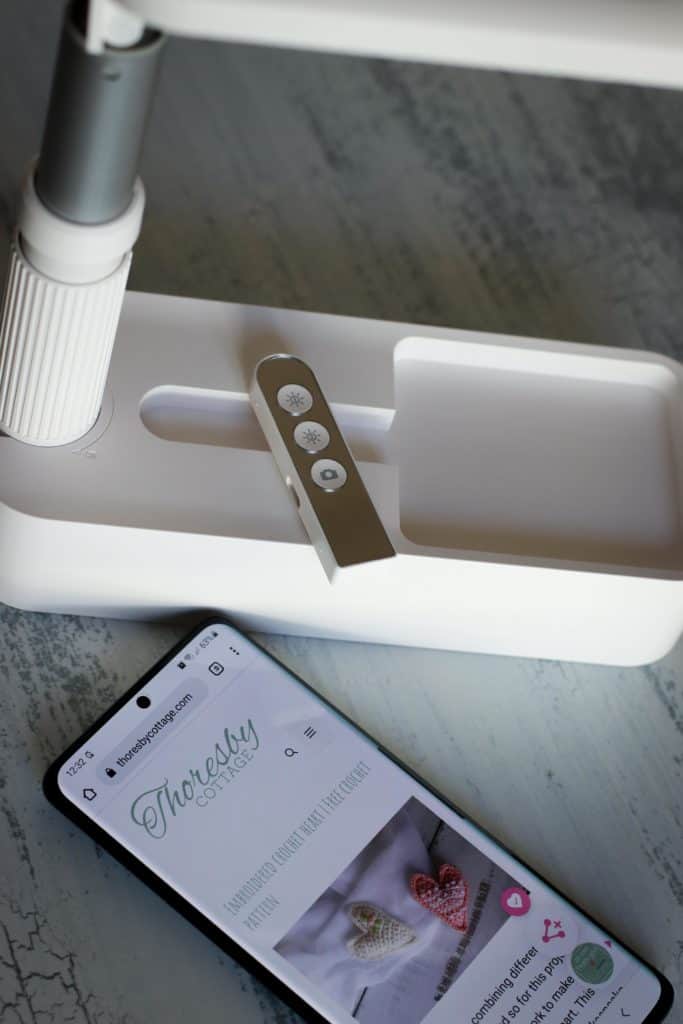 Things to consider before buying this photography stand for crafters
I couldn't find much wrong with this product, but below are a few things to consider.
There isn't a battery bar to indicate how much battery is left or how fully charged it is. Make sure to charge Olivia fully in preparation for a shoot if you plan to use the light source.
At it's fullest extension the arm doesn't feel the sturdiest and may dip slightly under the weight of heavy phones, so I would suggest only using this full extension when in a controlled environment (i.e. no wind, or children / pets running around)
Still not sure if an Olivia photography phone stand is for you?
Who will benefit from an Olivia photography stand for crafters? You will enjoy an Olivia phone stand if you;
want to take point of view (top down) shots of your crafting with your phone
you want to easily record video for Instagram reels or TikTok videos
you travel a lot or have limited space but need a sturdy phone stand
you like to use your phone to take steady pictures and record video at different angles
you regularly take video calls from your phone and need a sturdy phone stand
Who is the Olivia phone stand not for?
Content creators who require very specific lighting for their work or only have access to a dimly lit space for shooting content.
Content creators who shoot exclusively with DSLR cameras or larger cameras.
Content creators who need to do POV shots of a very large area.
The Olivia content creator phone stand is available from Paparazzo in classy white or pretty pink. Use the coupon code PAPARAZZOLOVE to receive a discount (up to 20% off!) on your next purchase or click the button below to add one to your cart.