February – the month of love. A month filled with cupid and hearts, roses and chocolate, and of course warm fuzzies! I'm actually not the biggest follower of Valentines day… I'm more of a Christmas gal. I like showing appreciation for my loved ones without prompting or feeling pressure to do so. And also on more than one day of the year!
Valentines day tends to come and go without too much fan fair in our house. Don't think by any means that my husband is not romantic, he certainly is, Valentines day just isn't a huge feature in our calendar.
Having said that, something that is right up there on the list of priorities for me and those in my house is gift giving. I love giving gifts. They don't have to be big or expensive, but a gesture to show someone that you thought of them is just so special! So, I couldn't resist a mini crochet heart pop. These hearts work up really quickly and make adorable gifts for your loved ones.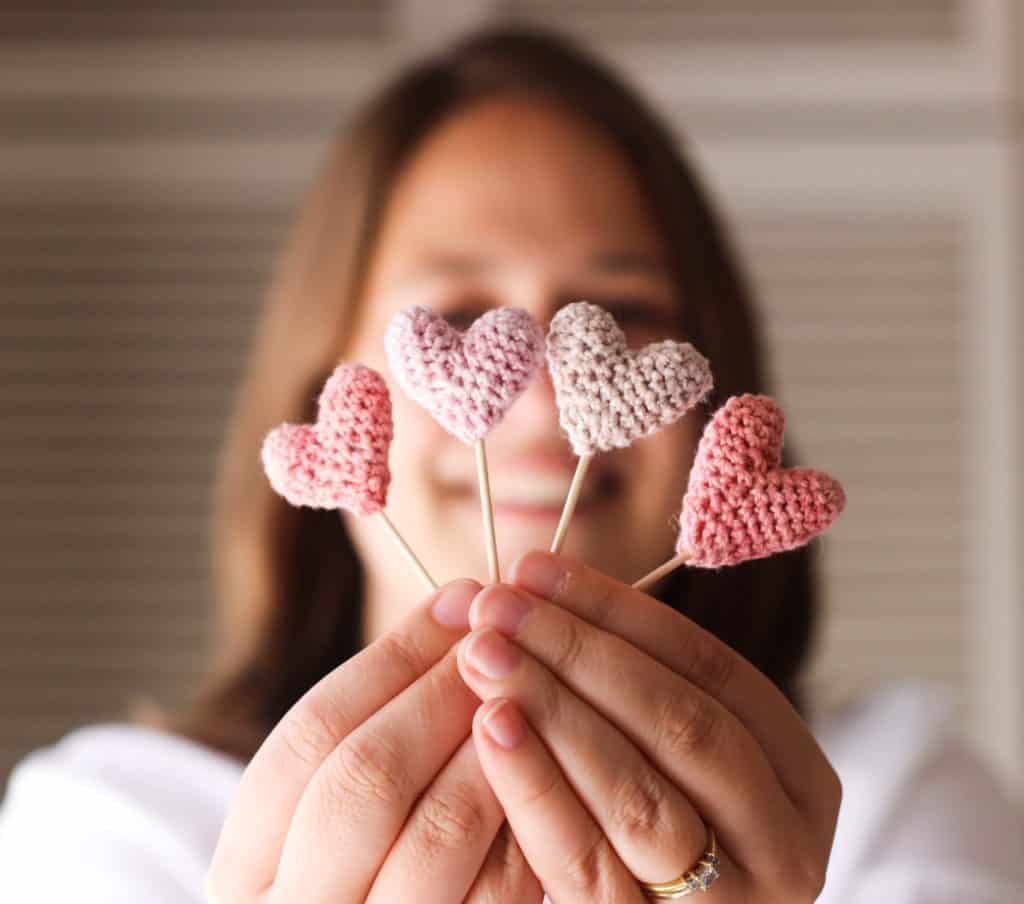 What you need for the mini crochet heart pop
2.25mm to 2.75mm hook (or whichever hook you prefer)
Pink DK or sport weight cotton (I used Nurturing Fibres EcoLush*)
A toothpick
A small amount of stuffing
A stitch marker is useful but not essential
NOTES
This pattern uses US terminology (see abbreviations here)
Don't know how to do the magic ring? Head over to my tutorial here
Have a read through these tips for crocheting amigurumi first.
*EcoLush is a gorgeous blend of bamboo and cotton. The bamboo gives a slight shimmer and because it is hand dyed, the yarn has a lovely marbled effect.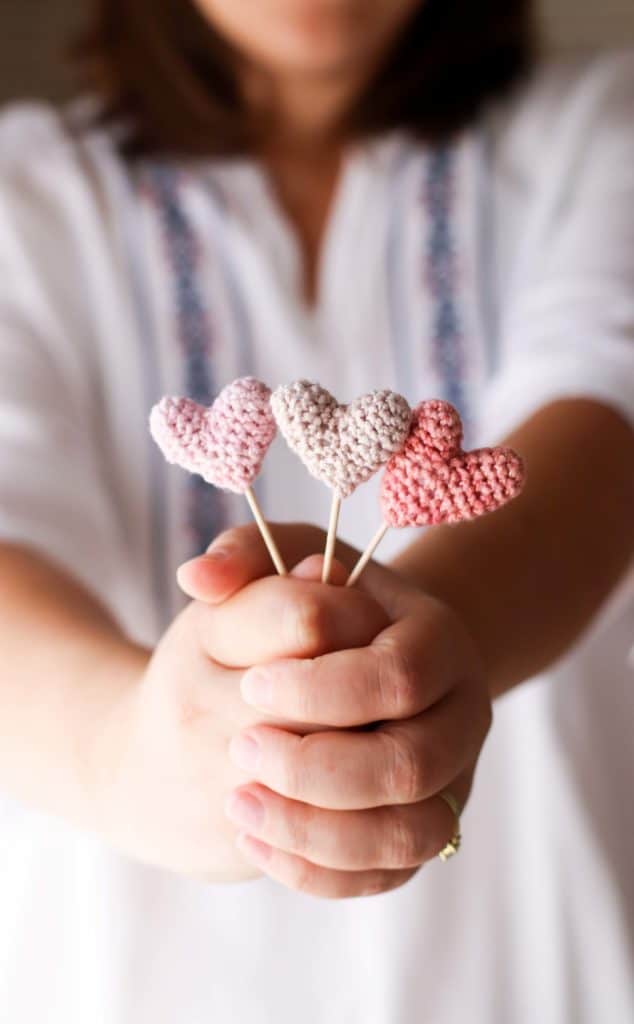 Crochet mini heart pop pattern
This heart is made by first crocheting 2 cup shapes (for the top of the heart) and then joining them together to complete the final heart.
R1: into a mr, 5 sc (5)
R2: 2sc in each st around (10)
R3 – 5: sc around (10)
Slst into the next st, bind off and cut the yarn. Repeat R1 – 5 to make a second cup.
Hold the cups side by side, lining up the stitches. Work a sc through both of the cups. Sc in the next stitch (through both cups). No need to weave in the yarn tails of the 2 cups, simply make sure they are on the inside of the heart as you work.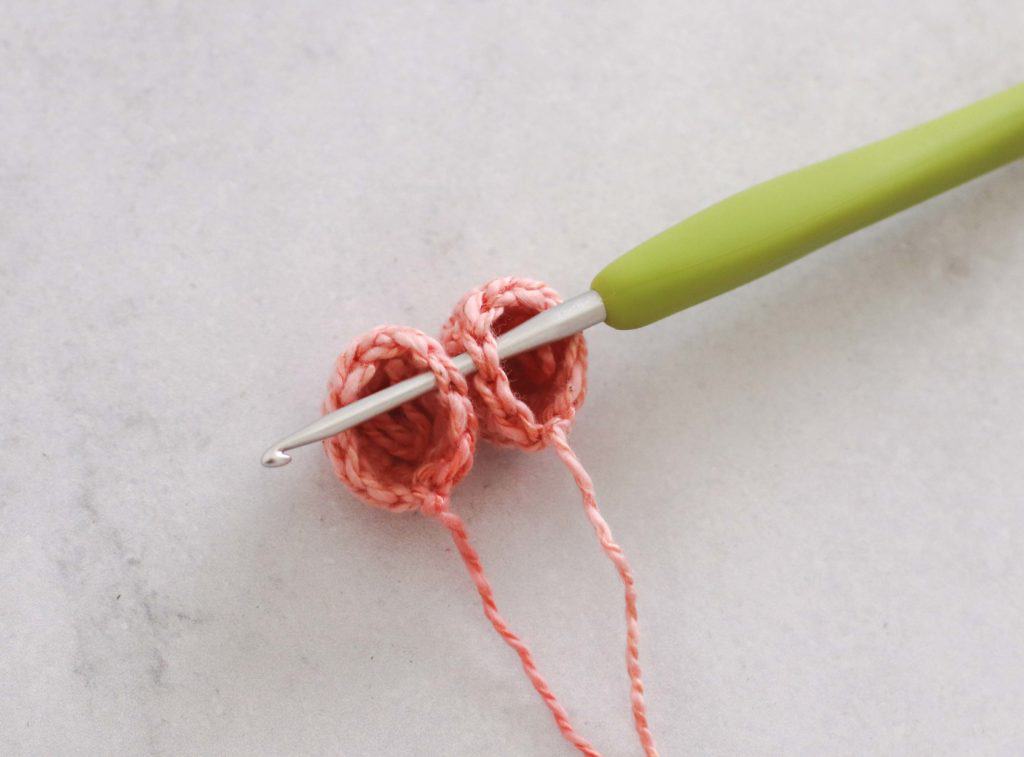 Continue crocheting around the outer edge of one cup:
R6: sc in the next 8 st, sk the two sc from the previous step and continue crocheting in the next 8 st of the second cup (16 along outer edge plus 2 sc joining the cups)
R7: sc in the next 3 st, sc2tog. Repeat 3 times (13)
R8: sc around (13) Lightly stuff the heart
R9: sc in next st, *sc in the next st, sc2tog in the next st*. Repeat from * 4 times (9) Last chance to add stuffing!
R10: sc2tog around (5)
Cynch the last few stitches together and tighten to close
Bind off.
Insert the toothpick through the bottom of the heart and give it to your Valentine!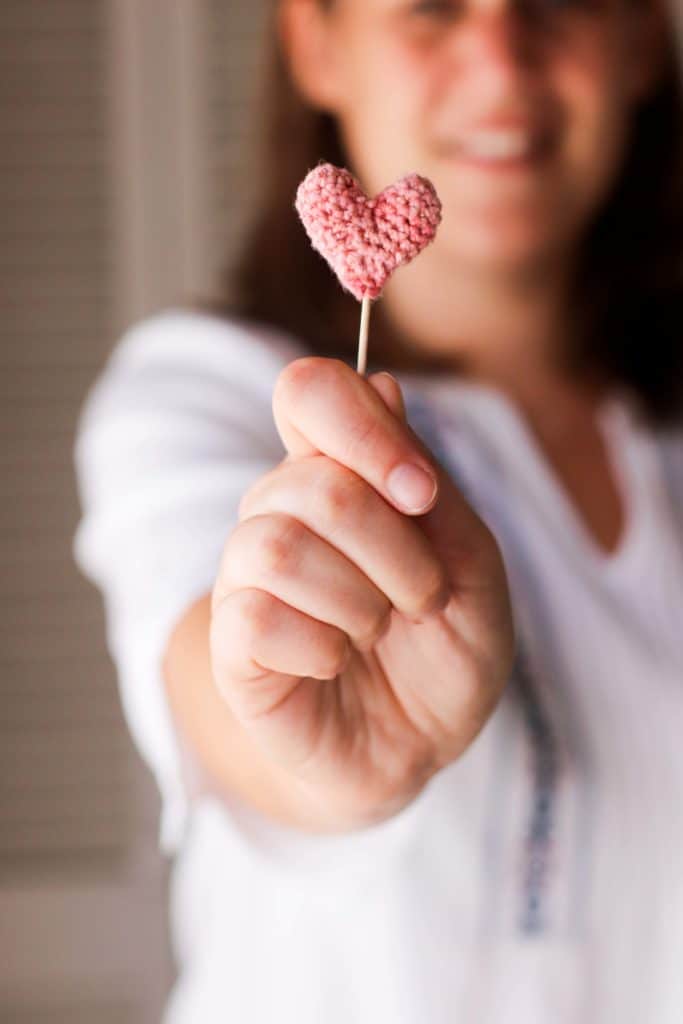 Did you love the mini crochet heart pop pattern? I have lots more free and premium patterns. Head over to the tutorials and patterns page to find more! And if you don't want to miss a thing, sign up to my newsletter to receive all sorts of creative goodness!
Yours in craft,
Caitie x