A few weeks ago I posted a free pattern for a bunny ears egg cosy. Since then I've been thinking of all things bunny, which naturally led to carrots! This crochet carrot top egg cosy works up very quickly and makes a fun addition to your Easter breakfast table. If you are new to crochet, or to making amigurumi, this is the perfect pattern to get you started. You can make sure to check out these helpful tips on how to crochet amigurumi before you get going.
I used Elle family knit (chunky) to make my crochet carrot top egg cosy. The citrus is a lovely bright orange and the springbok is a gorgeous green (the springbok is the national animal in South Africa, and also the name of our national rugby team, who proudly wear this shade of green).
If you can't get your hands on this exact yarn, do not fear, you can use whatever yarn you have lying around. Why not make a selection of root veg? A red radish or purple beet would look gorgeous! In fact, I think I might just make a root veg garden.
The only 'rule' is that you need to use an appropriate weight yarn for a hook that is 3 – 4mm. If you use a hook much bigger or smaller than this range then your cosy won't fit a standard jumbo egg. If you are unsure as to the weight of your yarn, not to worry, most yarn labels will give you an indication of an appropriate hook to use.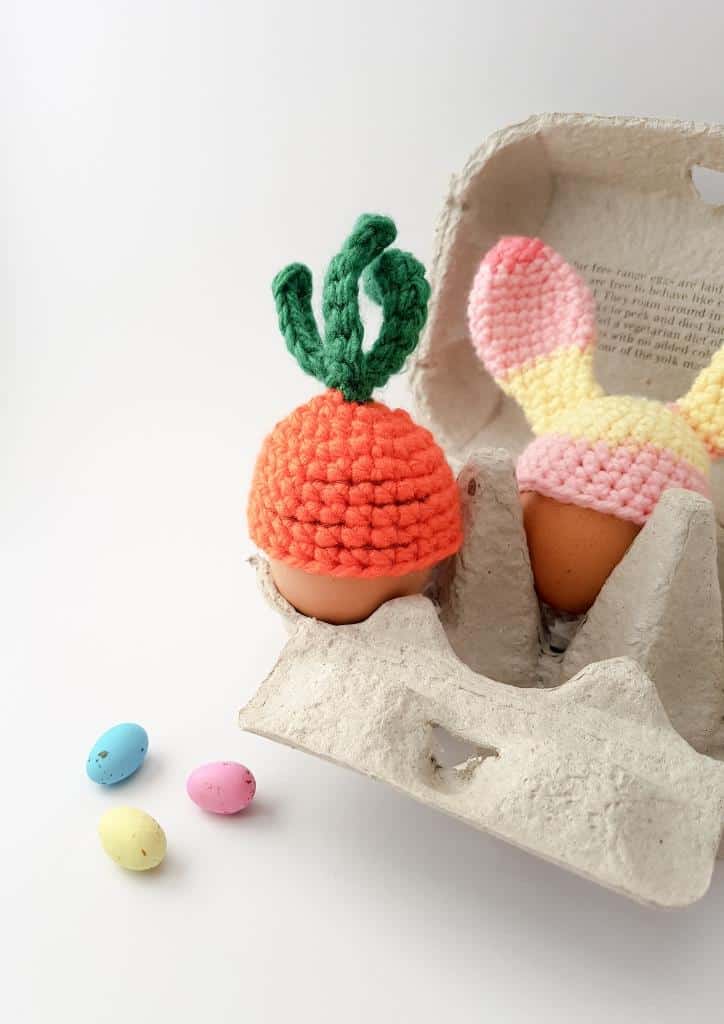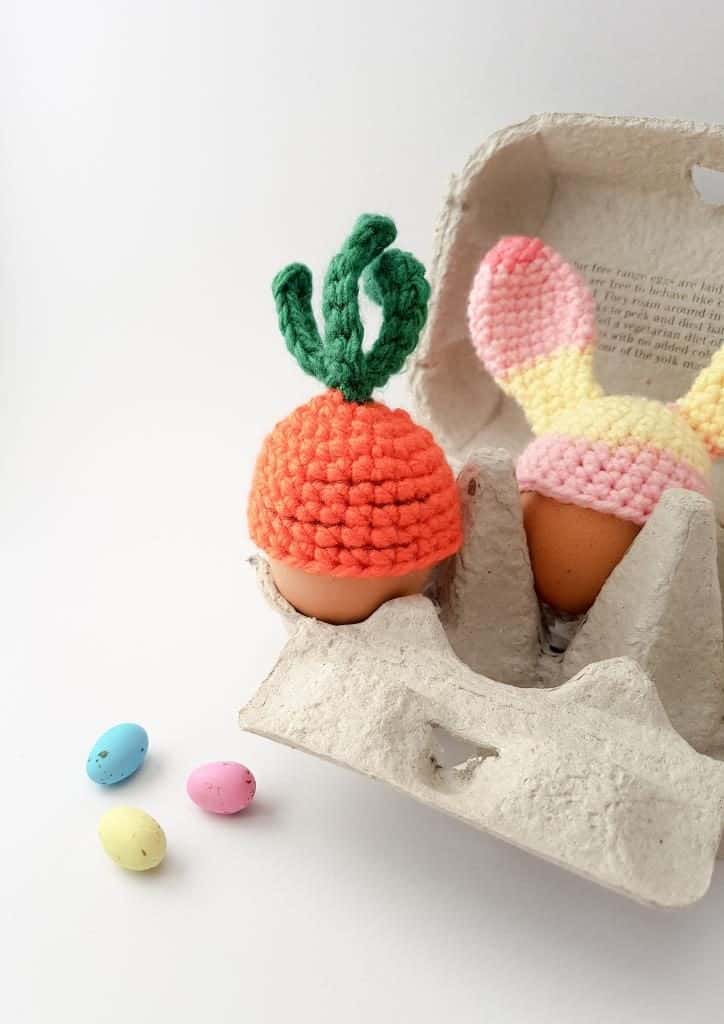 Crochet carrot top egg cosy pattern
REQUIREMENTS:
3.5 mm / F crochet hook
Double knit (Light worsted) yarn (I used Elle Family knit chunky in citrus and springbok green)
Brown thread
Needle for joining and stitching detail
Stitch markers (don't have any? Why not make some upcycled stitch marker charms!)
Read through my top tips for crocheting amigurumi before you start
Need help understanding the abbreviations and symbols for this pattern? Have a look at my crochet pattern abbreviations list.
Notes
This pattern is worked in continuous rounds. Don't slip stitch to join the rounds unless instructed by the pattern.
This pattern uses US crochet terms

Carrot top
Rnd 1: sc 6 in a magic ring (6 st)
Rnd 2: 2 sc in each st, around (12 st)
Rnd 3: (sc, 2sc in next st) repeat around (18 st)
Rnd 4: (sc, sc, 2sc in next st) repeat around (24 st)
Rnd 5 – 9: sc around (24)
Sl st and bind off
Weave in your ends (yuck, at least there aren't too many with this project!)
Leaves
1) Leaf one: Ch 8, turn, skip one st and sc all the way back down the chain (7 st)
2) Leaf two: Ch 9, turn, skip one st and sc all the way back down the chain (8 st)
3) Leaf three: Ch 8, turn, skip one st and sc all the way back down the chain (7 st)
Sl st to join the third leaf to the first leaf. Leave a tail for attaching the leaves to the carrot top.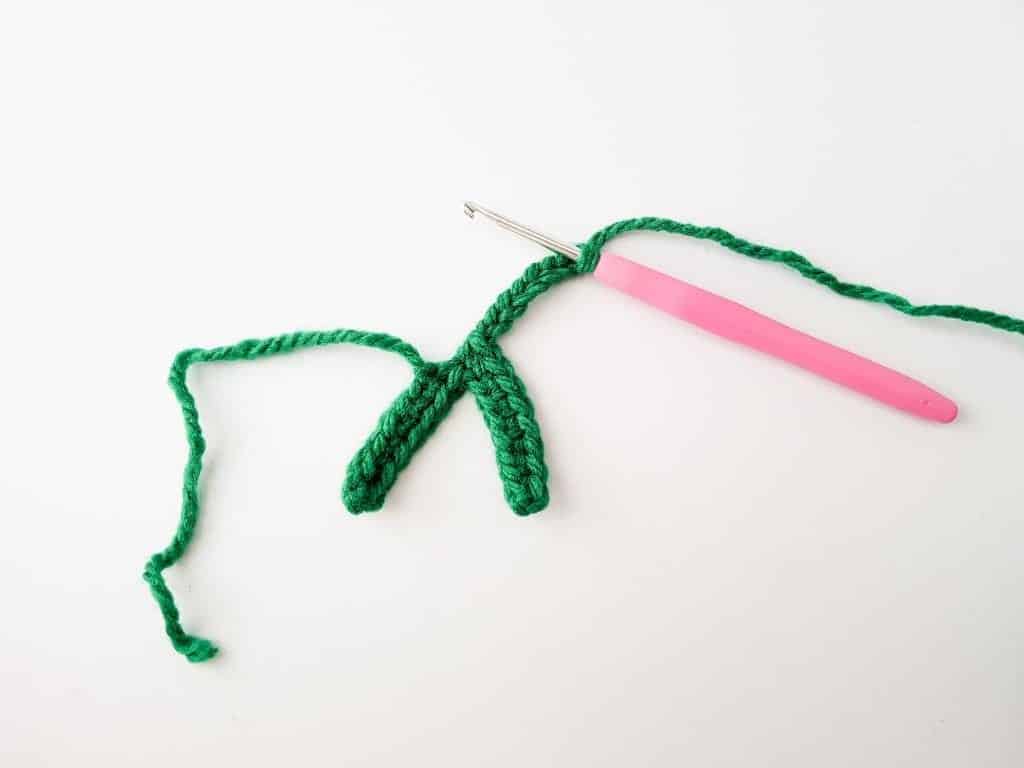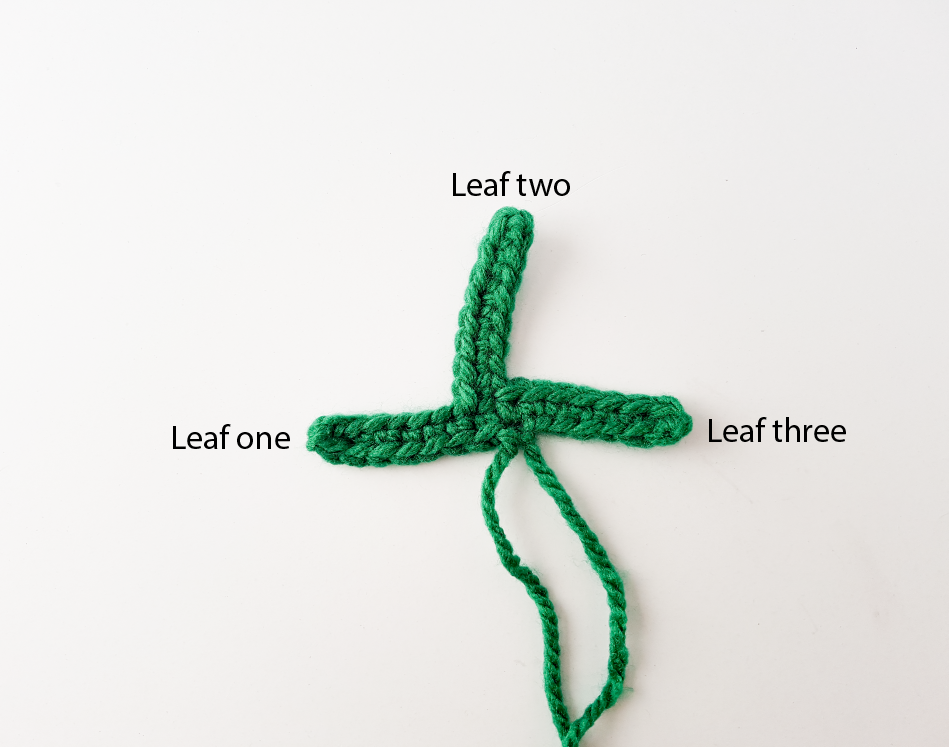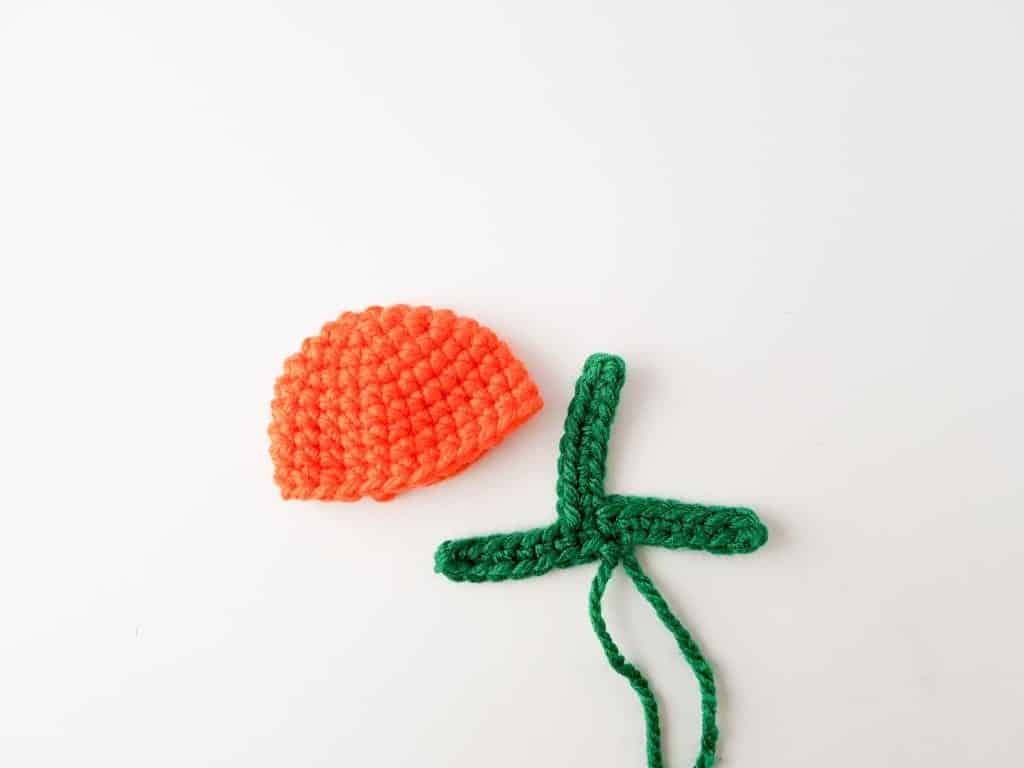 Finishing up
To complete the carrot top egg cosy, stitch the leaves onto the top of the carrot. Weave in any remaining ends. Stitch some brown horizontal lines onto the carrot to give that earthy look. I did a simple back stitch (one back stitch per crochet stitch) in different length lines.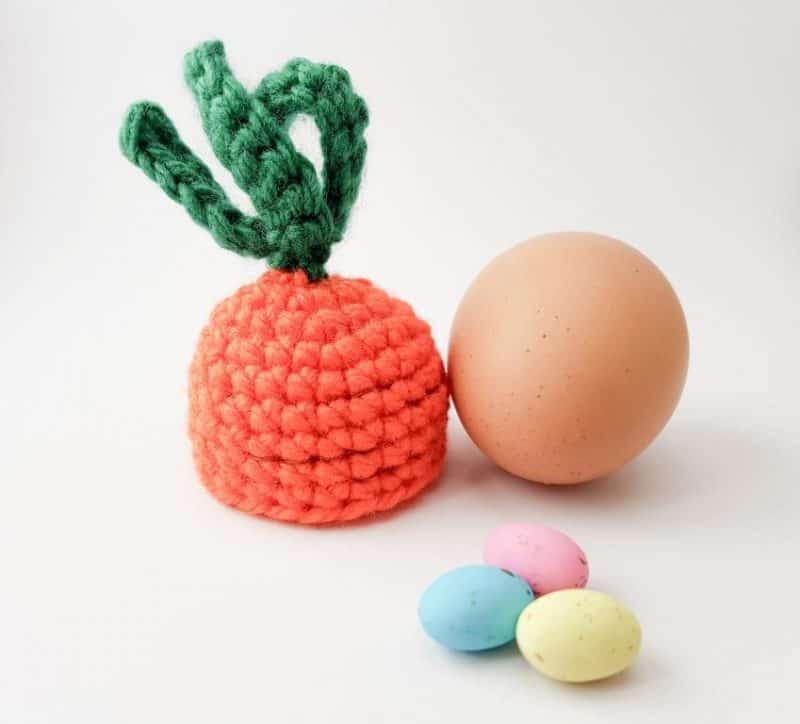 I hope you enjoyed making this crochet carrot top egg cosy!
Why not crochet some bunny appliques or mini carrot appliques to go with your Easter decor? Or even a bunny granny square!