Want a project with lots of texture and some fun new stitches? This cozy one skein crochet cowl works up in a flash while only using one skein!
Whenever I go on holiday, I always try and look out for the local yarn shop to buy a skein or two of something fun or special. The snag with that is that I often end up with single skeins of yarn and no suitable projects!
I used a Caron cotton cake to make this project – a one skein crochet cowl. The yarn transitions through a few different colours to create this striped look. I do think that this cowl would also look fantastic in a neutral color, or in warm autumn tones.
This pattern uses crocheted bead stitch to create some lovely ribbed bobbles. The half double crochet (hdc) also plays a significant role in adding texture. By working into the 3rd loop, you can create a knit-like look that I really love!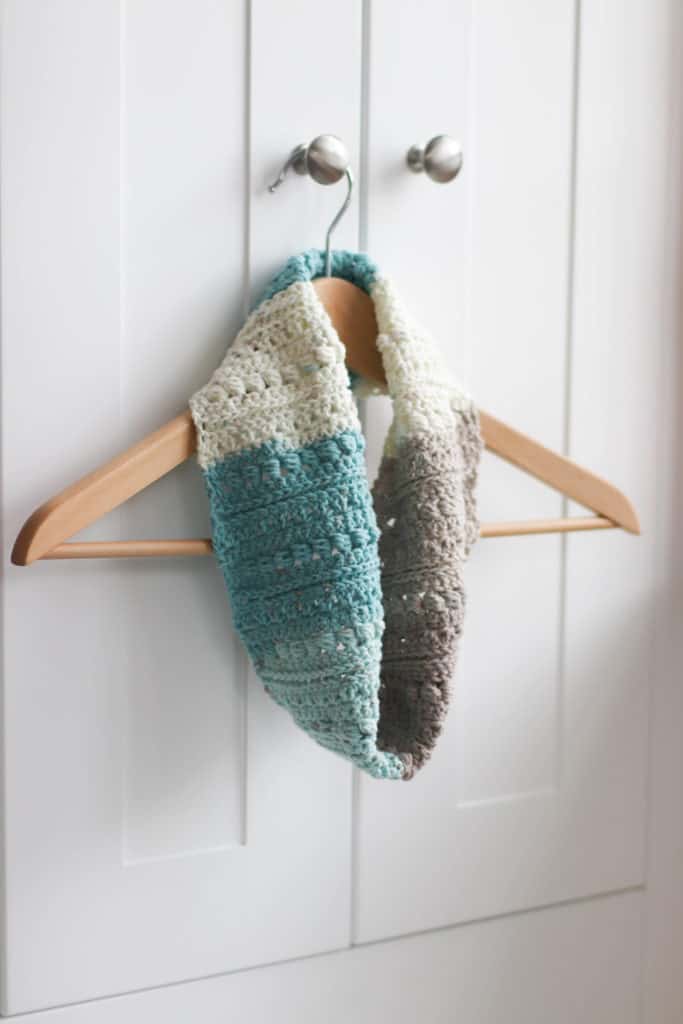 Free one skein crochet cowl | Frosted glass cowl
Requirements
Yarn: 1 x Caron Cotton Cakes yarn (colorway, Beach Glass), # 4 worsted yarn (60% Cotton, 40% Acrylic; 193 m/ 211 yds Per 100 g/ 3.5 oz skein)
US Size H (5.0mm) crochet hook
Yarn needle
Skill Level: Confident beginner
Size/Finished Measurements
70cm long x 15cm (before seaming)

Special Stitches
Bl-hdc = hdc worked in the back loop (i.e the loop furthest away from you)
3rd loop sc = work the sc into the 3rd loop from the hdc of the previous row. Since the back of the hdc will be facing you as you work this st, the 3rd loop of the hdc can be identified as the loop that runs diagonally towards the right, just below the front loop.
Bead st = The bead st is worked around a dc base st. First work a dc. To work the "bead" around the dc post; yo, insert hook underneath the dc post (from right to left), yo and pull up a loop. Repeat 2 more times (7 loops on hook). Yo and pull through 6 loops, yo and pull through last 2 loops. Sk 1 st and work the next bead st.
Notes
This cowl is worked in a 6 row repeat and can be lengthened or shortened as required.
Wet block the cowl before seaming to prevent curling. Unsure how to block crochet? Follow my easy blocking tutorial
This pattern uses US crochet terms (see here)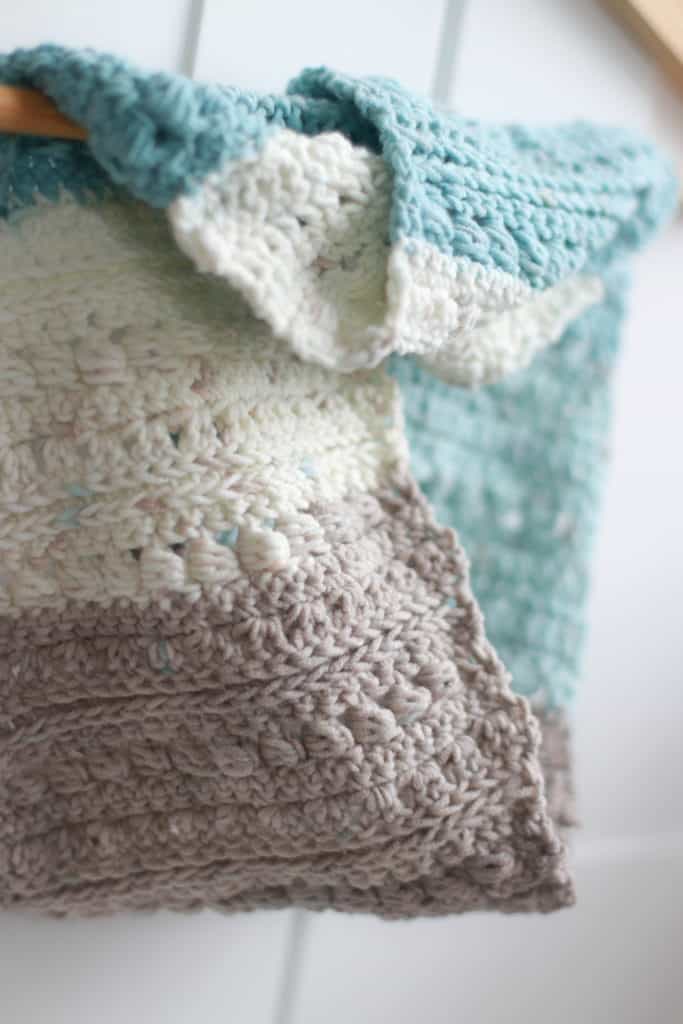 One skein crochet cowl pattern
R1. Ch 26, sc into 2nd ch from hook, sc across (25)
R2. Ch 2 (counts as a dc), dc into the same st, *bead st into the next st. sk 1 st. Repeat from * 10 more times (11 bead st), dc into the next 2 st (11 bead st, 4 dc)
R3. Sc into each st across, into both the dc and the bead st (25)
R4. Sc into each st across (25)
R5. Ch 2, *2dc into the next st, sk 1. Repeat from *10 more times. 2 dc in the next st, dc in the last st. (25)
R6. Ch 2, bl-hdc across, working through both loops in the last st. (25)
R7. Ch 1, 3rd loop sc across, working a regular sc in the last st (25)
Repeat the R2 – 7 stitch pattern 12 more times. You can add on extra repeats should you wish to lengthen the cowl.
Fasten off and leave a tail (at least 10 cm long) for seaming.
Finishing:
With the ends, right sides facing (make sure you don't have any twists!) line up the first and last row.
Seam the open ends together by stitching through the back loops (or the outside of each st) to form an invisible seam.
Weave in any remaining ends.
If you are looking for more patterns and tutorials, have a look here.
Happy stitching!
Yours in craft,
Caitie x