Working with multiple strands in different colors is a wonderful way to add interest to your crochet piece. The two tone infinity scarf crochet pattern uses two different color strands to give lovely texture and a really interesting speckled look.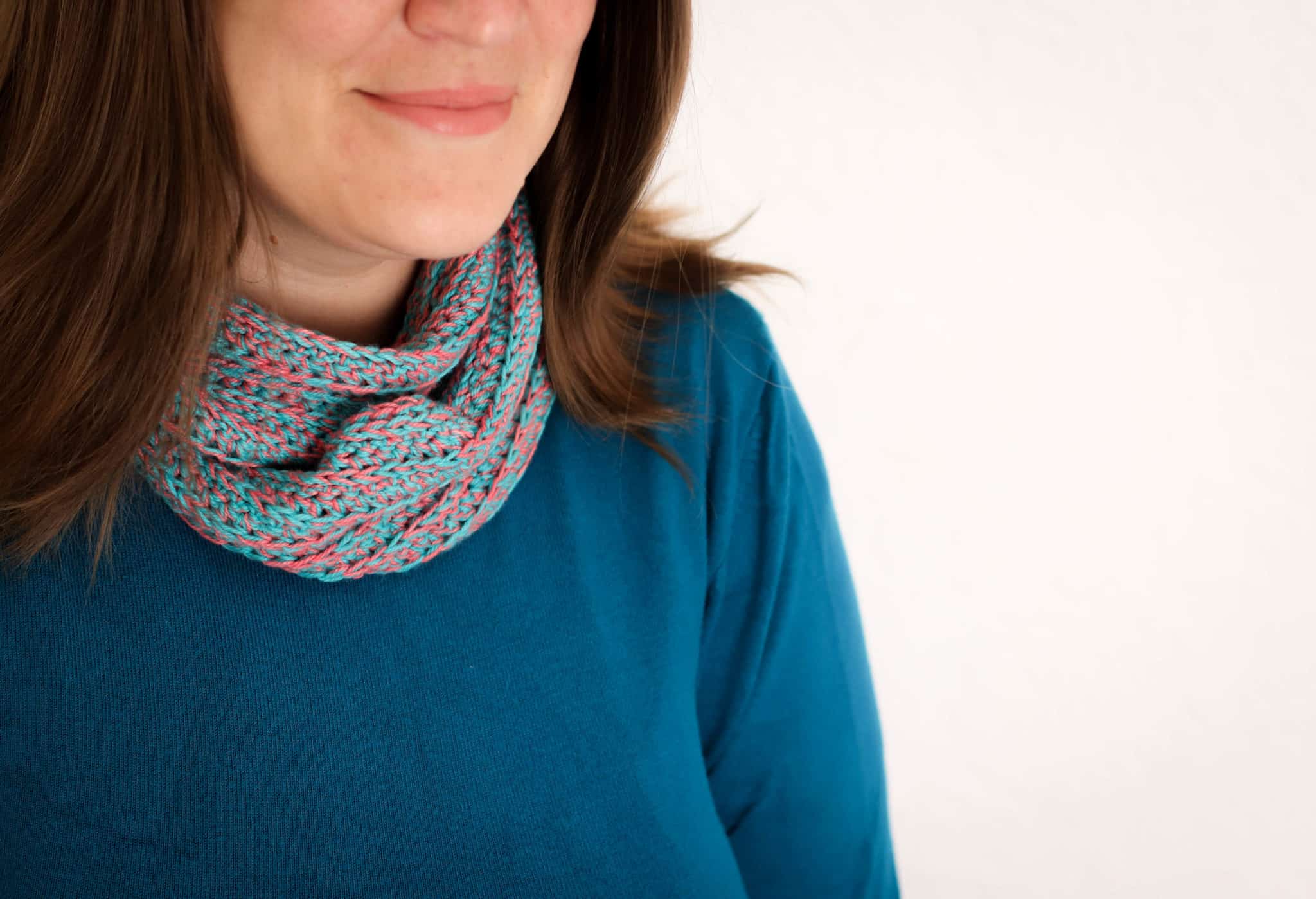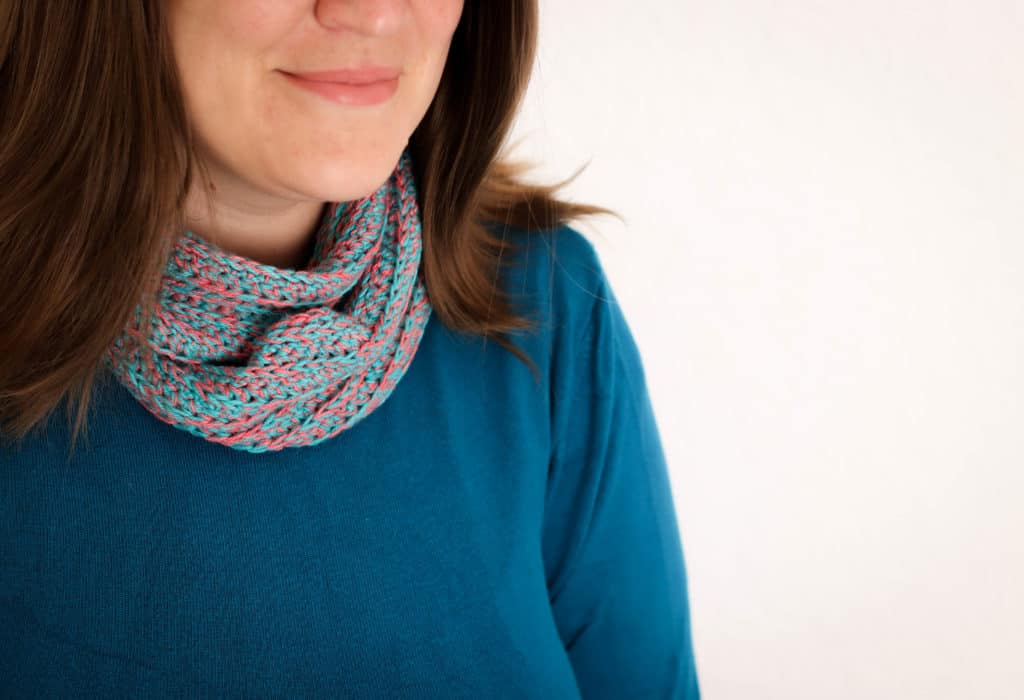 How to crochet with multiple strands
To crochet with multiple strands, you simply crochet as you normally would, pretending that the two strands held together are one strand. This is unlike tapestry crochet (e.g. this project) where you carry the unused yarn at the back of your work, and only work one color at a time.
For the two tone infinity scarf, I used two different weight strands; one sport weight (teal) and one fingering (watermelon) to achieve this two tone look. My yarn was pre balled which made it much easier to use (no tangling!) but you can use any color and weight combo that you like. I'd suggest trying to work with a centre pull for both yarns to avoid tangling. Alternatively, you can wind your own two tone ball from two skeins before you start. I've added a list of tips for working with multiple strands at the bottom of this page, so make sure not to miss them!
Another fun way to play with multiple strands is to mix up fibre types. This will increase the texture of your finished project. My yarn was a blend of superwash wool, nylon and cotton. Unfortunately this particular yarn has been discontinued, but I've included some suggestions below.
This infinity scarf crochet pattern is designed to be lightweight, but cozy. It fits snugly around the neck to keep you warm, but it is fairly discrete which is great for autumn and layering. Of course, if you want to make it longer, you can add more starting chains.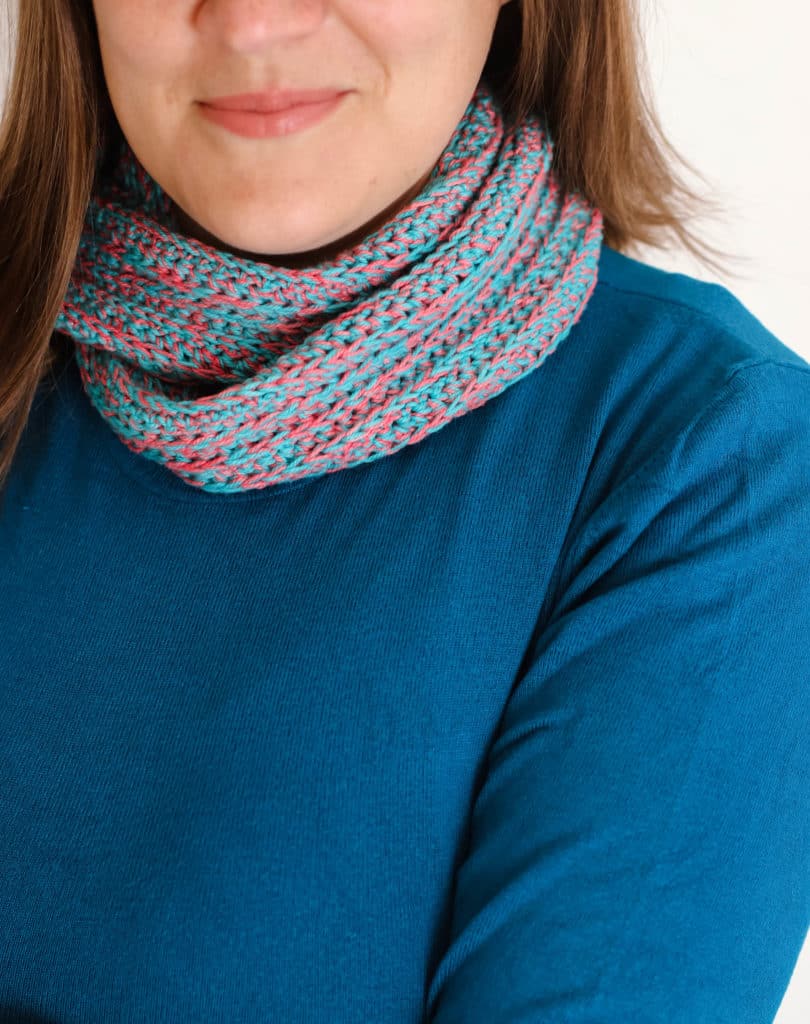 Requirements:
6mm crochet hook (or the hook best suited to your yarn)
2 x 200m (approx 100g) of sport weight and/or fingering weight yarn in contrasting or complimentary colors.
Yarn needle
Notes:
This pattern uses US crochet terms which can be found here.
Skill level: Beginner
Finished size: 12cm wide x 110cm long (before seaming)

Special stitches:
3rd loop sc
Work the sc into the 3rd loop from the hdc of the previous row. Since the back of the hdc will be facing you as you work this st, the 3rd loop of the hdc can be identified as the loop that runs diagonally towards the right, just below the front loop.
Infinity Scarf Crochet Pattern
Ch 151 (or more. I did 151 chains for a close fitting scarf)*
R1: Into back bumps, hdc into 2nd ch from hook. Hdc across (150)
R2: Ch 1, turn, sc into the 3rd loop of the hdc (it will be in the front as you will be working along the wrong side) (150)
R3: Ch 1, turn, hdc across (150)
Repeat R2 and R3 until desired width is reached, ending with a sc row. Leave a long tail for seaming.
Finishing up: If your project has curled up quite a bit, it is a good idea to block your work. This makes seaming much easier. Carefully join the two open ends of your scarf (making sure there aren't any unintentional twists). Using the yarn tail, whip stitch through both sides to the scarf to join. Have a look here for some additional information on seaming.
*TIP: You can use a larger hook for the starting chains as this will make it easier to work R1 into the back bumps.
Tips for crocheting with multiple strands of yarn
Go slowly and make sure that you grab both colors for each stitch.

Watch your tension! You need to keep an even tension on both yarns so that you don't end up with uneven loops in your work.

Consider winding your yarn into a two tone ball before you start. You will have much fewer tangles!

If you can't pre-wind your yarn into a ball, then pull the yarn out from the centre of the ball so that the balls don't jump around and tangle as you work.

Using a yarn bowl is another great way to reduce tangles.

Use the correct hook size. Because you are working two strands together, your yarn will be bulkier and will probably need a larger hook. It's a good idea to make some swatches using different hook sizes to see which drape and finish you like best.

While you can mix and match yarn types, consider the care instructions for both. Since the two yarns will be intertwined, you need to be able to care for both yarns at the same time without destroying the integrity of either yarn in the process. It's a good idea to swatch a small piece of fabric before your project to see how it behaves when washed.

Sometimes colors can look great next to each other, but get lost when you work then together. Crocheting with multiple strands mixes up the colors quite a bit, so it is a good idea to make a small swatch before you begin to make sure you like the finished color combo.

If you are using multiple colors, don't over complicate your stitch pattern, as the details of each stitch will get lost amongst the colorful strands.
Happy stitching friends!
Yours in craft,
Caitie