During this lock down season I've been thinking a lot about how to be less wasteful. We are so used to the convenience of things being readily available, and often deem something as scrap even when it is still perfectly usable. For many, yarn has been difficult to get hold of at this time.
So we are eeking out every last little bit of the skeins we have! I designed this crochet baby bobble headband using some scraps of yarn I wanted to finish up. How fantastic to create something out of yarn that I was planning on passing on to good will!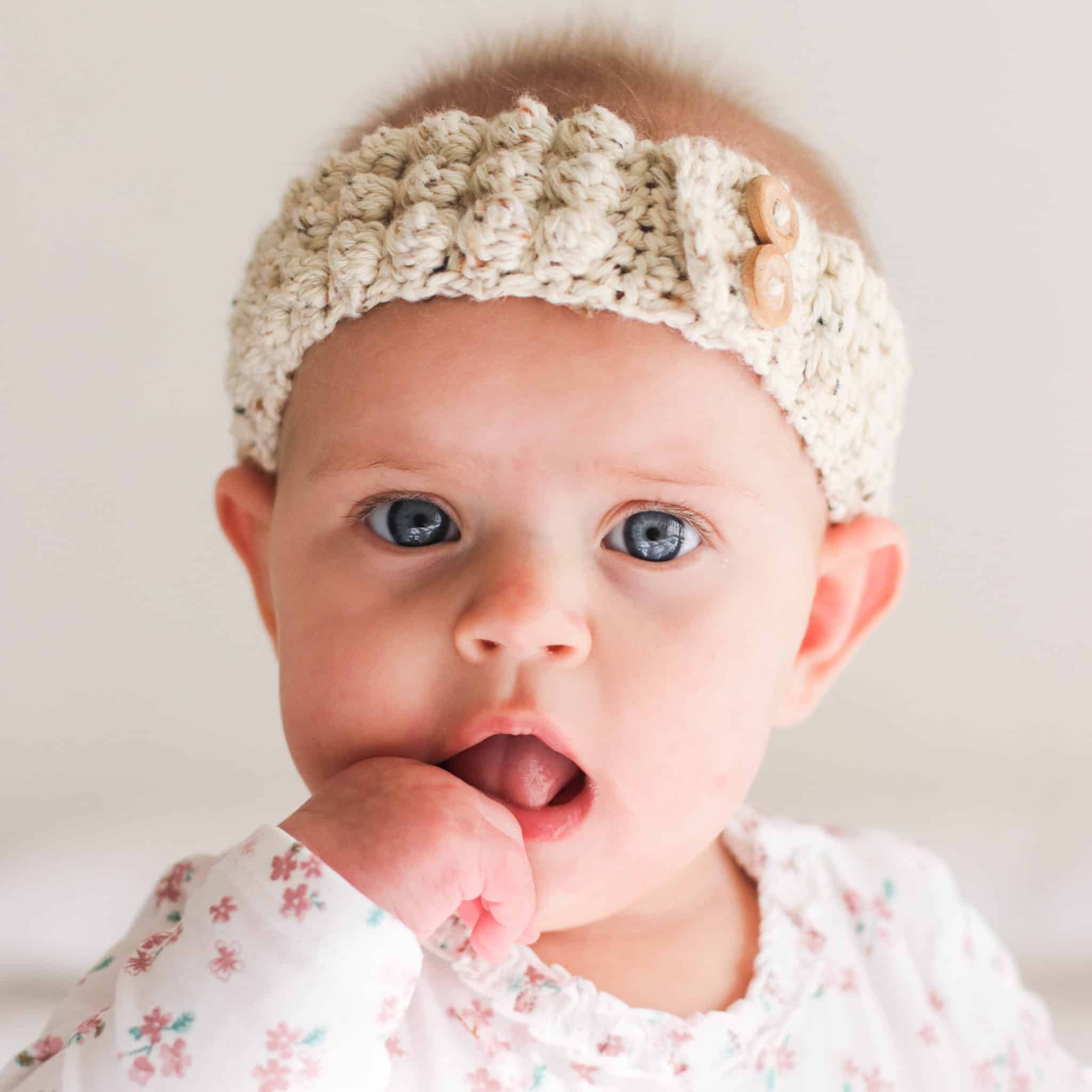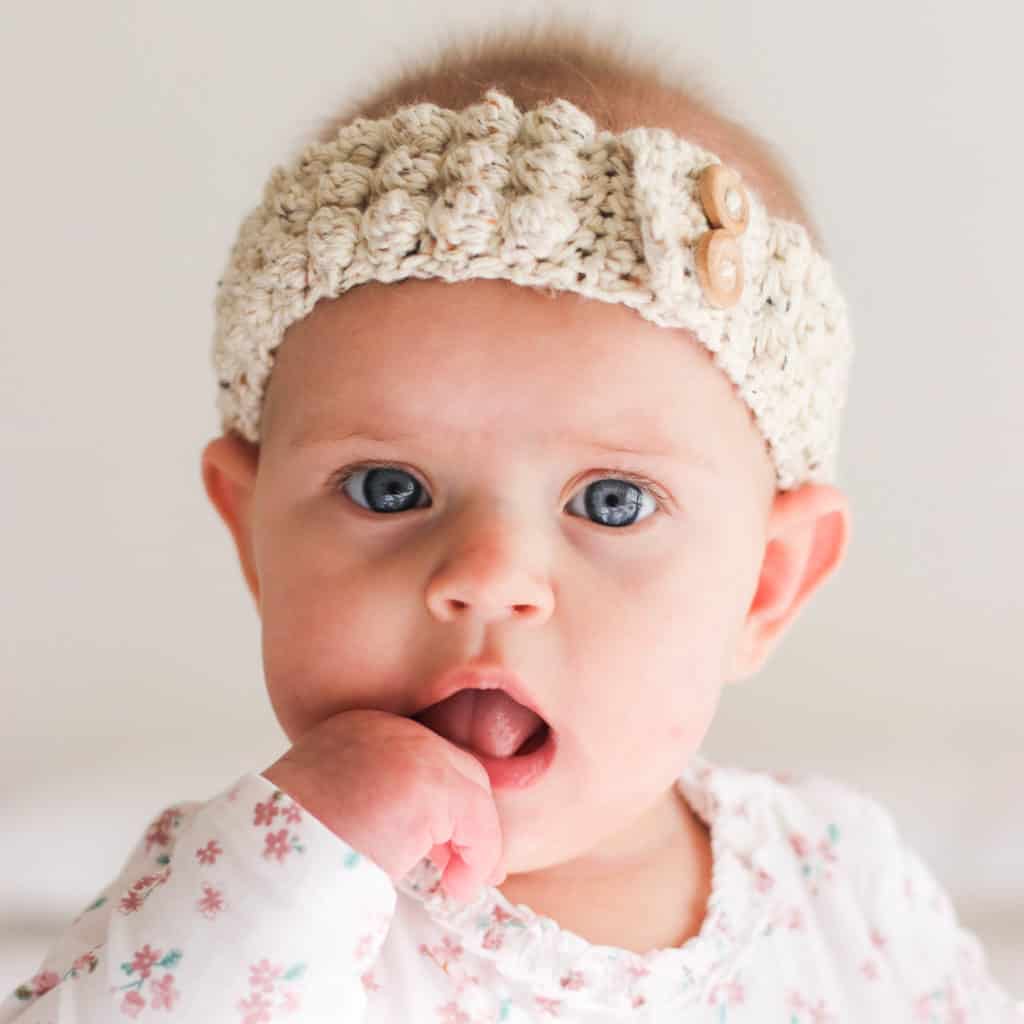 The yarn I used for this project was Tatamy Tweed, in the color Oatmeal. You can read my review of this lovely yarn here. I added two sets of button holes to this headband so that you can adjust it to fit your little one. Of course, you can also simply add a few more rows to lengthen the entire piece to fit larger children, or even adults!
PIN THIS PATTERN NOW, MAKE IT LATER!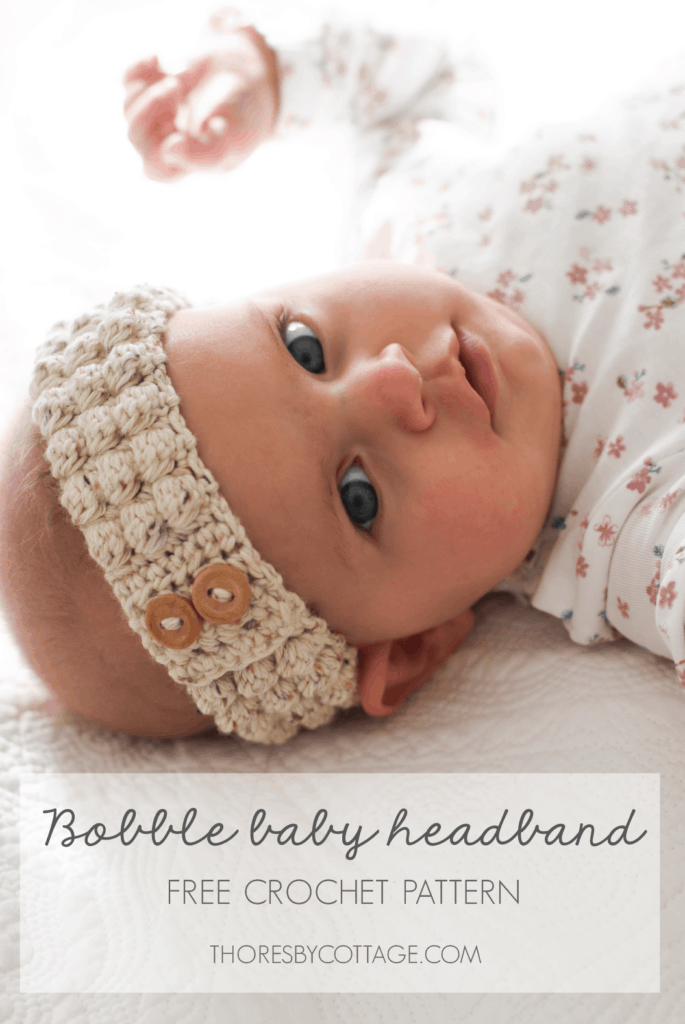 CROCHET BABY BOBBLE HEADBAND PATTERN
Requirements
Crochet hook (4mm)
Worsted weight /DK yarn (e.g. Tatamy Tweed in the color oatmeal)
2 wooden buttons (1.5 cm diameter)
Yarn needle
Sewing needle
Sewing thread (optional)
Notes
Special stitches
Bobble stitch: *yo, insert hook into stitch, yo and pull up a loop, yo and pull through 2 loops. Repeat from * 3 more times. There should be 5 loops on your hook. Yo and pull through all loops on hook.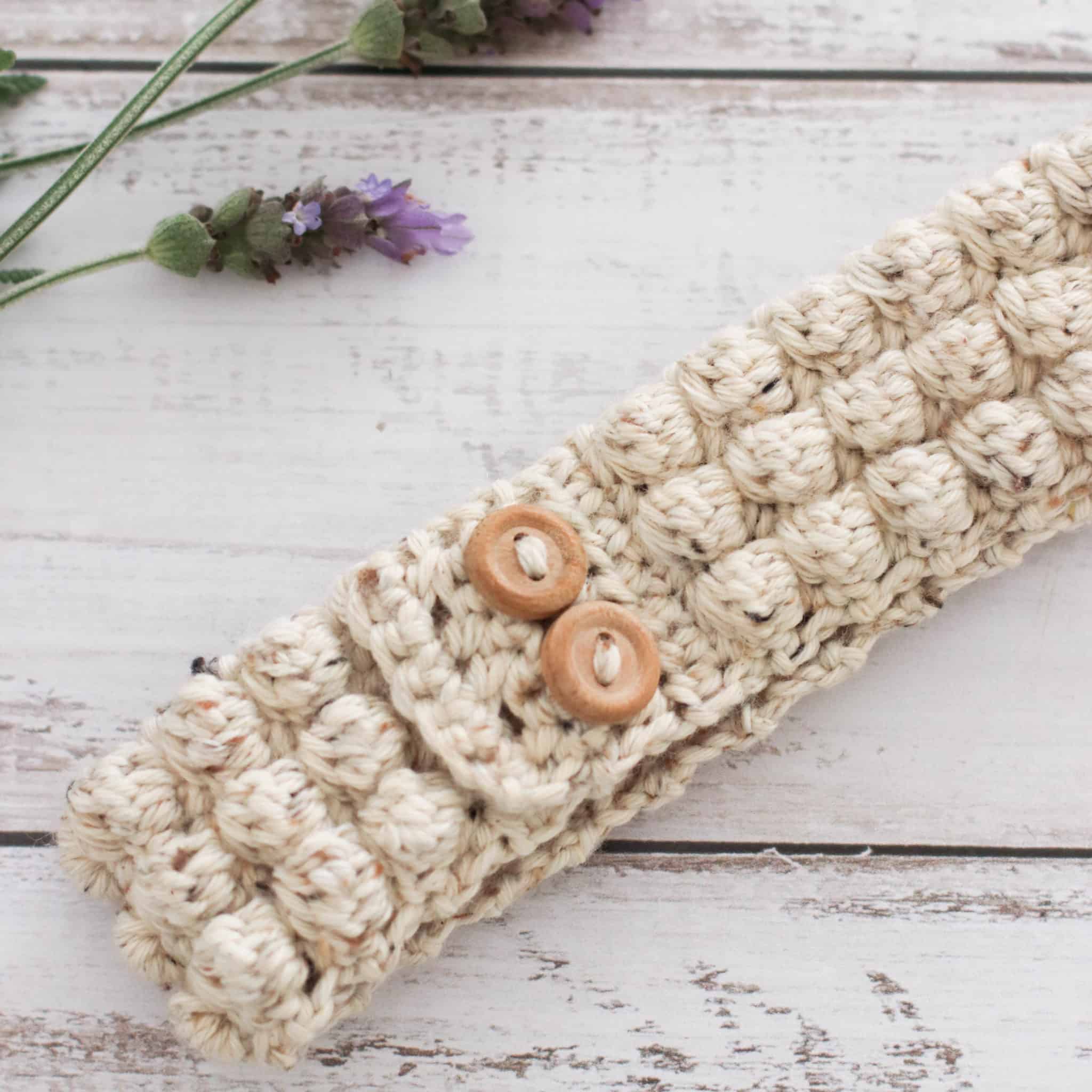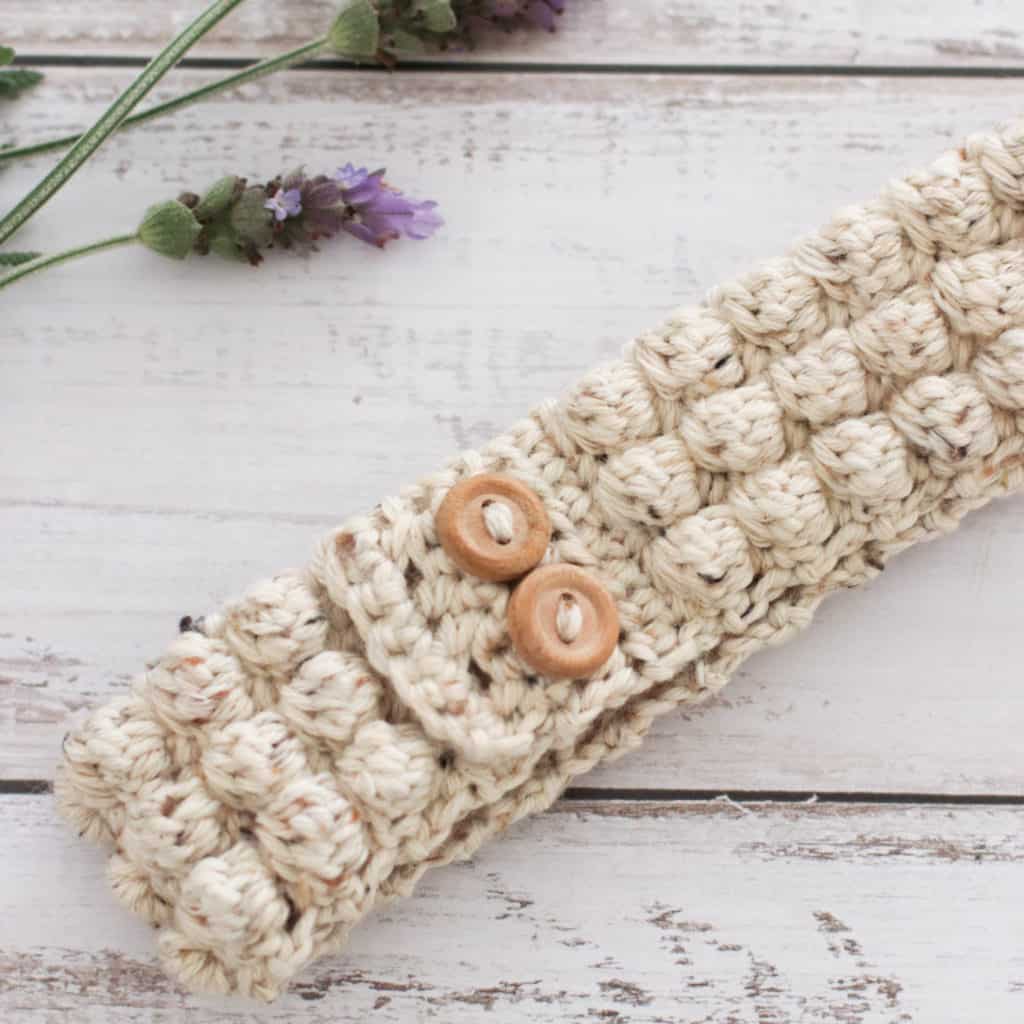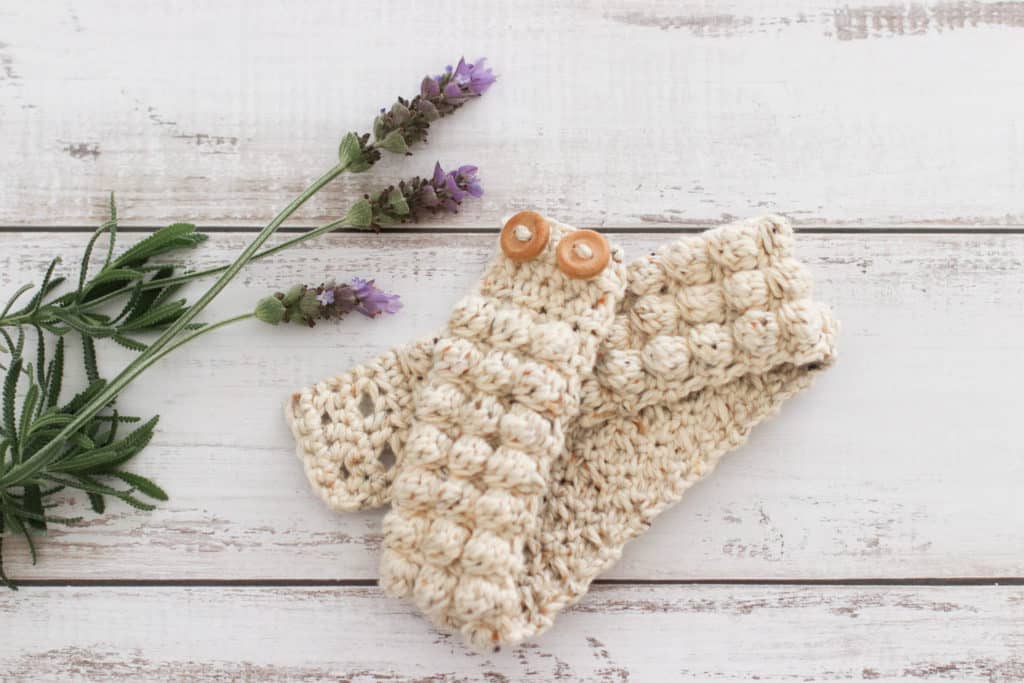 PATTERN
R1: ch 8, sk 1 st, sc across (7)
R2: ch 1, turn, hdc across (7)
R3 – R5: repeat R2 (7)
R6: ch 1, turn, sc across (7)
R7: ch 1, turn, *sc, bobble. Repeat from * 2 more times. Sc (7)
R8: ch 1, turn, sc across (7)
R9 – R60: Repeat R 7 and 8; 26 more times (you should end up with 27 rows of bobbles. If you want to make a bigger headband, then add more rows!)
Adding the button holes:
R61: ch 1, turn, hdc across (7)
R62: ch 1, turn, hdc, ch 1, sk 1 st, hdc in next 2 st, ch 1, sk 1, hdc in next 2 st (5 hdc, 2 x 1 ch-sp)
R63: ch 1, turn, sc into each st, including 1 sc into each ch st (7)
Repeat R62 and R63 to add another row of button holes.
Fasten off and weave in ends.
Finishing off
Weave in any remaining ends
Stitch the two buttons in place (I added mine to Row 2, a couple of stitches apart). You can use leftover yarn, if it is thin enough to fit through the button holes, otherwise use matching sewing thread.
For best results, block the baby bobble headband using whichever blocking technique you prefer.
Happy stitching friends!
Yours in craft,
Caitie x