I'm not sure why, but in my neck of the woods, the tradition of giving Christmas cards seems to have dwindled. Maybe it's because cards are pretty expensive, or because most people are very tech savvy and send out emails and chat messages. I guess it is quite environmentally friendly to stick to digital messages. Having said that, a beautifully written card is just lovely!
Well, just lovely for the duration of the festive season where it brightens up your mantelpiece… but what after that? If you are like me, I'm hugely sentimental and store up all my cards from birthdays and Christmases, resulting in a big box of paper and card in my roof never to be looked at again (or until the urge to spring clean strikes!)…
This free crochet Christmas tag is both pretty AND functional as the wreath can be removed and hung on the Christmas tree year after year. What's even better is that the wreath only takes a few minutes to make! Simply download the template (here) and follow the free crochet Christmas tag tutorial below.
10 minute free crochet Christmas tag pattern
What you need:
Green yarn (double knit)
Crochet hook (3.5mm)
Small gold beads
Ribbon
Cream card or thick paper
Gold string
Glitter tape / glitter
Needle and thread
Tag template (available here)
Need help understanding the abbreviations and symbols for this pattern? Have a look at my crochet pattern abbreviations list. This pattern uses US crochet terms.

Step 1. Ch 3 and do a double crochet (dc – US terminology) into the 3rd chain from the hook
Step 2. Do 11 dc into the 3rd chain from hook
Step 3. Slip stitch to close the circle
Step 4. Ch 7 and slip stitch back into the same stitch to create the loop
Step 5. Finish off and weave in your ends.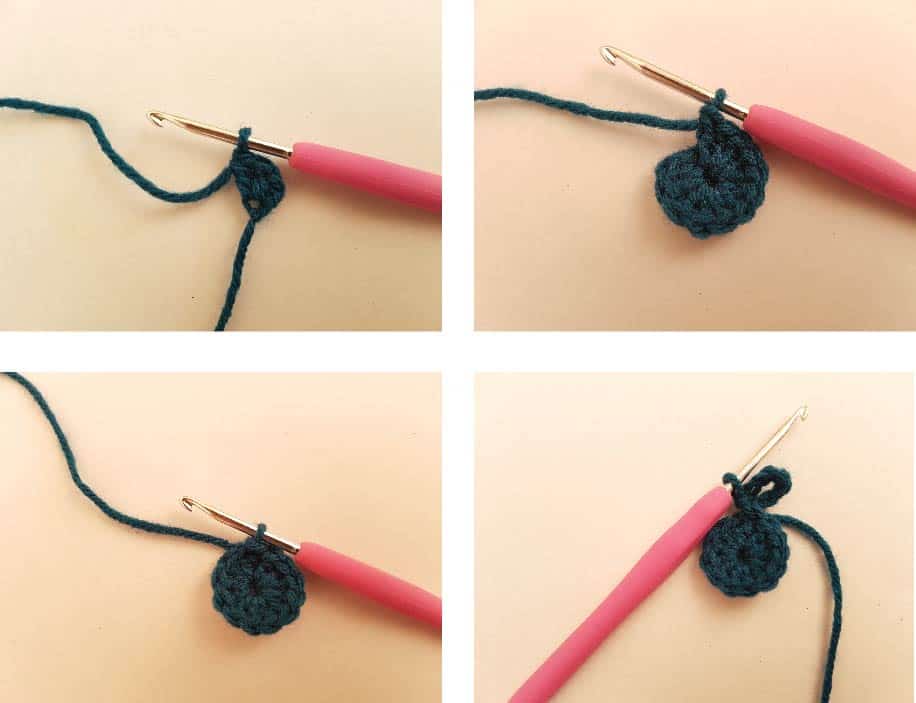 Step 6. Stitch on the little gold beads and add a bow
Step 7. Print out the Christmas tag template (can be found here) and cut out your tags
Step 8. Apply glitter tape at the bottom of the tag (tip: if you don't have glitter tape, simply stick on a piece of double sided tape, peel off the backing and coat with glitter – voila!)
Step 9. Stitch the wreath onto the tag, add your gold string and there you go!
Want some more Christmas inspiration? Have a look at these great ideas for Christmas gift wrapping. Or, simply print out a set of my print-at-home Christmas tags (these ones are FREE).
If you are looking for something a bit more customised (perhaps with your name and website?), make sure to check out the personalised print-at-home gift tags and labels available from my Etsy shop!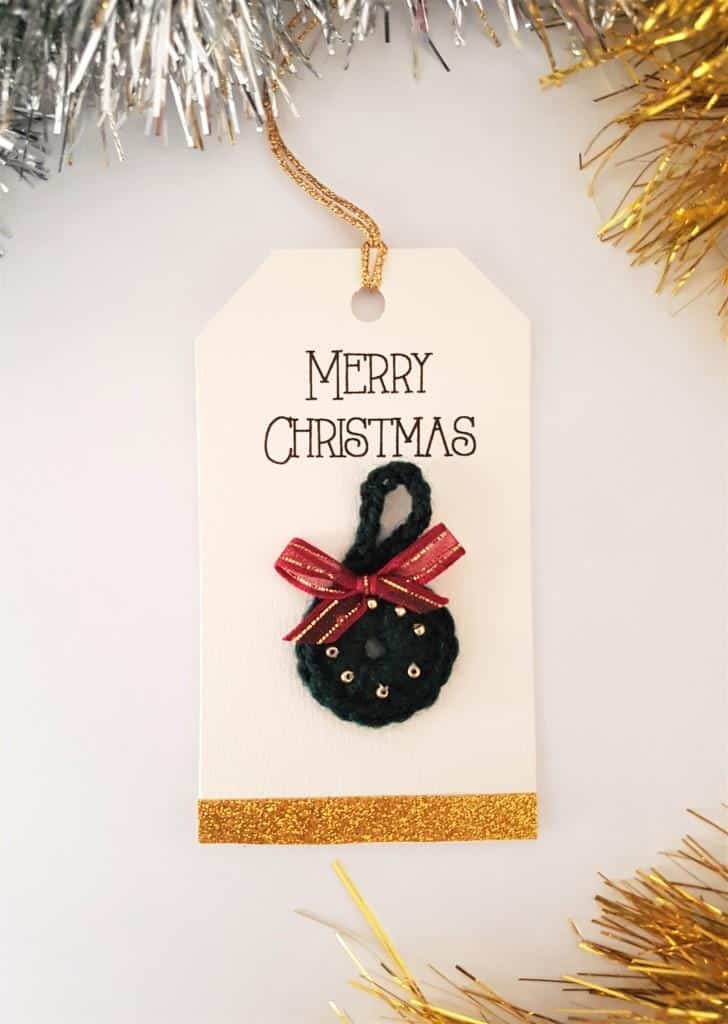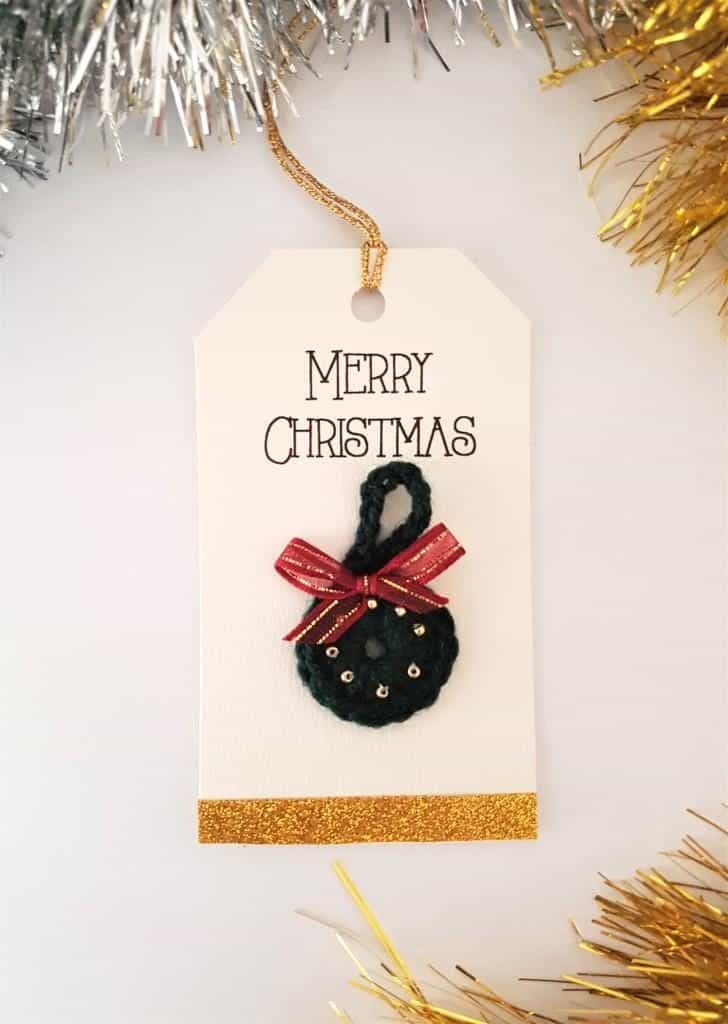 Thoresby Cottage is a participant in the Amazon Services LLC Associates Program, an affiliate advertising program designed to provide a means for sites to earn advertising fees by advertising and linking to Amazon.com.